Fish recipes and ideas for Good Friday
Fish is the traditional Good Friday food, as well as a versatile and healthy ingredient. So in celebration of Easter we've put together a compilation of menu ideas, recipes and FAQs when it comes to that culinary superstar, Fish…
---
Why do we eat fish on Good Friday?
We eat fish on Good Friday because it is a cold-blooded animal. On the day we now call Good Friday Christians believe that Jesus sacrificed his flesh and consequently it is traditional to abstain from eating flesh (meat) on that day. As a cold-blooded animal, fish is not considered to be meat or flesh.
Menu Idea - Fish tacos
Fish tacos are deliciously moreish and work as both a snack and part of a larger meal - at lunch, at dinner and late at night.
They are also deceptively easy to make - simply marinate your fish (something simple like cod or halibut) in lime juice and a couple of spices such as chilli powder and cumin, then sear in a smoking hot pan to cook and lock in the juices. Serve in a tortilla with either pickled red onions, sour cream, garlic and sriracha or homemade spicy slaw. And for anyone wanting more cream and less heat, add some smashed avocado.
Top tip
For authentic fish tacos make sure you use soft, corn tortillas. Corn is a better choice than wheat in this case as the corn flavour is more complimentary to the other ingredients, and it holds the taco together better.
Allergen alert
Fish tacos contain Fish, and if sour cream or mayonnaise is among the ingredients they will also contain Milk. While a corn taco is gluten-free, a tacos made with a wheat tortilla will contain the allergen Cereals containing Gluten.
What's the healthiest way to eat fish?
The healthiest way to eat fish is by cooking it in a way that retains the healthy fats, vitamins and nutrients fresh fish contains. Cooking methods that achieve this are poaching, steaming, baking and grilling. Microwaving can also work but fish can make a microwave smell.
Healthy fish dishes should also avoid rich creamy sauces - tomato based sauces are a more nutritious choice.
Some healthy fish dishes include:
Sardines on rye bread
Cerviche
Steamed trout
Fresh salmon and grains salad
Sushi
Menu Idea - Kedgeree
An Anglo-Indian dish that was once de rigueur for high society breakfasts, kedgeree is a great way to add pizazz to your brunch menu (though it's great to eat at any time of day).
To make it, fry onions in oil with dried coriander, turmeric, salt and curry powder and when suitably browned add boiled and drained rice before bringing to the boil and simmering for 10 minutes. Stir in haddock that has been poached in Milk for 10 minutes, quartered boiled eggs and season with lemon juice, parsley and fresh coriander to finish.
Top tip
For rice that is fluffy, flavourful and never mushy, pre-cook it in butter and spices (as used in the main recipe) after boiling.
Allergen alert
Kedgeree contains Fish and Eggs, as well as Milk (used for both butter and poaching the haddock).
Recipe - Havelock pollock and harissa fishcakes
Looking for something a little more exotic than the usual fish dishes? These fishcakes, served with Moroccan tabbouleh and harissa dipping sauce, not only look sensational but use easy to source ingredients that will nevertheless impress the most discerning foody, and the recipe comes complete with allergen and nutritional information to boot.
Is Fish an allergen?
Yes, Fish is one of the 14 major food allergens, which means food businesses (including Caterers and Retailers) are legally required to provide customers with accurate information regarding these allergens if they are present in any food products they produce, sell or serve.
The other major food allergens are Celery, Cereals containing Gluten, Crustaceans, Eggs, Lupin, Milk, Molluscs, Mustard, Nuts, Peanuts, Sesame, Soya and Sulphur Dioxide.
You may also be interested in…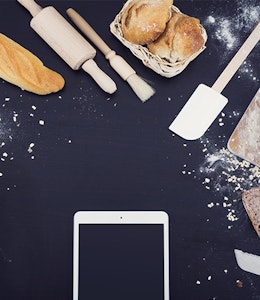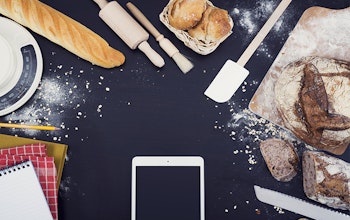 You may also be interested in…
Erudus… Has a Recipe Builder
Read
Menu Idea - Baked salmon
This classic dish can be made many different ways and with many different ingredients but one thing most people can agree on is that it should be wrapped up in foil before cooking. We also recommend pouring a glaze of something like butter, garlic, honey and a herb such as dill or thyme over the fish before it goes in the oven, and keeping the skin on the fish until it is baked to retain moisture and juices.
Serve with new potatoes in warm weather and mashed potatoes when it's chilly outside.
Top tip
You should never wash raw fish with water as it can cause cross-contamination of both harmful bacteria and allergens.
Allergen alert
Salmon is a Fish, and most baked salmon recipes will also include butter, a derivative of Milk.
What's the best fish to eat on Good Friday?
You can eat any fish on Good Friday, including sushi and other raw fish. However, if a person is pregnant they should not eat any variety of fish high in mercury, such as swordfish.
Menu Idea - Macadamia-crusted fish fingers
A twist on traditional fish fingers, macadamia-crusted fish strips hold lots of appeal for healthy eaters, and particularly those on a diet plan such as Keto. They are also gluten-free, making them ideal for those with Coeliac disease or a gluten allergy or intolerance.
They are made in the same way as fish fingers, but instead of a crispy batter or breadcrumb coating you make a paste out of macadamia nuts, garlic, lemon zest and olive oil and use it alongside a herb like parsley or chives to coat the pieces of white fish.
Top tip
Fry the fish fingers in coconut milk rather than butter - not only is it healthier, the sweet coconut enhances and complements the buttery macadamia nuts and contrasts with the sharp lemon.
Allergen alert
In addition to containing Fish, this dish also contains macadamias, which are (Tree) Nuts. Garlic and lemon are both among the list of increasingly common allergens too.
Do shellfish count as fish?
While shellfish are a type of seafood, they are not fish. Fish have backbones and skeletons, as well as gills, while shellfish have no backbone and are invertebrate - with shells that protect their bodies. Shellfish can be either Molluscs or Crustaceans, and like Fish, they are both major food allergens.
Some types of shellfish are:
Lobsters
Oysters
Clams
Shrimp
Prawns
Crabs
Scallops
Calamari
Mussels
Octopus
Menu idea - Fish & Chips
In the UK the fish and chip supper is the most popular dish eaten on Good Friday - a working class staple but also a stalwart on many gastro pub or fine dining menus (albeit in a more elevated form).
Consisting of battered fish (usually cod or a different white fish), fried chipped potatoes and occasionally mushy peas, this is a meal with few ingredients but mass appeal.
Top tip
Batter can make or break fish and chips so make yours foolproof by making yours with beer. Because alcohol in beer evaporates faster than water, using it instead makes for a lighter, crispier batter that takes less time in the fryer - as well as adding flavour. Find out more about the best batter for fish and chips here.
Allergen Alert
Fish is one of the 14 major food allergens, and batter is made with flour (Cereals containing Gluten). Some fish and chips may also be fried in Peanut oil.
Recipe - Coated whitebait
Served with a spiced cinnamon and pomegranate Crème Fraîche dip, this is a fish-based snack with serious foodie kudos, and a perfect option for Light Bites or Sharing Platters. Using spicy cinnamon and sweet pomegranate to add flavour and panache to simple white fish, this is an easy recipe complete with allergen and nutritional information.
Menu Idea - Smoked salmon and cream cheese bagel
Bagels are a hugely popular breakfast option, and a favourite for lunch on the go. Smoked salmon and cream cheese is among the most iconic bagel fillings and goes well with plain, onion, pumpernickel and sesame bagel varieties.
Top tip
For a bagel that's both more upmarket and more authentic, opt for lox instead of smoked salmon. Lox is a type of filleted, brined salmon that is juicier, more subtle and less salty than smoked salmon.
Allergen alert
In addition to Fish, a smoked salmon and cream cheese bagel also contains Milk (via the cheese) and Cereals containing Gluten (via the flour in the bagel). Some bagels are also garnished with Sesame seeds.
You may also be interested in…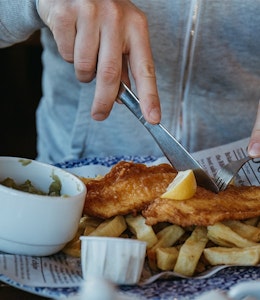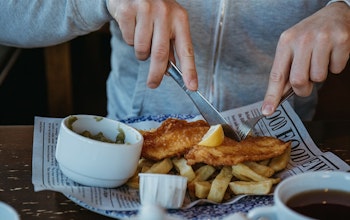 You may also be interested in…
Why Fish and Chips are a British Institution
Read
You may also be interested in…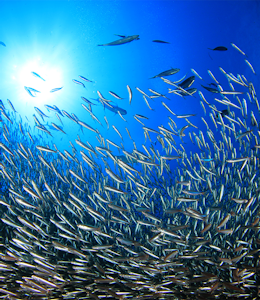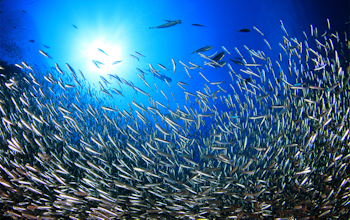 You may also be interested in…
Erudus… showcases Marine Stewardship Council Certified (MSC) Certification
Read
You may also be interested in…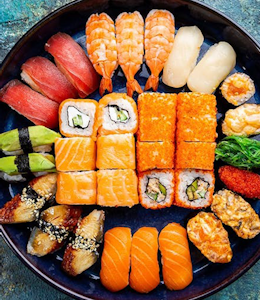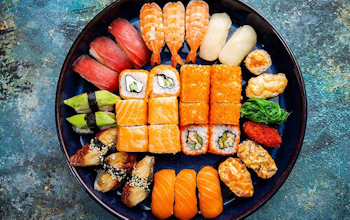 You may also be interested in…
Your Sushi Cheat Sheet
Read