Healthy Christmas leftover ideas
What can you do with leftover Christmas dinner? Plenty of tasty and exciting things - though rather a lot of them tip into high-calorie territory, and with the festive season in the rear view mirror and thoughts turning to a New Year and healthier habits these dishes might look less appealing at the end of the month as they do this side of Christmas Day. That's why we've put together this list of ideas for Christmas leftover vegetables and recipes to use up Christmas turkey and cranberry sauce…
---
Brussel sprout soup
Soup is a great meal for those trying to limit their calorie intake (well, except for French onion soup), and a soup made with leftover brussel sprouts is especially nutritious.
It's best if the sprouts are uncooked, but if it's half fresh and half pre-cooked sprouts leftover from Christmas dinner that will also work. To make the soup, put the sprouts in a blender until they are shredded, and slowly add them to olive oil, minced garlic cloves and diced onion that has been suitably softened in a pan.
Add vegetable stock (with the requisite amount of water) and bring to the boil then simmer for 5 minutes. Add any other vegetables you want to add such as peas, corn or carrots, continue to simmer for several minutes and then season with salt and pepper and puree the soup in a blender. Warm and serve with crusty wholemeal bread.
Top tip!
You can add butter before pureeing to make the soup richer but a healthier idea is to add a kick by stirring in a teaspoon of chilli flakes.
Sweet potato bubble and squeak
Bubble and squeak is a festive leftover favourite, usually made with roast potatoes from Christmas dinner, alongside sprouts and other vegetables.
This is a healthier spin on the dish, using the leftover vegetables - sprouts, carrots, parsnips etc - but combining with sweet potato rather than white potatoes. Sweet potatoes are higher in vitamins and lower on the glycemic index than white potatoes.
How long do Christmas leftovers last?

The Food Standards Agency (FSA) advises that turkey (and other meat) should be eaten within 2 days of cooking, and other leftovers within 3-4 days. You can also freeze leftovers once they have cooled - once frozen they should be safe for 3-6 months. You can see our Cheat Sheet to Food Safety: Freezing and Chilling here.
To make it, soften onion and oil in a cast iron pan and add the shredded leftover vegetables, cooking for 5-6 minutes. Then add mashed sweet potato to the pan and mix it with the vegetables before flattening the mixture out in the pan. Fry until golden and then flip the bubble and squeak over so the other side can brown. The whole cooking process should produce the bubble and squeak sound of the dish's name.
Top tip!
Allow the mashed sweet potato to cool entirely before adding it to the pan. This will ensure the best texture because all moisture will have evaporated and leave the potato light and fluffy.
Allergen alert
Some people will include Celery among the ingredients of bubble and squeak. Celery is one of the 14 major food allergens.
Cranberry salad
Salad and Christmas are a rare combination, but after weeks of heavy meals and indulgence it's actually the perfect dish. Light, healthy, and with the addition of cranberries you can still hold onto that festive spirit just a little bit longer.
You should start by drying out your leftover cranberries by putting them in the oven until their water content is gone (at least 3 hours in an oven preheated to 220 degrees).
Then assemble the salad using your choice of leaves (spinach, lettuce, rocket…), your choice of nut (almond or walnut is best), your choice of protein (turkey is a good option for post-Christmas) and a salad dressing made with crushed garlic, extra virgin olive oil, red or white wine vinegar and mustard. Add feta or a similar crumbly cheese for more flavour and texture if desired.
Top tip!
Mix together some ground nutmeg and chilli powder and very lightly dust the salad with it to give the dish an extra kick.
Allergen alert
All (Tree) Nuts are among the 14 major food allergens, as is Mustard. Red or white wine vinegar may contain Sulphur Dioxide and if cheese is included in the salad it should be noted it is also an allergen as it is derived from Milk.
Turkey curry is a well-known dish for Christmas dinner leftovers, but did you know that it could actually be a very healthy one? So long as you avoid ingredients such as cream and butter and opt for a tomato-based curry it will be very modest calories-wise.
To make turkey curry soften 2 diced onions, chopped ginger and garlic in a pan with heated ghee (or for a really healthy curry - olive or vegetable oil). Add curry paste and stir for a couple of minutes, then tip in chopped tomatoes (2 cans) and a can of water, tomato puree, stir well and continue to heat.
Finally, add chopped turkey and red lentils (pre-boiled and drained), then bring to the boil and simmer for 5 mins.
Transfer to the oven and cook at 200 degrees celsius for 40 mins.
You can use the Erudus Allergen and Nutritional Search to check and ingredient's Reference Intake per portion (Calories, Fat, Sugars, Salts etc), and if you input your recipe into the Erudus Recipe Builder you can even calculate the calories and Reference Intake per serving (as well as for the entire recipe).
Top tip!
If you want to make the curry more protein-heavy and a little more indulgent, grill some halloumi and add it to the curry after it comes out of the oven.
Allergen alert
If ghee is used, it is made from Milk - one of the 14 major food allergens. Also, when using curry paste check the ingredients label carefully to make sure that there are no allergens among the ingredients.
Brussel sprouts have a reputation for being everyone's least favourite part of Christmas dinner but made into a tangy and tasty slaw they can be a show stopping side dish.
After chopping or shredding your sprouts you'll need to mix them with cabbage, carrots and red onion and then combine everything together with a mixture of yoghurt, mayonnaise, mustard, salt, pepper and your choice of vinegar (malt vinegar, red or white wine vinegar...).
Make sure that everything is thoroughly mixed and coated.
Top tip!
Add a squeeze of lime or a spoonful of capers to the slaw to increase that tangy flavour associated with the dish.
Allergen alert
Mustard and Egg (via the mayo) are both among the 14 major food allergens, and vinegar may contain Sulphur Dioxide. Some versions of slaw also include celery seeds among the ingredients - Celery is another allergen.
Turkey and sprout sandwich
The Christmas leftovers sandwich is iconic, but if it's basically a roast dinner in white bread it won't score many health points. That's easy to change with just a few tweaks - for starters, choose sprouted whole grain or dense, toasted rye bread, both healthy options that are sturdy enough to hold a lot of fillings without collapsing or coming apart. Turkey is a lean protein, rich in vitamins and low in fat (so long as the skin isn't eaten), whilst sprouts add texture and roughage. When it comes to condiments, mustard has fewer calories than mayonnaise, relish or spreads like butter.
Top tip!
Give your sandwich personality and pizazz with a cranberry salsa made using cranberries, coriander, lime juice, chopped red chillies, chopped fresh ginger and scallions, blended together with a small amount of brown sugar and left to sit and develop the flavours for at least half an hour.
Allergen alert
Most bread will be made with a Cereal containing Gluten (wheat or rye), and Mustard is also one of the 14 major food allergens.
Cranberry cereal bars
The ideal post or pre-workout snack, adding a layer of your leftover cranberry sauce to a granola bar adds sweetness and makes it feel that little bit more of a treat.
To make the granola bar, combine rolled oats with a selection of sunflower seeds, pumpkin seeds, sesame seeds and flax seeds with walnuts, pistachios and macadamia nuts and pour onto a baking tray before toasting in the oven for around 10 minutes. Then warm butter, muscovado sugar and raw honey in a pan until it melts together. Add the oats, nuts and seeds, stir together and gradually add cinnamon and if you want to, dried fruit.
Once everything is fully combined, tip into a brownie tin and flat out until the mixture is evenly spread across the tin. Allow to cool and then add the layer of cranberry sauce. Top with crushed nuts and cinnamon and bake in the oven for half an hour. Allow to cool in the tin before slicing into bars.
Top tip!
Try replacing the butter in granola with coconut oil - it's healthier and will give it extra flavour.
Allergen alert
Granola bars may contain several major allergens depending on the exact ingredients used. These include: Milk (via Butter), (Tree) Nuts, Sesame seeds, Cereals containing Gluten (via oats) and Sulphur Dioxide (via dried fruit).
You may also be interested in…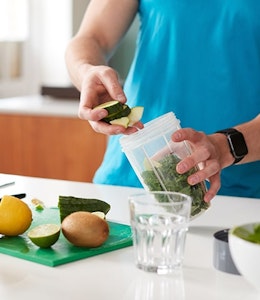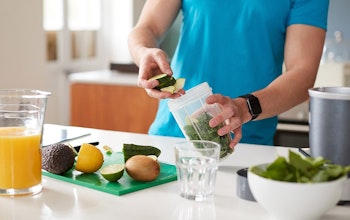 You may also be interested in…
You may also be interested in…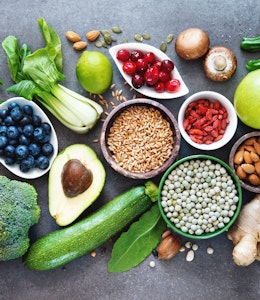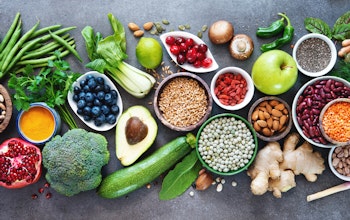 You may also be interested in…
The Best Healthy Menu Switches
Read