Erudus is a market leading source of accurate allergy, nutritional and technical product data, populated by the food industry.
What we do
We enable the entire food industry to share product data clearly and easily.
All the latest data on a product, from the allergens it may contain to the way it's packaged, is instantly available to everyone in the supply chain simply by logging in.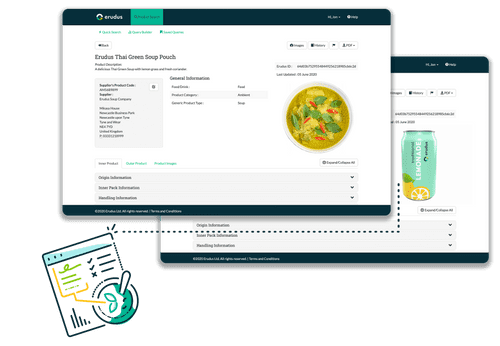 There are many stakeholders in modern supply chains, and strict legislation around food products. Mistakes are not only too costly to contemplate, but too risky.
Erudus takes the guesswork out of food production and sales, saving businesses time and labour. Our range of subscription packages ensure that everyone in the industry can access the information they need quickly and easily, and rely on it to be up-to-date.
We save time and money for…
1,102

Food Manufacturers

162

Wholesalers

82,689

Caterers & Retailers
52,447 product specifications and counting
Find out what's in it for you
It was absolutely clear to me very early on that, focusing on foodservice, 443 AI's platform would need to integrate with the number one provider of allergy and related data to the foodservice sector. For me, that is Erudus.

The partnership is fantastic news, as we continue to see more foodservice operators switch onto the potential of mobile ordering and digital customer engagement. The data we receive from Erudus will form part of a high-quality user experience, seamlessly integrating product specifications into the ordering process.

When we told our customers, their eyes lit up. Setting up and maintaining a library of images and data such as allergen information requires work and time, [but] with this integration our users will be able to retrieve it all at the flick of a switch.

Having the breadth of Erudus product information on tap will only serve to attract more names in the industry to the Merlin family. We can only imagine the combined effect of this across our customer-base.

We are a customer-led organisation and our Wholesale clients want accurate, up-to-date product data because that's what caterers are looking for. We've been able to deliver that thanks to the integration partnership with Erudus.

Erudus data is entered directly by the Manufacturers, and we believe this integration partnership will be very attractive and useful for our food users - particularly with what's going on in the industry and the tightening up of laws and regulations surrounding allergens.

Erudus is a big selling point when talking to new Wholesalers and Caterers. Erudus provides value to everyone in the foodservice chain and it shows potential customers that we take our work very seriously.

Erudus is a fantastic asset for Indus Foods and our customers. Before using it, answering queries on allergens was often an arduous task, but now we can log on to access all the information we need straight away.