The ultimate British puddings list
What is the most popular British dessert? Well, in our opinion it has to be one of these traditional puddings that get mouths watering across the nation.
---
The best British puddings are:
Bread and butter pudding
Trifle
Rice pudding
Sticky toffee pudding
Jam roly poly
Apple crumble
Eton Mess
Christmas Pudding
Spotted dick
Now let's learn more about them...
What is bread and butter pudding?
Bread and butter pudding is a dessert made by layering slices of buttered bread and dried fruit such as raisins in an oven-proof dish, before pouring over with custard that has been flavoured with nutmeg and vanilla (and sometimes other spices). It is then baked in the oven.
Bread and butter pudding is an incredibly traditional English dessert, stemming from its low cost and use for stale bread. It's first recorded mention came in 1728's The Compleat (sic) Housewife by Eliza Smith.
Top tip!
It is important not to let the custard in bread and butter pudding curdle - to avoid this you should cook the pudding slowly and steadily, never allowing the oven temperature to exceed 180 degrees celsius.
Allergy alert
Traditional bread and butter pudding contains several of the 14 major food allergens. These include Cereals containing Gluten (bread is usually made from wheat, or other cereals such as rye), Eggs, and Milk. Dried fruit can also contain Sulphur Dioxide.
You may also be interested in…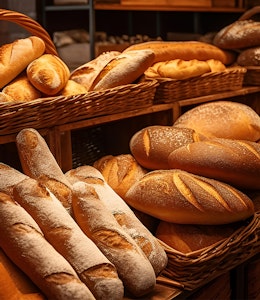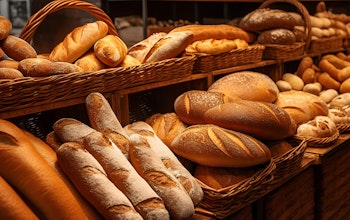 You may also be interested in…
The best bread for diabetics, the best bread for cheese toasties and more
Read
What is trifle?
Trifle is an English dessert that goes back to the 16th century, when its early incarnation was made by flavouring cream with ingredients such as sugar, ginger and rosewater.
In its modern form, trifle is made by layering sponge fingers or ladyfingers that have been soaked in sherry or brandy, jam (or cooked fruit) custard and whipped cream in a glass dish (or a single glass for individual trifles). It is sometimes topped with crushed nuts or maraschino cherries.
Top tip!
For best results, make your trifle a day in advance. Not only will it help you stay organised, but it will give the layers of the trifle time to set properly, and develop their flavours.
Allergy alert
Custard - made with Eggs and Milk - is a major component of trifle, and some of the alcohol or jam used may also contain Sulphur Dioxide. Whipped cream is also derived from Milk, and trifles are sometimes topped with (Tree) Nuts.
What is rice pudding?
Rice pudding is a typically sweet (but occasionally savoury) dessert popular in various forms across the whole globe. In the UK it is traditionally made with a high-starch, short-grain rice sometimes known as "pudding rice", which is cooked with milk, vanilla and other spices, and often dried fruit. On occasion the mixture needs to be topped up with water.
The dish has been known since the Tudor era, when it was referred to as "whitepot".
Top tip!
There is nothing worse than a watery rice pudding - the ideal consistency is thick and gooey. If you find that your pudding is too thin, gradually add a spoonful of cornstarch and a dribble of water until it thickens.
Allergy alert
Rice pudding usually counts the major allergen Milk among its main ingredients, though rice itself is not among the 14 major food allergens. Some rice pudding recipes also contain Eggs.
What is sticky toffee pudding?
Sometimes known internationally as "sticky date pudding", sticky toffee pudding is a beloved British pudding. Finely chopped or pureed dates are added to a sponge pudding to give the dish its distinctive flavour and texture. It's then topped with a toffee sauce and usually served with cream or vanilla ice cream.
You may also be interested in…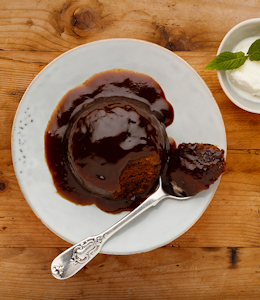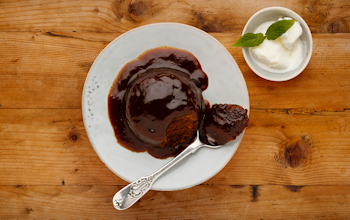 You may also be interested in…
Sticky toffee pudding… easy and delicious tips!
Read
Owners of several British pubs claim to have invented the dessert, including the Gait Inn in Millington, East Riding of Yorkshire in 1907 and the Udny Arms Hotel in Newburgh, Aberdeenshire in the 1960s.
Top tip!
Sticky toffee pudding is best served warm rather than hot, and after the sauce has had a chance to sink in. So add the toffee topping then leave to stand for half an hour.
Allergy alert
Yes, sticky toffee pudding usually contains multiple allergens. These are Eggs, Milk (via both cream and butter) and wheat flour (a Cereal containing Gluten).
What is jam roly poly?
Jam roly poly is an English dessert particularly associated with childhood and nostalgia, and also known by the names "dead man's leg" or "dead man's arm". Thought to have been created in the early 1800s, it is assembled by spreading strawberry jam over a flat-rolled suet pudding, rolling it up into a tube shape and then either steamed or baked in an oven. It is traditionally served with custard.
Top tip!
Steaming is generally considered to be the superior cooking method for jam roly poly, but it's important to ensure that the water is kept continually on the boil whilst doing this. This will stop your suet pudding from becoming tough.
Allergy alert
Jam roly poly contains the allergens Milk (via milk and butter), and Cereals containing Gluten (via self-raising flour).
What is apple crumble?
Crumble is a fruit-based British pudding, often made with apples but also sometimes with blackberries or rhubarb.
The crumble component of the dish is made with sugar, butter and flour, and mixed with chopped and sugared fruit. It is then topped with sugar cream, and frequently rolled oats too.
It's thought that crumble gained popularity around the time of World War II, as it uses pie ingredients more economically.
Top tip!
Freeze your oat topping before adding it to the crumble - this will make it extra crispy.
Allergy alert
Crumble often contains more than one type of Cereal containing Gluten - for example wheat from flour and rolled oats for the topping. Butter, derived from Milk is another ingredient.
What is Eton mess?
Synonymous with summer events - such as the annual Eton-Harrow school cricket match (Eton is thought to be the place of its origin, early in the 20th century) Eton mess is a classic English dessert made from a mixture of fruit - traditionally strawberries, cream and broken meringue, it's basically a more indulgent alternative to the Wimbledon favourite of strawberries and cream.
Top tip!
Add a dash of ginger cordial to the mashed strawberries to give your Eton Mess a spicy twist.
Allergy alert
There are 2 of the 14 major food allergens present in Eton Mess - Milk in the cream, and Eggs in the meringue.
You may also be interested in…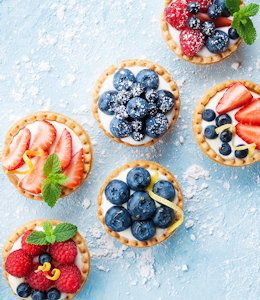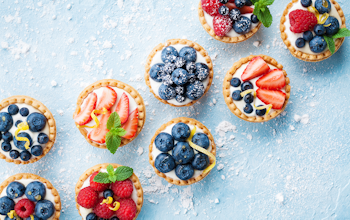 You may also be interested in…
Easy Summer Desserts - Recipes, Tips and Menu Ideas
Read
What is Christmas pudding?
Christmas pudding is one of the festive season's most famous dishes, known in the past as "plum pudding" - which was mentioned by Mary Kettilby in her 1714 recipe book A Collection of above Three Hundred Receipts in Cookery, Physick and Surgery. At this time the word "plum" referred to raisins, which is why raisins are among the puddings main ingredients and plums are not.
A Christmas pudding is often referred to as having 13 ingredients to represent Jesus and his 12 disciples. These ingredients are commonly raisins, currants, suet, brown sugar, breadcrumbs, citron, lemon peel, orange peel, flour, mixed spices, eggs, milk and brandy.
The pudding is steamed and served with brandy butter.
Top tip!
A Christmas pudding should be steamed twice, for 8 hours in total. It is important that this time is broken up into two steaming sessions and not one long one, in order for the flavours to fully develop. This can be done ahead of time - reheating the pudding on Christmas Day won't be negatively affect the taste and texture.
Allergy alert
As with most puddings, Christmas pudding contains both Cereals containing Gluten and Milk. It also includes dried fruit among the ingredients, which can contain Sulphur Dioxide.
What is spotted dick?
Spotted dick is a centuries-old British dessert that in modern parlance would be called "spotted pudding" - as in the 19th century the word "dick" was, like "dog" a term widely used for pudding. It is essentially a steamed suet pudding containing dried fruit such as sultanas (the "spots" of the name) and served with custard.
Top tip!
When making your suet pudding, flavour the dough with a pinch of spices - cinnamon, nutmeg, ginger and allspice are all great choices and even a little lemon zest. It will lift the pudding and bring out the flavours of the dried fruit.
Allergy alert
Spotted dick contains wheat flour (a Cereal containing Gluten) and Milk, as well as potentially Sulphur Dioxide from dried fruit.
You may also be interested in…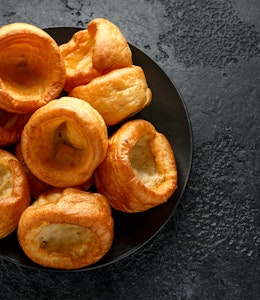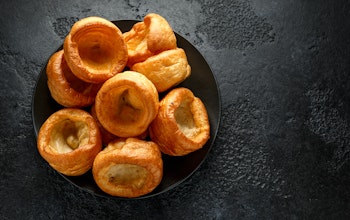 You may also be interested in…
The Best Yorkshire Pudding Tips and Menu Ideas
Read
You may also be interested in…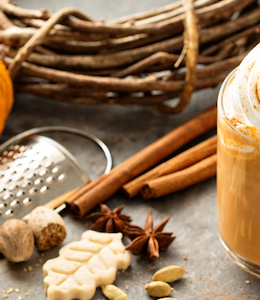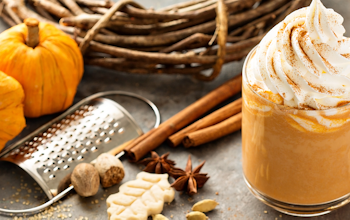 You may also be interested in…
What is the best food for Autumn?
Read
You may also be interested in…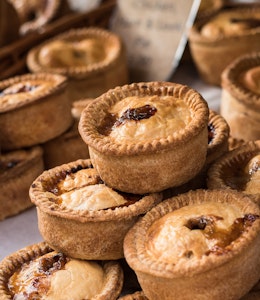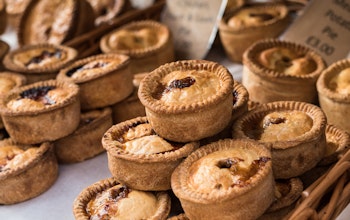 You may also be interested in…