What is the best food for Autumn?
Yes we all know it's pumpkin season but what other foods are popular in October? What are the traditional foods for Halloween? Our roundup gives you menu ideas and tips for the kind of seasonal offerings that no one can resist…
---
What is a pumpkin pie?
Pumpkin pie is a typically American dessert that is traditionally eaten at Thanksgiving or during the Autumn months.
It consists of a pie shell filled with a pumpkin or squash-based custard. Despite the name pumpkin pie, squash is more commonly used for the filling. It is diced, cooked and mashed and flavoured with pumpkin spices - cinnamon, ginger, cloves, nutmeg and allspice - and then poured into a single pie shell before being baked.
The dish dates back to the earliest settlers in New England, America, in the 17th century, who would hollow out a pumpkin and fill it with honey, milk and spices before baking it over a fire. Now evolved to represent Autumn or "Fall", it is a cornerstone of the season's cuisine.
Top tip!
Whilst most pumpkin pie recipes say to pour the filling into a raw pie shell and bake, this might result in slightly soggy pastry. The best thing to do is pre-bake the crust, blind baking until it is slightly firm and then wrapping in foil when the filling goes in so it bakes to golden perfection.
Perfect for...
Showing off as a snack near the counter to really get that Autumnal atmosphere.
Allergen alert
Between the crust and the filling a pumpkin pie might contain the following allergens - Milk (via butter), Cereals containing Gluten and Egg.
Roast butternut squash curry
What is a Roast butternut squash curry?
A roast butternut squash curry is a curry that uses diced, blanched and roasted butternut squash as the protein source. Since most genuine Indian curries are actually vegetarian it's the perfect choice for this cuisine - known as Kalyana poosannikai in Tamil, Thiyya gummadikaya in Telugu, and Kaddu in Hindi, Mathanga. Chunks of butternut squash are added to a curry of onion, curry paste, tinned tomatoes, coriander and spices that's been brought to the boil and cooked in an oven for 40 minutes. Serve with cream and rice.
Top tip!
Make the butternut squash extra seasonal by using pumpkin spices - cinnamon, allspice, cloves, nutmeg and ginger - they all go superbly with curry flavours and will give that unmistakable October kick.
Perfect for...
Vegan and vegetarian menus.
Allergen alert
Some curry paste may contain Gluten and the curry is sometimes served with cream (Milk) - though this is optional.
A pumpkin spice latte is a coffee drink invented by the hot beverages chain Starbucks, with versions now sold worldwide by many Caterers and Retailers.
You may also be interested in…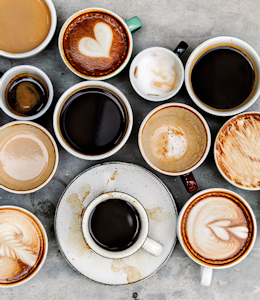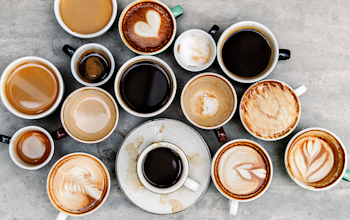 You may also be interested in…
Best coffee drinks for any situation
Read
It is essentially a latte coffee (see what a latte is made of in our coffee guide here), with the addition of pumpkin spices - cinnamon, nutmeg, cloves and allspice - either in powder or syrup form, and topped with whipped cream and sometimes a dusting of chocolate or a chocolate lattice. Every interpretation of a pumpkin spice latte can be different, but the drink is usually only served between September and December and was invented by a Starbucks employee called Peter Dukes who joined the business in 2001.
Top tip!
Instead of dairy milk, make the pumpkin spice latte with plant-based vanilla soy milk - this is not necessarily to make it vegan-friendly, but to give it a sweeter, more subtle flavour and prevent the milk's creaminess from overpowering the spices.
Perfect for...
Drinks to go menus.
Allergen alert
Unless soya milk is used, pumpkin spice lattes include Milk as a major ingredient - Milk is one of the 14 major food allergens. Soya is also one of the 14 major food allergens.
Why are pumpkins traditional for Halloween?

Pumpkins are used and eaten for Halloween in both the UK and America but why? Well, it's thought that the English people who left the country to settle in the US in the 19th century took with them the tradition of carving turnips around this time of year, only to find they were unable to locate turnips in America. Pumpkins, which were in plentiful supply during the Autumn, took their place. In the 20th century the trend for pumpkins made its way back over to England.
What is a candy filled cookie?
Candy-filled cookies are cookies or biscuits that use broken up chocolates or candy in lieu of chocolate chips.
With Halloween just around the corner there's usually an abundance of M&Ms, fun-sized Mars bars, Malteasers, Smarties and other chocolate-based sweets around. To make candy filled cookies you simply chop up these treats into small pieces and add them to a regular cookie mix of butter, sugar, vanilla extract, egg, flour and bicarbonate of soda or a shortbread mix of butter, sugar and flour, roll out and cut into cookies before baking for 20-30 mins.
Top tip!
Take out your cookies or biscuits 5 minutes before the recipes says to - they will continue to cook a little once out of the oven and this ensures they don't end up burnt or brittle.
Perfect for...
Leftover Halloween chocolate and sweets.
Allergen alert
Cereals containing Gluten (via flour), Milk (via butter) and Egg in cookies - no Egg if shortbread. Check candy or chocolate labels carefully as some may contain traces of Peanuts.
What is a toffee apple?
Toffee apples - sometimes known as candy apples - are apples covered in a sticky, sugar-based coating with a stick inserted into them so that they can be held like a lollipop. Traditionally, toffee apples are made with the Granny Smith variety of apple, as their tartness counterbalances the sweetness of toffee. The toffee is generally made with white caster sugar melted into a syrup. The practice of coating apples with honey or sugar goes back many centuries, and the toffee or candy apple goes back at least to the early 20th century. In the UK toffee apples are known as a Halloween or Bonfire Night treat.
Top tip!
You should always make toffee apples as close to serving time as possible - this is because an apple's natural moisture will attack and melt the toffee, making the toffee apple soggy.
Perfect for...
Outdoor purchase points - kiosks, beer gardens, stands.
Allergen alert
Some toffee coating recipes contain vinegar, which may contain Sulphur Dioxide - one of the 14 major food allergens.
What food is seasonal for Autumn?
Many foods are seasonal for Autumn - September, October and November - in the UK. These include:
Apples
Carrots
Sweet potatoes
Wild mushrooms
Onions
Garlic
Pumpkins
Squash
Ginger
Peppercorns
Mustard seeds
Grouse
Guinea fowl
Pheasant
Wood pigeon
What is pumpkin and ginger soup?
Pumpkin and ginger soup is a type of soup particularly popular in the Autumn, when pumpkins are in seasons and some 18,000 tonnes of the stuff is thrown away after Halloween. It's the perfect way to avoid wastage.
When creamed and made into soup, pumpkins are very creamy, which negates the need for ingredients such as milk or cream and makes it a popular choice for vegan or vegetarian menus. Popular in places such as the Dominican Republic, ingredients generally include shallots, herbs, olive oil. Coconut milk, chilli powder, and lime in addition to pumpkin and ginger.
Top tip!
Add chopped Granny Smith apples - another food in season - to your pumpkin and ginger soup to add another dimension of flavour that adds a kick to the sweet pumpkin and tang to the spicy ginger.
Perfect for...
Starter menus and hearty lunch options.
Allergen alert
It depends on the recipe, but many pumpkin and ginger soups contain no allergens whatsoever.
You may also be interested in…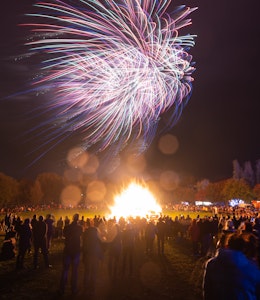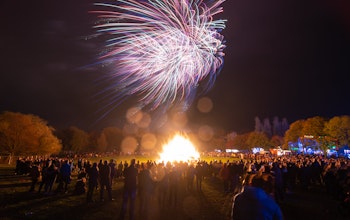 You may also be interested in…
The Ultimate Bonfire Night Menu
Read
What is parkin?
Parkin is a type of sticky and chewy ginger cake synonymous with the English region of Yorkshire. It is made with molasses, oatmeal, butter spices, egg, milk, golden syrup, sugar, flour and ginger and traditionally eaten on or around Bonfire Night.
It is different from gingerbread because it uses oats as an ingredient, which gives it an earthiness that gingerbread does not have.
Top tip!
Good parkin is a balance of developed flavour and freshness - in order to have rich ginger flavour and a fresh fluffy texture it should be baked, then wrapped in greaseproof paper and left for a few days to mature before being sliced and served.
Perfect for...
Bonfire night menus and afternoon tea.
Allergen alert
Traditional parkin contains several allergens - Milk, Egg and Oats - which are a Cereal containing Gluten.
What is Autumn mulled wine?
Autumn mulled wine is the "fall" twist on traditional festive mulled wine. Instead of using mulled wine ingredients (star anise, lemon zest, sugar, cinnamon and cloves) it adds pumpkin spices - cinnamon, nutmeg, ginger, cloves, and allspice to heated red wine or sometimes cider, to make a warming and cosy alcoholic drink. Though these variations on Mulled wine are relatively new, the idea of a spiced, heated wine has been around since 2BC, in Platus's play Curculio.
Top tip!
When selecting a wine to heat, make sure to go for a full-bodied red wine such as Cabernet Sauvignon - it will be able to hold its own against strong spices like cinnamon and nutmeg.
Perfect for...
Alcoholic beverage menus.
Allergen alert
Some wine and cider contain Sulphur Dioxide - one of the 14 major allergens.
You may also be interested in…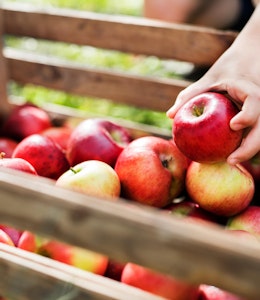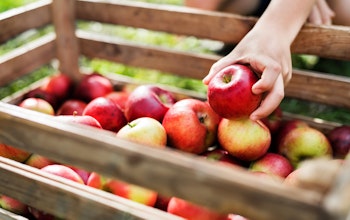 You may also be interested in…
Why Apples Are a Menu Superstar
Read
You may also be interested in…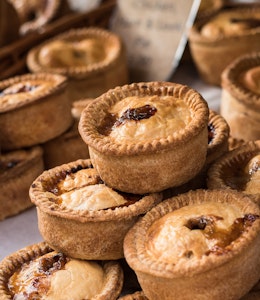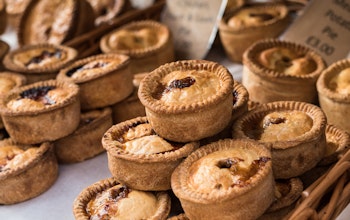 You may also be interested in…