Pies, the ultimate comfort food. A menu staple, a hearty meal, a snack, the humble pie is a national institution. Little wonder then that we have a whole week dedicated to celebrating them.
---
Yes, British Pie Week has come round again. Last time, we spoke to some of our favourite pie Manufacturers about what it is that defines a pie and in Episode 3 of the Erudus Podcast host Andrew spoke to Pie Minister MD and co-founder Tristan Hogg.
Now we're rounding up the world's most popular pies and the top tips that will make them the star of your meal or menu.
Whether you prefer a sweet or savoury pie generally depends on what side of the Atlantic you're on - we British adore meat and vegetable varieties whilst our American friends are famous for their dessert pies. Still, one thing they have in common is that they're all delicious - especially if you follow our advice when it comes to these most popular pies…
Shepherds Pie
Steak and Kidney Pie
Pork Pie
Fish Pie
Chicken, Leek and Mushroom pie
Lemon Meringue Pie
Apple Pie
Key Lime Pie
Pumpkin Pie
Mince Pie
Now onto the tips...
Shepherds Pie
What it is: Often confused with 'Cottage Pie' - which uses beef - the Shepherd's Pie has been a British culinary staple since at least 1854 and involves a layer of diced lamb cooked with onions and carrots (and either a gravy or tomato based sauce), topped with a mashed potato crust.
Top Tips:

Mix cheese into your mashed potato for a luxury spin.
Add shallots to the meat layer mixture and its flavour will pack extra punch.
Some recipes might suggest using ketchup rather than tomato puree - never ever do that, you'll end up with a synthetic tasting sauce.
Potential Allergens: Of the 14 major food allergens, Shepherd's Pie is most likely to include Milk, used to flavour the mashed potato. Some recipes will also include flour (Cereals containing Gluten) and Celery in the sauce.
Steak and Kidney Pie
What it is: Arguably the country's favourite pie, it's main component is the beef chuck and beef kidney in gravy filling. The gravy's thick texture comes from either flour or cornstarch, and extra flavour might come from the addition of Worcestershire sauce and vegetables. Shortcrust pastry is commonly used for this dish, though puff pastry is also popular.
Top Tips:

Use calves' kidneys for a premium pie.
Cook your meat the day before you need it - it allows you to get rid of any excess fat that's risen to the top and help your pastry stay firm.
Kidneys are an acquired taste, and one that modern customers are less inclined towards - you can make the flavour milder by soaking in milk for 30 minutes.
Potential Allergens: Cereals containing Gluten (via flour) and Milk (via butter) will almost certainly be in the pastry if not otherwise stated, and some recipes may also include Celery and Mustard.
Pork Pie
What it is: Eaten cold, and mostly as a snack, the Pork Pie is a great option on British tapas or 'Light Bites' menus. It consists of a chopped pork filling, surrounded by a distinctive layer of pork 'jelly' (jellied pork stock) and encased in shortcrust pastry.
Top Tips:

Pork Pies should always be made at least a day in advance - they need to set before eating.
In warm weather, be careful to ensure your pies are kept nice and cold to maintain their texture.
The best way to experience a Pork Pie is to eat it with a sauce or relish - so serve with Branston Pickle, Piccalilli or spiced cucumber relish.
Potential Allergens: Allergens: Cereals containing Gluten (via flour) in the pastry (and potentially Milk too). Often the pie will be finished with an Egg.
Fish Pie
What it is: Also known as Fisherman's Pie, this winter favourite is another that uses mashed potato as the top layer rather than pastry. The filling is made of white fish in cheese sauce, sometimes with the addition of prawns. Smoked haddock tends to be the fish of choice here.
Top Tips:

If you want to avoid a watery pie, use fresh fish - it contains less water than frozen.
Fish should be raw when adding the sauce and potato - you don't want it to be overcooked.
Prawn stock makes for a tastier sauce.
Potential Allergens: Fish Pie can be a minefield for allergy sufferers. Aside from the obvious (Fish), its sauce may also include Crustaceans, Molluscs, Milk, Celery and Cereals containing Gluten.
Chicken, Leek and Mushroom Pie
What it is: With a creamy white wine sauce flavoured with herbs (thyme and tarragon), leeks and mushrooms, this chicken pie is suitable with most types of pastry. It's a popular choice for a pot and plate pies, and can be eaten hot or cold.
Top Tips:

Meat from the chicken thigh is the best choice here, due to its richer flavour (and it's cheaper too).
Looking to upgrade? Chestnut mushrooms have a superior texture to plain white mushrooms.
Replacing the pastry with root vegetable mash is a great way to put a healthy spin on the dish.
Potential Allergens: Milk (via butter) and Cereals containing Gluten (via flour) in the pastry, Milk, Cereals containing Gluten (via flour) and Sulphur Dioxide (via white wine) in the sauce. Some pies are also brushed with an Egg wash.
Lemon Meringue Pie
What it is: A dessert pie consisting of a pastry base and lemon curd filling, topped with crunchy meringue.
Top Tips:

When separating egg whites from yolks for the meringue, be sure that no yolk accidentally makes its way into the bowl - it will ruin the meringue's structure.
To avoid a soggy pie, make sure you have your meringue to hand to place over the filling straight away, so that the filling is still.
Don't freeze Lemon Meringue Pie, the process leaves the topping gummy and chewy.
Potential Allergens: Egg is a key component in meringue, and there is also Milk (via butter) and Cereals containing Gluten (via flour) in the pastry. Lemons are a citrus fruit - an increasingly common allergen.
Apple Pie
What it is: Somehow both quintessentially English and American, this may be the most famous pie of all. In Britain it goes back to the 1300s, and the earliest recipe includes figs and raisins. Modern recipes tend to consist of apples, sugar, butter and cinnamon encased in shortcrust pastry. The base of the pie is sometimes baked separately to avoid the much dreaded 'soggy bottom'.
Top Tips:

Par boil apples before use like you would potatoes and they'll hold their shape in the pie so much better.
Be cautious when adding sugar and spice to your filling mixture - it's all too easy to end up with a pie that doesn't actually taste of apple.
Incorporate the apples thoroughly with the rest of the filling ingredients and leave overnight and it will be the perfect amount of moist.
Potential Allergens: Egg, Cereals containing Gluten (via flour) and Milk (via butter) are all likely to be found in an apple pie.
Key Lime Pie
What it is: Another icon of the USA, Key Lime Pie traditionally consists of just 5 ingredients - egg yolk, graham cracker crumbs, butter, condensed milk and most importantly, Key lime juice (which comes from the tart, pale yellow limes of the Florida Keys). Most recipes outside of America make do with regular lime juice (and sometimes even lemon).
Top Tips:

Here in the UK we don't go in much for graham crackers - digestive biscuits are our closest alternative.
Add the lime juice as slowly as possible to the egg and condensed milk mixture, whisking all the time for the thickest and silkiest filling.
A meringue crust topping made using the recipe's leftover egg whites is both economical and adds decadence.
Potential Allergens: Egg and Milk in the filling, and Cereals containing Gluten (in the cracker or biscuit crust). Limes are a citrus fruit and an upcoming allergen but not one of the 14 major allergens.
Pumpkin Pie
What it is: A staple of the American (and Canadian) Thanksgiving meal, around since at least the early 19th century. The pie traditionally has a flakey crust, and a famous filling of cream, diced or pureed pumpkin and various spices - often sold as 'pumpkin spice'.
Top Tips:

For the freshest tasting results make your own spice mix - nutmeg, cinnamon, allspice and ginger.
Pre-cooking your pumpkin or pumpkin puree will draw out moisture and make the flavours sing.
Leave the pie for several hours before serving - it needs to set.
Potential Allergens: Milk (via butter and cream) and Cereals containing Gluten (via flour).
Mince Pie
What it is: A snack sized pie that everyone in the United Kingdom associates with Christmas, the ingredients of which hark back to the 1200s - when men returning to Europe from the Crusades brought with them recipes containing sweet meats, fruits and spices. The pies should be small and perfectly formed, made of shortcrust pastry and filled with mincemeat. Mincemeat can include candied fruit, brown sugar, dried fruit, raisins, sultanas, nutmeg, rum, cider, cloves, allspice and ginger.
Top Tips:

Poach the your mincemeat first to really bring out the flavours.
When making your pastry you'll want to go all out on the butter for a mince pie - it should account for at least a third of the pastry ingredients.
Good news - mince pies are delicious even after being frozen, and that goes for before cooking and after.
Potential Allergens: The usual Milk (via butter and cream) and Cereals containing Gluten (via flour) applies, and if you have used apple cider or apple cider vinegar you may also need to be cautious of Sulphur Dioxide.
What are the different types of pie pastry?
There are several types of pasty that are popular for pies. These include:
Shortcrust Pastry - This is a common pastry made with flour butter and salt. It is versatile and used for both sweet and savory pies.
Puff Pastry - In this pastry the butter is put inside the dough, before being folded and rolled out. It makes for a light and flakey texture.
Flakey Pastry - This is also sometimes referred to as 'rough puff pastry' owing to its similar texture. However, it is rolled and folded less frequently than puff pastry, which makes it less delicate and faster to make.
Choux Pastry - The stalwart of French desserts, this most delicate pastry contains water, flour, butter and eggs and uses its high moisture content to create steam during the heating process - which puffs it right up.
Filo Pastry - Several layers of pastry are brushed with oil or butter then baked together, and so this thin unleavened dough becomes a rich and sturdy dish, perfect for desserts.
Suet Crust Pastry - A favourite for English desserts and dumplings, suet is basically animal fat that is mixed with flour and baking powder and water for a delicious hearty pastry.
Hot Water Crust Pastry - More of a method than a pastry in itself, many hand-made pies crusts are created this way. It involves adding water to a fat like butter, before bringing to the boil and mixing in the flour.
Are there any allergens in pastry?
Yes, most pasty recipes contain one or more of the 14 major food allergens. Butter (Milk is an allergen) and Flour (Cereals containing Gluten is an allergen) are found in many pastries. Several pastries also include an Egg wash as a finishing touch.
Is pastry vegetarian?
Yes, most pastry is vegetarian. The exception is pastry that uses suet. Suet is raw fat sourced from the loin area of beef or mutton.
Is pastry vegan?
Most traditional pastry is not vegan. Pastry needs fat, and this is usually in the form of butter or suet (animal fat). Some pastries use oil instead of butter but you should always check the label of any pastry to make sure it is suitable for your diet.
Pastry Tips

No matter what your choice of pastry, always work with cold ingredients (except if you're doing Hot Water Crust Pastry). Flakey textures rely on the butter being pressed out between layers of gluten (flour).
Pre-made pastry should always, always, be brought to room temperature before using.
Happy British Pie Week!
You may also be interested in…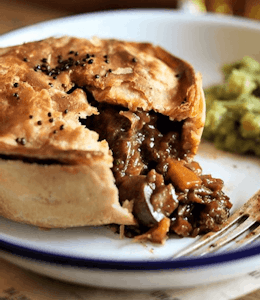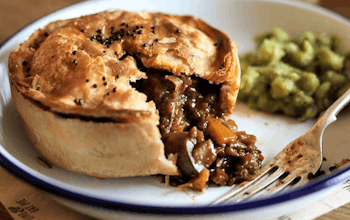 You may also be interested in…
British Pie Week: A Debate
Read
You may also be interested in…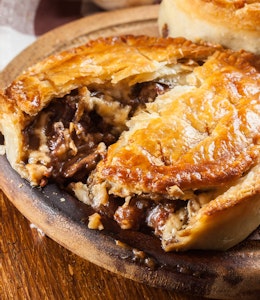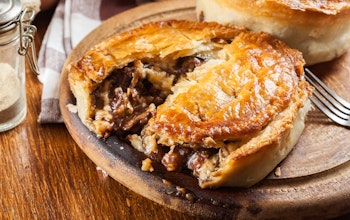 You may also be interested in…
You may also be interested in…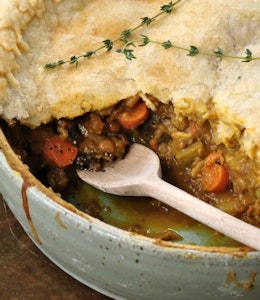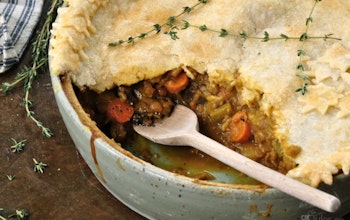 You may also be interested in…
gfJules's Gluten-Free Pot Pie
Read