Food Safety Cheat Sheet: Christmas
Christmas is coming, but just because it's a time to celebrate and have fun it doesn't mean food safety is any less important than any other time of the year. In fact, with over 2.4 million cases of food poisoning estimated to occur in the UK each year and more people than ever being diagnosed with allergies, foodservice businesses and consumers alike must always be vigilant.
---
So to make things a little easier we've put together a cheat sheet to food safety during the festive season...
Only buy food from reputable suppliers and Manufacturers
Especially in current times, demand can exceed supply for certain food products. This is increased tenfold when it comes to a time-sensitive occasion such as Christmas, but you should only ever purchase goods from reputable suppliers who you can trust to have stored them properly - this particularly applies to food that needs to be frozen or refrigerated.
Get to grips with shelf life
Christmas is the busiest time of year for foodservice, with lots of products likely to be coming into the kitchen. Depending on whether they are ambient, chilled or frozen, foods might have to be eaten by a certain date to be consumed safely, whereas others might have a long enough best before date that it doesn't matter if they get stuck at the back of the cupboard and end up being used at the end of the season.
For this reason it's important to understand shelf life, and the difference between use-by dates and best before dates. Need help? Our guide breaks it down quickly and easily.
You may also be interested in…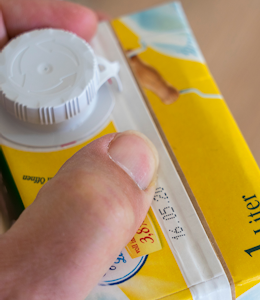 You may also be interested in…
Wash your hands frequently
It's well known that you should wash your hands after handling raw poultry - e.g. whilst preparing a turkey. But hands should really be washed much more frequently than that. Wash your hands in warm soapy water for at least 20 seconds, before beginning food prep, before and after handling raw meat, any time after leaving and re-entering the kitchen, and after handling any utensils that might have been contaminated by raw meat.
Trust Manufacturer instructions
Manufacturers have done research into the best way to cook and prepare their products, so it's best to follow their guidance and instructions.
Some turkeys can be cooked from frozen but many can't, so it's important to check the label to find out what the supplier recommends.
Plan defrosting your turkey in advance
Most turkeys need to be defrosted, and can take anywhere between 3 and 5 days to do so safely. Make sure to take this into account when planning menus and cooking schedules.
Defrost meat in the fridge
Do not defrost your turkey at room temperature. Instead, you should defrost your turkey in the fridge.
Get the maths right
When defrosting a turkey in a fridge use this general rule - for every 1kg of its weight allow 10-12 hours of defrosting time.
Defrost turkey in a big enough container
When thawing, liquid containing (raw poultry) bacteria will gather under the turkey. You don't want this getting on the fridge shelf itself or dripping onto other foods within the fridge and contaminating them. So make sure any turkey being defrosted is in a large dish or container that will collect all of this liquid.
Make sure turkey is defrosted properly before cooking
If the turkey hasn't been properly defrosted before going in the oven, roasting times will be off and you will likely be left with an under-cooked or unevenly cooked turkey. Any under-cooked parts won't just taste awful - they'll also contain bacteria that can result in food poisoning.
You may also be interested in…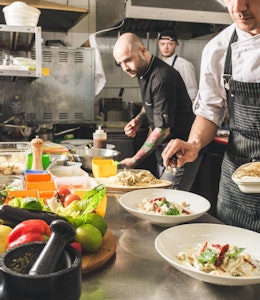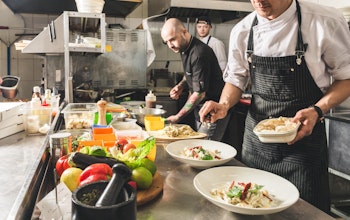 You may also be interested in…
Why you should make avoiding Cross Contamination a priority
Read
Never wash raw turkey
As with other poultry, you should not wash raw turkey before cooking. All this will do is spread germs and bacteria onto things like utensils, work surfaces, hands and clothes.
Clean as you go
It's not just important to wash your hands after handling raw turkey (or chicken or any other kind of poultry), but to clean the entire preparation area and any dishes and utensils used.
This will prevent cross-contamination, and make the area cleaner and easier to manage.
Turkey cooking times

Many Manufacturers and suppliers will put the recommended cooking time on the packaging or label, but if they don't you can use these generally accepted rules:

Cook in an oven that's been preheated to 180 degrees celsius.
If the turkey weighs under 4.5kg cook for 45 mins per kg - plus an additional 20 minutes.
If the turkey weighs between 4.5kg and 6.5kg cook for 40 mins per kg.
If the turkey weighs over 6.5kg cook for 35 minutes per kg.
Remember different birds need different cooking times
Turkey is the most popular bird for festive dining (not just Christmas dinner but also sandwiches and other pre-packed food items), but they are not the only poultry to be found on seasonal menus, and it's important to understand that they all have different cooking times and temperatures...
Goose - 35 minutes per kg at 200 degrees celsius.
Duck - 45 minute per kg at 200 degrees celsius.
Chicken - 45 minutes per kg plus an additional 20 minutes at 180 degrees celsius.
The oven should be preheated before any meat is cooked.
Use a meat thermometer
When cooking meat and poultry - when undercooking can lead to food poisoning, a meat thermometer is the safest way of checking the food is the correct temperature.
The FSA recommends checking the thickest part of the meat, and ensuring it reaches one of the following combinations to confirm that it has been cooked properly:
60°C for 45 minutes
65°C for 10 minutes70°C for 2 minutes
75°C for 30 seconds
80°C for 6 seconds
If you don't have a meat thermometer, check that meat juices run clear and that there are no pink or undercooked areas in the thickest part of the meat.
When using a meat thermometer, don't forget to clean it properly afterwards to avoid cross-contamination.
Cook stuffing separately
Turkey with stuffing is a traditional Christmas pairing and for good reason - it's delicious - but it's actually better for food safety and food taste to cook the 2 separately.
Putting stuffing inside the turkey and then roasting it will add to the cooking time so that the recommended time in the oven won't be sufficient and both will come out underdone. Cooking stuffing and turkey separately means you can use the best practice cooking time and expect the best results.
Ensure your fridge is cold enough
To keep food safely chilled your fridge should be between 0 and 5 degrees celsius. A stuffed full fridge will have a higher temperature than an empty one.
Freeze cooked food in a timely fashion
Freezing foods is a great way to stock up and prep so that you can defrost and cook them as needed. However, in order to stop the growth of harmful bacteria the food needs to be frozen as soon as it is cooled and not allowed to stagnate at room temperature.
Split up food into smaller portions so it cools quicker and then freeze once it reaches room temperature. Food in the freezer will retain quality for 3-6 months, so whilst you can pre-cook and freeze during the festive season, be aware that frozen food will not last till next Christmas.
The Danger Zone

Food safety guidance will often refer to something called the "Danger Zone".

This is the temperature range at which germs and bacteria that lead to food poisoning can grow, between 8 degrees celsius and 63 degrees celsius. Both freezing and cooking food can kill these germs.
You may also be interested in…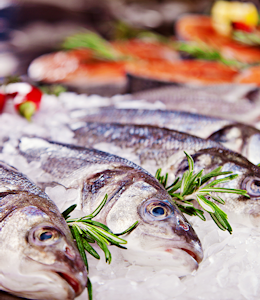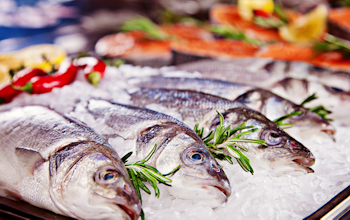 You may also be interested in…
Food Safety Cheat Sheet: Fish and Shellfish Guidance
Read
Don't use defrosted food after 24 hours
Once food has been defrosted make sure it is used within 24 hours.
Cook seafood properly
Seafood - such as scallops or prawns, are a popular choice for festive menus and also a common cause of food poisoning if not stored and cooked properly.
Make sure that fish, crustaceans and molluscs (except for sashimi - which has its own rules) are cooked to 63 degrees celsius before serving, and visit our cheat sheet on seafood safety for guidance on fish freezing requirements.
Make sure everyone is organised and alert
The "Christmas rush" is real and it applies to foodservice as much as anyone. Small businesses especially can find themselves stretched, and it's understandable that with attention pulled in so many different directions it can be easy to let things slip through the cracks. However, food safety cannot be one of those things. Make sure there are checks in place for things such as hygiene standards and the communication of allergens so that the increased pressure on customer service does not result in negligence in legal areas.
Wash fruit and vegetables
Don't forget to wash the sprouts! Vegetables such as carrots, parsnips and even cabbage can be an important part of festive menus, so make sure to wash any vegetables or fruit before using them.
Communicate allergens clearly
You may also be interested in…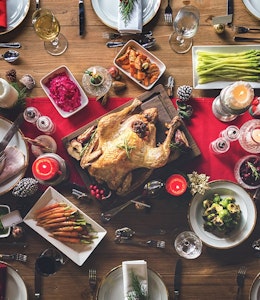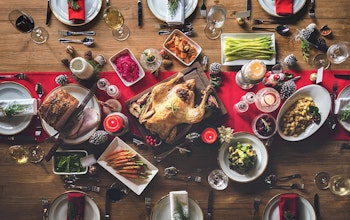 You may also be interested in…
An Allergen Aware Christmas Dinner
Read
The traditional Christmas dinner can be a minefield for those with allergies - Cereals containing Gluten might be found as breadcrumbs in stuffing or used to thicken gravy and other sauces, Celery and Mustard might be used to add flavour to various dishes, Egg is a main ingredient in Yorkshire pudding and is also used to bind stuffing together and Butter (Milk) is sometimes used to baste the turkey.
With allergies on the rise and guards often down during the festive season it's extremely important to communicate if any allergens have been used in any of your dishes, either as an ingredient or during the preparation. You can do this by highlighting them on the menu, or having staff verbally notify consumers before ordering anything.
You may also be interested in…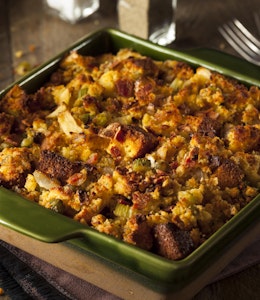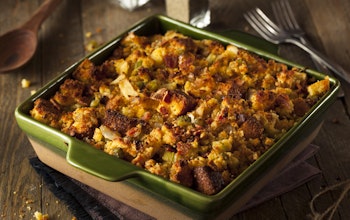 You may also be interested in…
Your Takeaway-Ready Christmas Menu
Read
You may also be interested in…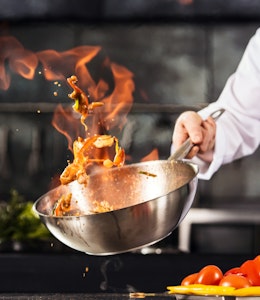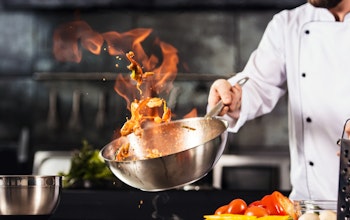 You may also be interested in…
Food Safety Cheat Sheet: Cooking
Read
You may also be interested in…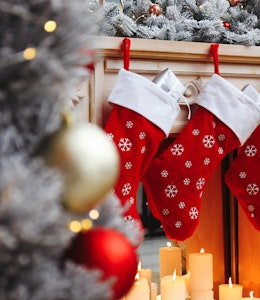 You may also be interested in…
10 Tips for an Allergen-safe Christmas
Read