With the vegan boom of the past decade showing no signs of abating, making sure your menu has some good plant-based options isn't just being inclusive - it's good business sense. And since it's World Vegan Month, Erudus is here to lend a helping hand, with our tips and recommendations to help you stand out from the crowd...
---
Serve the rainbow
Different vegetables contain different vitamins and minerals, and often these are signified by colour. Having a dish that contains the rainbow spectrum of foods will mean it's packed with many nutrients and antioxidants - exactly what customers are looking for in a healthy vegan option. Plus it'll look Instagram perfect!
Here's some inspiration for colourful veggies:
Red - peppers, tomatoes, radishes, chillies
Orange - peppers, pumpkin, squash, carrots
Yellow - peppers, potatoes, parsnips
Green - spinach, lettuce, peas, sugar snap peas, green beans
Blue and Purple - Purple sprouting broccoli, aubergines, purple asparagus, beetroot
Allergy Alert: Celery is a green vegetable, and one of the 14 major food allergens. Some people might also mistake edamame beans for a vegetable - edamame beans are soybeans, which of course means they contain Soya, a major allergen. Several other vegetables are included in the list of upcoming allergens too.
Embrace meat alternatives like Quorn
Often vegans (and even omnivores who fancy a meat-free meal) aren't just looking for a dish full of vegetables - they want to be able to enjoy things like burgers, hotdogs, chilli and bolognese. The easiest way to replicate these dishes is by simply substituting the meat product for a direct alternative. There are many of these on the market, and brands like Quorn produce everything from chicken-style nuggets to sausages, bacon, mince and even fishless fingers.
Allergy Alert: Many meat substitutes are made using allergens such as Nuts, Peanuts, Cereals containing Gluten, Milk and Egg. Tofu, one of the most common meat substitutes, is made from Soya.
Use more herbs and spices
A common complaint with vegan meals is that when using ingredients such as tofu they lack the taste and flavour of meat and can come across as bland. Don't worry - instead see this as a starting point to experiment with the many delicious herbs and spices out there. Paprika, cumin, turmeric, chilli, basil, sage, fennell, rosemary… the list goes on, and all can make your meals pack a punch when it comes to taste.
Allergy alert: Mustard is one of the 14 major food allergens, and frequently used to flavour food. Garlic powder and onion granules are often lumped in with spices, and both are considered upcoming allergens.
Cooking tip

For perfectly golden pan-fried or roasted vegetables make sure they are spaced out evenly in the pan or on the tray, with plenty of space. Vegetables squashed together will create steam and go soggy.
Promote Meat Free Monday
The Meat Free Monday initiative is hugely popular on Social Media, with users in their thousands often sharing pictures and reviews of the meat-free dishes they've enjoyed. Get in on the fun by creating #MeatFreeMonday vegan specials - you can even use them as a sounding board and transfer them to your main menu if they're a hit!
Learn the different plant milks
Plant-based milks are big business when it comes to vegan food and drinks. They're used in coffee and other hot beverages, as the basis for dairy-free ice cream, to thicken and add texture to sauces, custards and stews.
And there's more and more on the market too, including:
Soya milk
Rice milk
Oat milk
Almond milk
Pea milk
Coconut milk
You may also be interested in…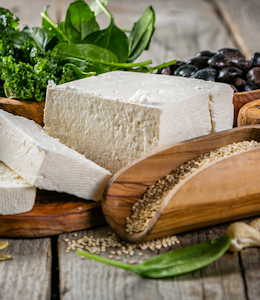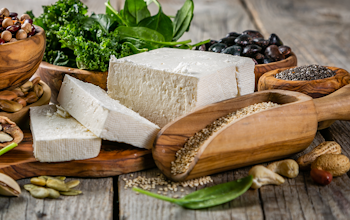 You may also be interested in…
Each of them has its own attributes and perfect uses, which is good news for the quality of vegan cuisine and tricky for anyone looking to pull the best choice for dairy-free lattes straight off the shelf. But fear not, we've put together a definitve guide of plant milks and the advantages and disadvantages of each. You can find it here.
Allergen alert: Soy milk (Soya), almond milk (Tree Nuts) and oat milk (Cereals containing Gluten) are all derived from foods in the 14 major food allergens.
Use Erudus to check suitability dietary requirements
You might assume it's easy to know which food products are vegan and which ones aren't, but that's not always the case. Gelatine (a protein derived from animals) in sweets, animal rennet in cheese, suet (beef or mutton fat) in pastry - all non-obvious examples of non-vegetarian ingredients.
With Erudus it's easy to check whether a product or ingredient is suitable for various dietary restrictions, from Vegan and Vegetarian to Halal and Kosher. Using our tools and solutions such as Allergen & Nutritional Search and Technical Data Search, you can find out everything you could want to know about a product in seconds.
It's always worth double checking your ingredients - that way you don't make any dietary mistakes, or miss out on using something great because you wrongly assumed it wasn't vegan.
You may also be interested in…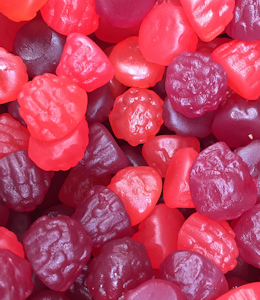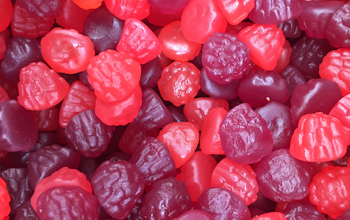 You may also be interested in…
Additives and E Numbers unsuitable for Vegetarians and Vegans
Read
Allergen alert: Erudus can also tell you whether a product contains any of the 14 major food allergens.
Cooking tip

Leafy greens are more appetising when they are bright in colour rather than pale and diluted, so massage your spinach, kale and the like in a salt water mixture (½ teaspoon per bowl) to draw out the moisture and pump up the vibrancy. It'll make them taste less bitter too.
Invest in an Industrial Spiralizer
Spiralised vegetables aren't just great for vegans - they're great for anyone looking for a low-carb alternative to things like pasta. You can use a spiralizer to create tons of delicious veggie recipes such as courgetti, beetroot sushi and sweet potato nests.
Allergen alert: Vegetarian recipes are at risk of containing several of the 14 major food allergens, especially those that are considered 'health foods' such as Soya, Nuts and Peanuts, and those used to add flavour such as Mustard, Celery, and Sesame.
Learn what the best meat substitutes are
When replacing the meat in a well-loved meal to make it vegan-friendly, you want to pick an alternative that will best maintain the taste and structure of the original. Doing so will make your meals more authentic - as well as tastier, so it's worth experimenting and learning what works best. For example lentils can be used instead of mince meat, beans can sub in for burger mince and jackfruit makes for convincing pulled chicken or pork.
Allergen alert: Soybeans (Soya), Tree Nuts and Peanuts frequently pop up in meat alternative ingredients, and you should also check that the recipe won't require the addition of flour (Cereals containing Gluten).
Pay attention to texture
A common complaint of bad vegan dishes is their texture (bland, spongey, and mushy) - or lack thereof. But this needn't be the case - pulses, legumes and seeds can all have varied and exciting texture depending on how they are cooked, so take time to experiment with them so they can compliment the other foods on the plate. Another easy way of adding texture to your menu items is with the addition of nuts, croutons or breadcrumbs. A bit of crunch can make all the difference.
Allergy alert: Whilst Peanuts, Tree Nuts, Sesame and Cereals containing Gluten (in breadcrumbs) are all great for adding texture, they are all also included in the 14 major food allergens.
Cooking tip

Vegetables don't contain the same natural cooking fat as meat, and so it can be tempting to keep on adding more oil when frying or sautéing them. This is fine for rich dishes, but if you're attempting to create something healthy substitute additional oil for vegetable stock.
Use Erudus to check your meal has enough protein
One worry with vegan dishes is that they don't contain enough protein, but you can use Erudus to ensure that all of your meals are nutritionally balanced. Our Recipe Builder tool allows you to create a one page PDF breaking down nutritional and allergen content as well as cost per serving for any recipe you add. See the Recipe Builder page to find out more.
Allergy alert: Vegan meals frequently use (Tree) Nuts as a source of protein. Nuts are one of the 14 major food allergens.
Now it's time to get experimenting!
You may also be interested in…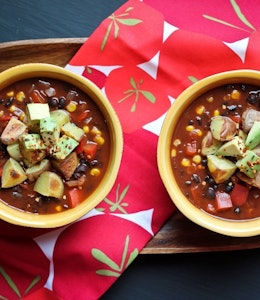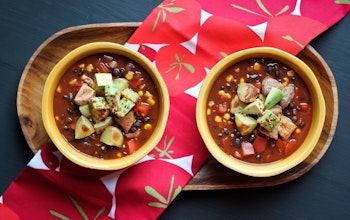 You may also be interested in…
Vegan Chilli with Cocoa
Read
You may also be interested in…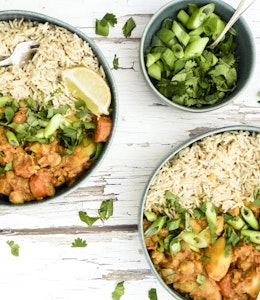 You may also be interested in…
The Flexitarian's Curried Root Vegetable Casserole
Read
You may also be interested in…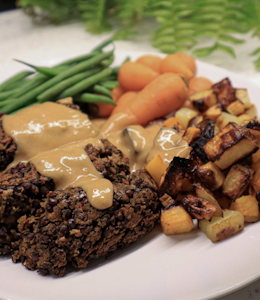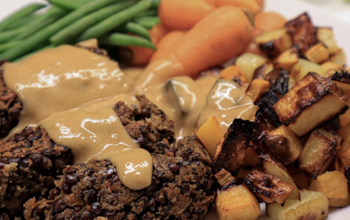 You may also be interested in…
A Vegan & Gluten Free Roast by @Howtocoeliac
Read