The Flexitarian's Curried Root Vegetable Casserole
Ingredients
Parsnips (300g)
Carrots (300g)
Potatoes (300g)
Olive Oil (2 Tbsp)
1 Medium Onion
3 Garlic Cloves
Freshly Grated Ginger (1 Tbsp)
Mild Curry Paste (2 Tbsp)
Ground Cumin (1 Tsp)
Chopped Tomatoes (400g)
Red Lentils (100g)
Vegetable Stock (750ml)
Creamed Coconut (100g)
Chickpeas (400g)
Lime Juice
Wholegrain Rice
Fresh Coriander
2-3 Spring Onions
Reference intake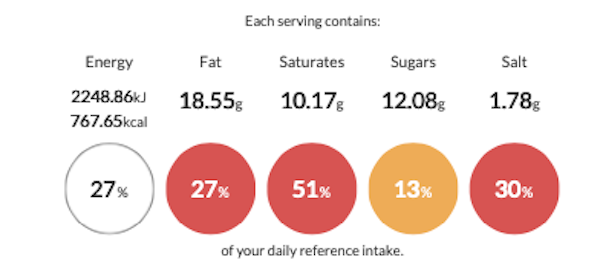 Method
1.
Peel parsnips, carrot and potatoes. Cut carrots and parsnips in 1cm [o.4 inch] slices and potatoes in 2cm dice [0.8 inch].
2.
Heat the olive oil in a large saucepan. Finely slice the onion and fry until soft. Add crushed garlic, grated ginger, mild curry paste and ground cumin. Fry gently for a couple of minutes.
3.
Add vegetables to a saucepan along with chopped tomatoes, red lentils and vegetable stock. Bring to the boil, then cook half covered for 15 mins under medium heat.
4.
Add grated creamed coconut and drained chickpeas. Cook uncovered for a further 10 mins until the vegetables are tender.
5.
Season to taste with lime juice, salt and pepper.
6.
Serve with wholegrain rice, chopped coriander leaves and spring onions.