The Flexitarian's Curried Root Vegetable Casserole
Reference Intake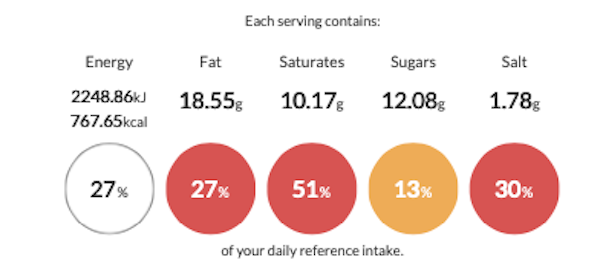 Dietary info
N/A
Allergens
Welcome to The Erudus Recipe Book, where we share delicious recipes from our manufacturers and friends in the food industry and throw in all the allergen and nutritional information as an added bonus. It's also the perfect place to highlight our Recipe Builder tool – designed to aid caterers by automatically aggregating nutritional values, costs and allergy statements as you add ingredients.
This week's recipe comes from Annabelle at The Flexitarian, the hugely popular blog that follows flexitarianism, which involves eating mainly plant based meals whilst occasionally incorporating meat – a happy medium for those not wanting to commit to a vegetarian or vegan diet.
Anabelle offers readers advice on how to eat meat more ethically – how to shop locally, organically, and sustainably, but also how to incorporate vegetables more creatively into meals.
This delicious one-pot curried vegetable root casserole is really easy to cook and its lentils and chickpeas pack a real protein punch. And it's dairy, gluten, nut and soya-free to boot – perfect for nourishing your body during these harsh winter months.
Ingredients
Parsnips (300g)
Carrots (300g)
Potatoes (300g)
Olive Oil (2 Tbsp)
1 Medium Onion
3 Garlic Cloves
Freshly Grated Ginger (1 Tbsp)
Mild Curry Paste (2 Tbsp)
Ground Cumin (1 Tsp)
Chopped Tomatoes (400g)
Red Lentils (100g)
Vegetable Stock (750ml)
Creamed Coconut (100g)
Chickpeas (400g)
Lime Juice
Wholegrain Rice
Fresh Coriander
2-3 Spring Onions
Method
1.
Peel parsnips, carrot and potatoes. Cut carrots and parsnips in 1cm [o.4 inch] slices and potatoes in 2cm dice [0.8 inch].
2.
Heat the olive oil in a large saucepan. Finely slice the onion and fry until soft. Add crushed garlic, grated ginger, mild curry paste and ground cumin. Fry gently for a couple of minutes.
3.
Add vegetables to a saucepan along with chopped tomatoes, red lentils and vegetable stock. Bring to the boil, then cook half covered for 15 mins under medium heat.
4.
Add grated creamed coconut and drained chickpeas. Cook uncovered for a further 10 mins until the vegetables are tender.
5.
Season to taste with lime juice, salt and pepper.
6.
Serve with wholegrain rice, chopped coriander leaves and spring onions.