In Winter it's all too easy to constantly feel sleepy, but what foods can help with fatigue?
---
Erudus are here to answer that very question.
The best foods to eat to avoid feeling sleepy, and give you an energy boost are:
Bananas
Chia seeds
Green tea
Almonds
Dark chocolate
Oats
Turmeric
Kimchi
Now let's learn more about them:
Bananas are known as the athlete's snack, and with good reason - they contain carbohydrates 3 types of energy-boosting natural sugar (sucrose, fructose, glucose), but without the bad fats of processes products.
They are also rich in other vitamins, fibre and especially potassium, which boosts muscle contractions and gives the cells in the heart muscles the energy they need to carry out their job.
Serving suggestion
At breakfast, chop a banana into your cereal, muesli or porridge, or blend together with spinach and lime for an energising smoothie.
Allergy alert!
Whilst bananas are not among the 14 major food allergens, allergies to bananas are increasingly common (particularly among those allergic to latex). You can find out more about allergens on the rise here.
Though small, chia seeds have a mighty carb content, and release energy slowly and steadily - staving off fatigue for a prolonged period. A handful of chia seeds can have a boosting effect, but won't leave you feeling over-full or sluggish. They are also a good source of Omega 3, an essential healthy fat.
Serving suggestion
Sprinkle chia seeds over porridge, rolled oats, rice pudding and even salads.
Like other varieties of tea, green tea does contain caffeine - which makes the body feel more alert, and unlike with coffee, the caffeine is released into the body at a steady rate - preventing that energy spike and subsequent crash.
Green tea also contains L-theanine, an amino acid thought to reduce anxiety, which can really wear out the mind as well as the body.
Serving suggestion
Swap your afternoon-slump coffee for a refreshing green tea with a slice of lemon or some fresh mint leaves.
Almonds contain a lot of energy-giving calories (but the good, protein and carbohydrate rich type of calories) for their size - meaning you can eat them and benefit from the boost without feeling too full.
You may also be interested in…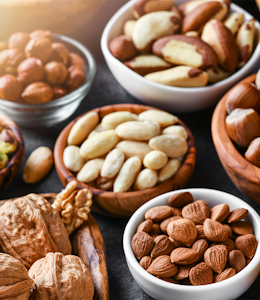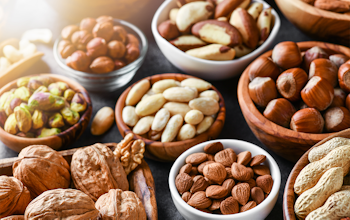 You may also be interested in…
14 Allergens: The Different Types of Tree Nut
Read
They also contain a great many vitamins and minerals - among them niacin (B3), riboflavin (B2), copper, thiamine (B1) and magnesium.
All of these contribute to the body's metabolism, the chemical reaction that turns food into energy.
Serving suggestion
Mix a handful of raw almonds with some dark chocolate chunks for a mood-boosting and healthy afternoon snack with a touch of indulgence.
Allergy alert!
Almonds are a (Tree) Nut, one of the 14 major food allergens.
Chocolate can be a healthy choice for combating fatigue - but it has to be dark chocolate, made with at least 80-90 percent cocoa solids.
Dark chocolate contains a surprising amount of tiredness-combating caffeine, and has a low glycemic index, which means that it won't give the body a blood sugar spike which later results in a slump and tiredness.
Also known for being rich in antioxidants, dark chocolate boosts the release of nitric oxide into the body, improving blood flow and making it easier to exercise without succumbing to fatigue.
Serving suggestion
Use dark chocolate alongside ingredients like pistachios, almonds, chia seeds and aquafaba to make delicious, health-conscious brownies that make for an energy-boosting pre or post exercise treat.
Allergen alert!
Whilst a lot of chocolate does contain Milk, one of the 14 major food allergens, good quality dark chocolate should not. The only ingredients should be cocoa solids, cocoa butter and sugar (and sometimes additional ingredients such as sea salt or chilli).
You may also be interested in…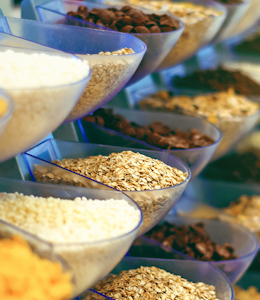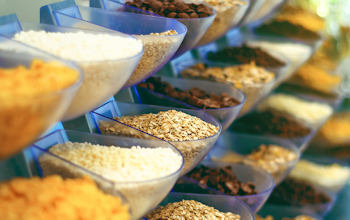 You may also be interested in…
14 Allergens: The different Cereals containing Gluten
Read
Oats - particularly steel cut or rolled oats, are considered one of the best breakfast foods, and with good reason - they give the body a lot of energy to kickstart the day. This is slow-release energy that keeps you fuller for longer.
And because they are rich in melatonin and tryptophan, oats contribute to the production of serotonin, which regulates sleep-wake cycles and the body clock.
Serving suggestion
Homemade oatmeal, made with oats, milk and a pinch of salt and topped with strawberries can be both a tasty breakfast and a healthy dessert.
Allergy alert!
Oats are a Cereal containing Gluten - one of the 14 major food allergens.
The spice turmeric primarily helps fatigue by encouraging restful sleep.
It contains an impressive amount of the compound curcumin, which is a powerful anti-inflammatory, and helps the body slow down and rest, and ease a racing mind.
Curcumin has also been thought to alleviate symptoms in conditions such as fibromyalgia and chronic fatigue syndrome.
Serving suggestion
Turmeric can be used alongside other spices such as cumin to add flavour to roasted vegetables, but it also tastes great alongside ingredients such as lemon and ginger as a relaxing tea or juice drink.
Kimchi is a probiotic food that contains the bacteria lactobacillus. This bacteria is known for its positive impact on the digestive system - boosting the breakdown of food and extraction of energy from it. It also contains potassium and magnesium.
Serving suggestion
Kimchi is a fantastically flavorful side dish - perfect for accompanying burgers or even dishes like mac and cheese.
You may also be interested in…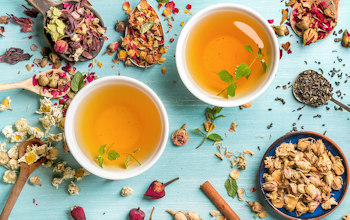 You may also be interested in…
The best food and drinks for sleep
Read
You may also be interested in…
You may also be interested in…
Best foods for women's health
Read
You may also be interested in…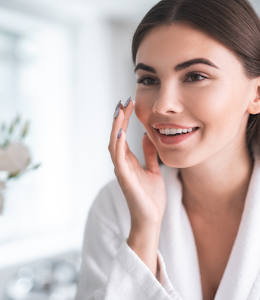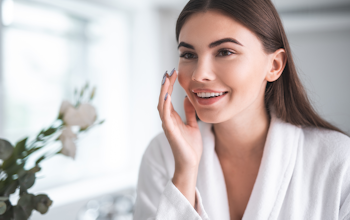 You may also be interested in…