At Erudus we've decided to make August Burger Month!
---
Not only is National Burger Day coming up on 26 August, but the latest installment of the Erudus Podcast explores every aspect of creating the perfect burger, from the expansion of meat-free alternatives and identifying the ideal sides, to the importance of allergen management and the challenges faced by those in the burger industry right now (with input from our star guest Ben Martin, the chef director of award-winning burger restaurant Cut+Grind).
We've also got the best ever burger tips and a burger recipe that will make vegans' mouth water, but this week we're looking at the holy grail of burger toppings.
A topping can make or break a burger - as well as proving a crucial selling point on a menu, so we're delving into the best and most popular toppings.
So what are the best burger toppings?
Bacon
Cheese
Onions
Lettuce
Tomato
Avocado
Hash Brown
Pickles
Fried Egg
Coleslaw
You might notice we're missing staples like ketchup and mustard - well, though condiments are a must-have for many burger fans they are often added at the consumer's discretion and aren't always part of the menu description. So we've decided to sit them out this time. Look out for a best burger condiments story in the future though!
Now onto why these burger toppings are so good and the allergens you need to look out for...
Bacon
Selling point
The bacon cheeseburger is practically more popular than the regular cheeseburger by this point - because burger lovers tend to love meat and the one-two punch of beef and bacon is absolutely irresistible to carnivores. Plus, the salty bacon will make any burger extra-moreish.
Tip
Opt for bacon American style. This variety is the long, thin and streaky kind that comes from the pork's belly. What makes it so perfect for burgers? Those juicy stripes of fat running through it - not only does this give you that melt-in-your-mouth quality, but the fat can be saved for frying and flavouring other food.
Allergen alert
Bacon is not one of the 14 major food allergens, nor is it a common or upcoming allergen. However it is not suitable for vegans and vegetarians.
Cheese
Selling point
Come on - no selling point needed, it's cheese! Not only does the addition of melted cheese make most foods taste better, but cheese is excellent for complimenting and enhancing meat flavours, making the taste of your burger pop.
Tip
The best cheese to top a burger depends on what you're looking for - flavour, texture, that Instagram-friendly look?
A good all-rounder is Monterey Jack, which has a flavour robust enough to hold its own against the beef patty without overpowering it, and has a low melting point to give that gooey, lovely texture.
Allergen alert
Cheese is made from Milk, which is one of the 14 major food allergens. Non-dairy cheeses do exist but they have a very different consistency to dairy cheese and can't be used as a like-for-like alternative.
Onions
Selling point
There is one very good reason onions are commonly served on burgers - their sweetness brings out the savoriness of the beef (so long as it is good quality, if its not great quality you're better off not serving with onions).
Tip
Fried onions are a standard burger topping, but caramelised onions scream 'luxury'. How do you get the best caramelised onions? Add a splash of balsamic vinegar to the pan as you slow-fry them to perfection. It'll give depth of flavour and make that sweetness so much more intense.
Allergen alert
Onions are not one of the 14 major food allergens. However, along with garlic they are an increasingly common allergen.
Hash Brown
Selling point
Most commonly associated with the 'breakfast burger', the hash brown is actually great all day - as a carbohydrate it makes for an extra-filling, energy-loaded burger that is great for foodies on the go.
Tip
A hash brown is only a worthy burger addition if it is crisped to perfection. How to get the perfect crispy hash brown? Remove as much moisture from the potato as possible before frying - any water will just create steam and add sogginess. Try using kitchen roll as a sponge to remove water from your shredded potato before coating and frying.
Allergen alert
Potatoes are not one of the 14 major allergens, but many hash browns are coated in a batter made from flour. Flour is usually grain-based, meaning Cereals containing Gluten are among its ingredients. Cereals containing Gluten are one of the 14 major food allergens.
Lettuce
Selling point
It's all about that crunch. Lettuce is often overlooked as one of the more boring and bland burger toppings but get a perfect piece of fresh crispy lettuce and the crunch it brings to the burger texture makes all the difference.
Tip
When assembling your burger, put the lettuce on the bottom - it will catch all of the meat juices and keep each bite juicy and delicious whilst protecting the bun to stop it getting soggy and falling apart.
Allergen alert
Lettuce is not one of the 14 major food allergens.
Tomato
Selling point
The tomato is one of the most controversial toppings for a burger - some find it adds juiciness and flavour and others consider it wet and flavourless. But even the harshest critic can agree it makes the burger look more appetizing and gives the element of freshness so desirable in food right now.
Tip
They're not the most common variety, but opt for Bucks County tomatoes - these deep red beauties are bursting with flavour and have a smooth consistency that makes them the perfect pairing with that other burger favourite - onions.
Allergen alert
Tomatoes are not one of the 14 major food allergens, but they are a nightshade - meaning that some people are allergic to them and putting them as an upcoming allergen.
Avocado
Selling point
The avocado boom of the past decade shows no sign of slowing down. Although they are seen as a fresh and healthy addition to any dish (and they are), avocados have a rich and creamy consistency almost akin to butter that makes for a devilishly decadent burger.
Tip
Avocados plus condiments equals sickly - be sparing with the other toppings if you are going to include avocados. A little goes a long way.
Allergen alert
Avocados are not one of the 14 major food allergens.
Pickles
Selling point
Pickles are probably the most divisive burger topping - despite the fact that gherkins come as standard on McDonalds hamburgers and cheeseburgers, probably the most common in the world. There is a reason for their inclusion, namely the bite and kick they give to even the blandest of burgers. A pickle can cover a multitude of sins.
Tip
Put the pickles directly under the patty where it can play second fiddle to the meat but still make its mark. The beef should be the overriding taste in a burger, and therefore should be the first big flavour that hits the palette after the blandness of the bun.
Allergen alert
Like most dried or preserved foods pickles often contain Sulphur Dioxide or Sulphites. Sulphur Dioxide is one of the 14 major food allergens.
Fried Egg
Selling point
Egg is commonly used as a binder in food, and in a burger it serves a similar purpose - it brings all the flavours together. Plus the gooeyness of biting into a fried egg yolk cranks up the juicy, moreish flavour of a burger up to 100.
Tip
Press a dent into your burger with your thumb and fry the egg directly inside it. Yes it will overspill a little but what you will get is a fantastically compact and neat burger that only oozes when you bite into it. Perfection.
Allergen alert
Egg is one of the 14 major food allergens.
Selling point
Homemade slaw is one of those ingredients that gives a burger that artisan quality that elevates a burger from standard fare to premium order.
Tip
Make sure your coleslaw includes pink cabbage - not only is it an ingredient that gives your slaw its zing and perfectly complements the beef patty, but it looks amazing and will make customers want to show off their order on Instagram.
Allergen alert
Admittedly, coleslaw can be an allergen minefield - it may contain Mustard, Sulphur Dioxide, Celery and/or Egg - all of which are part of the 14 major food allergens.
You may also be interested in…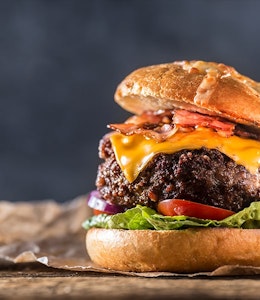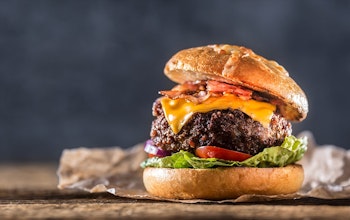 You may also be interested in…
Tips For Your Best Ever Burger
Read
You may also be interested in…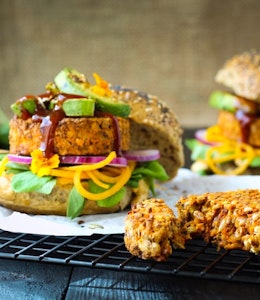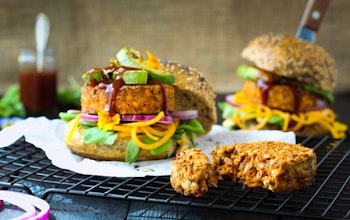 You may also be interested in…
Paramount's BBQ Lentil & Mixed Seed Burger With Chargrilled Avocado & Caramelised Onion Hummus
Read