World's Most Famous Salads
With summer just around the corner it's the perfect time for lighter, fresher meals.
---
Meals like… salads! And so ahead of National Salad Month in May we've put together a list of the world's most famous salads and tips for making your version famous among your customers, or friends and family.
Read on for our recpies and tips on these salad superstars...
Salad Caprese
Salade Niçoise
Cobb Salad
Ceaser Salad
Waldorf Salad
Larb Salad
Tabbouleh
Olivier Salad
Greek Salad
Salad Caprese
What's in it? Sliced mozzarella. Sliced tomatoes. Sweet basil. Olive oil. Salt. That's it.
Where did it come from? Italy's Isle of Capri, where it originated in the 1950s. Traditionally served as an antipasto, it's also known as the Insalata Tricolore, as it features the 3 colours of the Italian flag.
Top tip! For the juiciest taste, don't refrigerate your tomatoes – it makes them watery. Alternatively, to bring the tomato's flavour out, slice and sprinkle with salt before leaving for 30 mins.
---
Salad Niçoise
What's in it? Tomatoes, hard-boiled eggs, Niçoise olives, anchovies, cucumber and olive oil. Many people also choose to include tuna.
Where did it come from? Popular since the early 20th century, this salad comes from the French city of Nice. They're still protective of it – former Nice mayor Jacques Médecin said he was inspired to write a Niçoise cookbook after being appalled at 'the remains of other people's meals being served under the name salade Niçoise".
Top tip! Make sure you deseed your cucumber before using, so it doesn't make the salad too watery.
---
Cobb Salad
What's in it? Chopped salad greens, tomato, crispy bacon, grilled or roasted chicken breast, hard-boiled eggs, avocado, chives, Roquefort cheese and red wine vinaigrette.
Where did it come from? Debatable. One story is that it's named for Robert Howard Cobb, owner of The Brown Derby restaurant in Hollywood where either he or his chef invented it in 1937. Another theory involves the same restaurant and the same namesake, but a different chef – in 1929.
Top tip! For authenticity, your greens should be iceberg and romaine lettuce, watercress, and endive.
---
Caesar Salad
What's in it? Romaine lettuce, croutons, lemon juice, olive oil. Egg. Worcestershire sauce, anchovies, garlic, Dijon mustard, Parmesan cheese, and black pepper.
Where did it come from? It was invented by Caesar Cardini, an Italian immigrant chef who worked in both Mexico and the US. His daughter claims he invented the salad during Fourth of July celebrations in 1924 at his namesake restaurant.
Top tip! Add chicken to make it a more filling meal.
---
Waldorf Salad
What's in it? Celery, apples, walnuts, grapes, lettuce, and mayonnaise.
Where did it come from? The Waldorf-Astoria hotel in New York, where it was created for a charity ball supporting the St. Mary's Hospital for Children in March 1896. This version was likely made by maître d'hôtel, Oscar Tschirky, and only contained celery, apples and mayonnaise. By 1928 nuts were included in the official recipe.
Top tip! Toast your walnuts before adding to enhance their flavour.
---
Larb Salad
What's in it? Minced meat, chilli, lime, onion, and herbs. Sometimes lettuce.
Where did it come from? There's no official story but it's likely it originated in Laos, where it is often referred to as the national dish (it's also extremely popular in Thailand). Lettuce leaves are often used to wrap the salad up in to eat.
Top tip! Serve with pickled onions and sticky rice.
---
Tabbouleh
What's in it? Chopped parsley, tomatoes, mint, onion, soaked bulgar, olive oil, lemon juice, salt and pepper.
Where did it come from? The mountains of Lebanon and Syria, where it was a significant part of natives' diets in the Middle Ages – though mocked at first for its lack of meat. Regions such as Turkey and Armenia have their own variants on the recipe.
Top tip! Add the bulgar to the dressing to marinate while preparing the vegetables.
---
Olivier Salad
What's in it? Diced boiled potatoes, carrots, dill pickles, peas, eggs, celeriac, onions, diced boiled chicken (or bologna sausage), tart apples, salt, pepper, mustard and mayonnaise.
Where did it come from? Also known as a Russian salad, the Olivier salad enjoys popularity in post-Soviet countries and was invented in Moscow in the 1860s by the chef of the Hermitage – one of the city's most celebrated restaurants, where it became the signature dish.
Top tip! Eat the Iranian way by putting a layer of mayonnaise on the top.
---
Greek Salad
What's in it? Tomatoes, cucumber, onion, feta cheese, olives, salt, origins and olive oil. Sometimes bell peppers but never, ever, lettuce.
Where did it come from? Greece! Where it's also known as 'Horiatiki' – meaning village or peasant salad, and is imagined to be what a farmer might eat for lunch or a snack whilst out in the fields.
Top tip! Serve it very cold and salty for full impact.
Allergen Alert
Salads can be a minefield for allergy sufferers, as they often contain one or more of the 14 major food allergens - with croutons, fish, cheese and nuts being among the most popular ingredients. They might also feature foods for which allergies are on the rise, among them tomatoes, peas and onions.
So if you're planning on serving any of these famous salads it's very important to let sufferers know if a triggering allergen might be present. Erudus can help make that process quick, easy and accurate with our Recipe Builder tool.
Recipe Builder automatically aggregates nutritional values, costs and allergy statements as you add ingredients to the recipe you're building, and puts all this information into one easy to read document. So you can share any allergen information with consumers and staff and everyone can enjoy utmost confidence about what's in the dish.
You may also be interested in…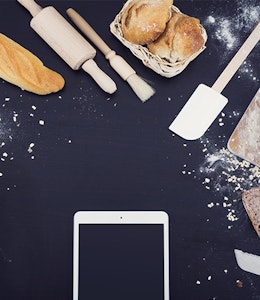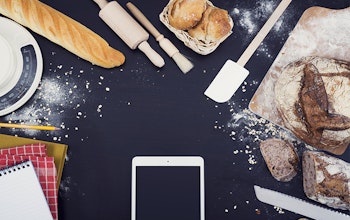 You may also be interested in…
Erudus… Has a Recipe Builder
Read
You may also be interested in…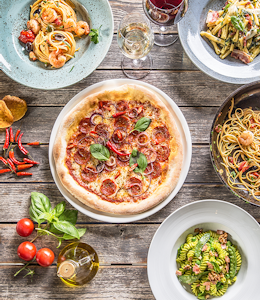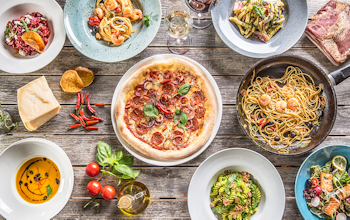 You may also be interested in…
World's most famous pasta dishes
Read