The best salad dressings are the ones that turn something boring into something too tasty to resist - which is handy, since salads are an integral part of the foodie experience - the perfect lighter meal choice, a tasty side dish, a way of getting your 5 a day.
---
So we rounded up the dressings that every chef, whether amateur or professional, should be able to whip up in order to take their salads to the very top level of tastiness.
Here's our salad dressings list to end all salad dressings lists:
Ranch dressing
Vinaigrette dressing
Blue cheese dressing
Italian dressing
Russian dressing
Honey mustrard dressing
Caesar dressing
You may also be interested in…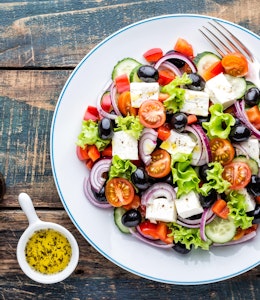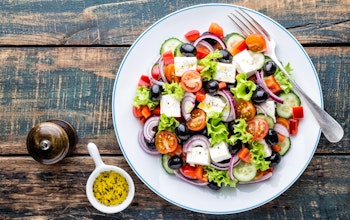 You may also be interested in…
World's Most Famous Salads
Read
Now let's find out more about the salad dressings...
What is salad dressing?

A salad dressing is a sauce for salads. It is an important addition because not only does it add flavour to a dish where ingredients can be bland, but it stops it from being dry and difficult to eat.
Ranch dressing
What is ranch dressing?
Ranch dressing is one of America's most popular salad dressings, made from a range of ingredients that include buttermilk, mustard, onion, garlic, salt, pepper, paprika, chives, dill, and mayonnaise. Sometimes sour cream and/or yoghurt are also included in the recipe.
Ranch dressing was invented in 1949 in Alaska by a plumbing contractor who made it for his work crews. He later sold it commercially after retiring to a ranch in California and serving it in the ranch kitchen. In 1992 ranch officially became the USA's best-selling dressing.
What salad do you use ranch dressing for?
Cobb salad, chicken Cobb salad, chicken salad, garden salad - most American salads can be served with ranch dressing.
It is also very commonly used as a dip for potato chips and vegetables.
Allergen alert
Mayonnaise is a key ingredient in ranch dressing, which means it contains Egg - one of the 14 major food allergens. Ranch dressing also contains Milk (in buttermilk, yoghurt, cream), and Mustard - also major allergens.
Though onion is not a major allergen, it is an allergen on the rise and becoming increasingly common.
Vinaigrette dressing
What is vinaigrette?
Vinaigrette is a common salad dressing around the world, and made by mixing oil with either vinegar or lemon juice. Traditionally the recipe calls for 1 part vinegar and 3 parts oil mixed together into an emulsion.
Many different types of oil can be used for vinaigrette dressing, including:
Olive oil
Rapeseed oil
Soybean oil
Sunflower oil
Peanut oil
Walnut oil
Similarly several types of vinegar may be used, including:
White wine vinegar
Red wine vinegar
Balsamic vinegar
Apple cider vinegar
Sherry vinegar
Some recipes add further ingredients such as garlic, cheese, sugar or truffles.
What salad do you use vinaigrette for?
Vinaigrette can be used for most salads, and is a great light choice for summer dishes. Some salads pair well with specific vinegars - such as white wine vinegar with chicory salad and sherry vinegar for salads that contain fruit. In French cuisine vinaigrette is also used as a cold sauce for vegetables such as artichokes and asparagus.
Allergen alert
Most vinegar contains Sulphites (and/or Sulphur Dioxide) - one of the 14 major food allergens. Depending on the oil used, a vinaigrette may also contain Peanuts (via peanut oil) or Soya (via soybean oil).
Mustard and cheese (Milk) might be included in some vinaigrette recipes, though they are not traditionally used.
Blue Cheese dressing
What is blue cheese dressing?
Blue cheese dressing is made by mixing blue cheese, buttermilk, yoghurt (or sour cream) and mayonnaise and adding vinegar, onion powder and garlic powder.
Whilst French or Italian cheeses such as Roquefort or Gorgonzola are often used for this dressing, it is used primarily in American cuisine, where creamy varieties of salad dressing are more popular.
What salad do you use blue cheese dressing for?
Blue cheese dressing contrasts well with crunchy lettuce, and so is often used for a Cobb salad, Iceberg wedge salad, or chopped salad. Some American restaurants also serve it as a dip for Buffalo wings or crudités.
Allergen alert
Mayonnaise is a base ingredient of blue cheese dressing, which means it contains Egg, one of the 14 major food allergens. There will also be Milk from sour cream, yoghurt or milk - as well as from the blue cheese itself. Vinegar may contain Sulphites, another major allergen.
Italian dressing
What is Italian dressing?
Though named after Italy, Italian dressing is an American salad dressing commonly attributed to the daughter of Italian immigrants living in Massachusetts in the 1940s. It has a similar principle to vinaigrette dressing - with a base of oil and vinegar, but with the addition of chopped peppers, sugar, herbs such as oregano and dill, salt, and sometimes onion and garlic.
A creamy version made with mayonnaise is also commonly available.
What salad do you use dressing for?
Americans will eat Italian dressings on most salads, and it is also used as a marinade for fish or meat, or a sauce in sandwiches.
Allergen alert
Most vinegar contains Sulphites (and/or Sulphur Dioxide) - one of the 14 major food allergens. It's also worth noting that garlic, and peppers (which are a nightshade) are not currently major allergens but they are on the rise, and some people may suffer from digestive issues if they consume too much.
Italian dressing is not part of actual Italian cuisine. In Italy it is more common for diners to mix their own vinaigrette at the table, using olive oil and vinegar or lemon juice.
Russian dressing
What is Russian dressing?
Russian dressing gets its name from the fact caviar was included in the recipe at one time, though it isn't any longer. It was first mentioned in US literature as far back as the turn of the 20th century, and is made by combining mayonnaise and ketchup with other ingredients such as horseradish, mustard, pimentos and herbs and spices.
What salad do you use Russian dressing for?
Russian dressing can be used as a sauce for leftover meat, or to dress a crunchy taco or wedge salad, but primarily it is known for being the condiment used on a Reuben sandwich.
Allergen alert
Mayonnaise is a base ingredient of Russian dressing, meaning it contains Egg, one of the 14 major food allergens.
Some recipes also contain Mustard, another major allergen.
Honey Mustard dressing
What is honey mustard dressing?
Honey mustard dressing is a basic dressing that balances sweet and spicy flavours. It is made of mustard, honey and cider vinegar, mixed together with oil.
What salad do you use honey mustard dressing for?
Honey mustard is a very versatile dressing that can be added to most salads, but especially chicken or avocado salad. It is also a popular sandwich dressing, and can be used as a glaze on ham.
Allergen alert
Mustard is one of the 14 major food allergens. There may also be Sulphites in cider vinegar.
Caesar dressing
What is Caesar dressing?
Caesar dressing was created for the Caesar salad, and is made from lemon or lime juice, olive oil, egg, Worcestershire sauce, anchovies, garlic, Dijon mustard, Parmesan cheese, and black pepper. Lemon juice is used more commonly than lime juice, despite lime juice being part of the original recipe, and it is debatable whether anchovies should be included as they are not part of the original recipe but found in most modern varieties.
What salad do you use Caesar dressing for?
Caesar dressing is used for Caesar salad. Along with romaine lettuce it is the key to the dish.
Allergen alert
Milk from parmesan cheese, (Dijon) Mustard and Egg are all major allergens and major ingredients in a Ceasar salad dressing. Some recipes include anchovies, which are Fish - another major food allergen.
French dressing
What is French dressing?
French dressing is a salad dressing that despite the name, originates from America. Some people refer to vinaigrette as 'French dressing', as the two were synonymous at one time.
American French dressing is essentially a vinaigrette dressing (3 parts oil to 1 part vinegar) with the addition of sugar, onions juice, paprika or ketchup (some recipes include tabasco or Worcestershire sauce). It is the additional ingredients that give French dressing its distinctive orange colour.
What salad do you use French dressing for?
French dressing is mostly used on green and leafy salads.
Allergen alert
Most vinegar contains Sulphites (and/or Sulphur Dioxide) - one of the 14 major food allergens.
Some recipes may also include Celery, one of the 14 major food allergens
You may also be interested in…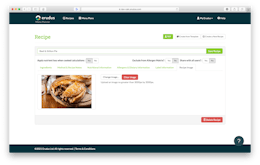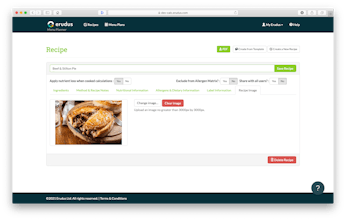 You may also be interested in…
Erudus Recipe Builder
Read
You may also be interested in…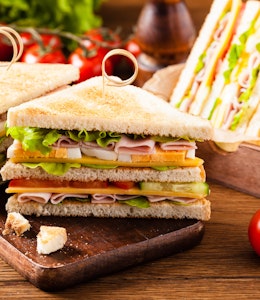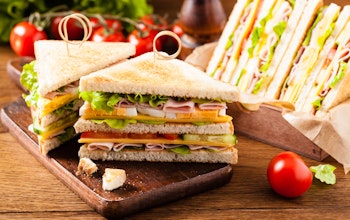 You may also be interested in…
You may also be interested in…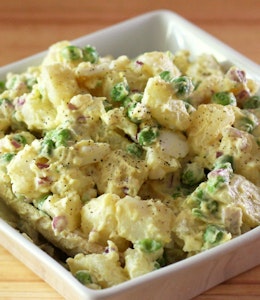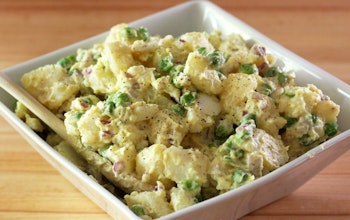 You may also be interested in…
Potato, Bacon & Pea Salad
Read