So, what is Coronation Chicken?
Whether the country is celebrating a Jubilee or not, Coronation chicken has woven its way into the very fabric of English cuisine. So here's everything you need to know about the dish created just for Elizabeth II…
---
What is Coronation chicken?
Coronation chicken is a yellow-coloured chicken dish consisting of cold, cooked chicken in a creamy, slightly spicy sauce. It is commonly used as a sandwich filling, and also in salads. It was created to be eaten at Queen Elizabeth II's coronation banquet in 1953 and is sometimes known by the name "Poulet reine Elizabeth" (Queen Elizabeth chicken).
Coronation chicken tip

Poach or roast your chicken with herbs and spices, such as bay leaves, parsley, cumin and cinnamon. Not only will the chicken have more flavour, the carcass will be a great base for a tasty stock.
What are the ingredients in Coronation chicken?
The main ingredient in Coronation chicken is cold cooked (either poached or roasted) chicken, with the meat pulled off the bone.
The other ingredients vary from recipe to recipe, but raisins or dried apricots are usually included, and the sauce should be cream or mayonnaise-based and spiced with curry powder (the original recipe calls for homemade curry paste).
Other ingredients in the sauce range from onion, tomato puree, and fresh herbs to red wine, sugar and lemon juice.
Coronation chicken tip

Use plain yoghurt in equal parts to mayonnaise for the sauce - it's just as creamy but more subtle than mayonnaise and will allow the flavours of the spices and herbs and dried fruit to come through more powerfully.
Where does Coronation chicken come from?
Coronation chicken comes from the UK, where it was invented in 1953 by Le Cordon Bleu cookery school founder and writer Constance Spry during the preparations for the coronation banquet of Queen Elizabeth II.
It is thought to have been inspired by 'Jubilee chicken', a curried mayonnaise chicken dish eaten for the jubilee celebrations of King George V, Elizabeth's grandfather, in 1935.
Coronation chicken tip

Dry brine your chicken prior to roasting, it will make it much juicier and pick up the flavours of the other ingredients better.
Does Coronation chicken contain any allergens?
Coronation chicken has a sauce usually made from mayonnaise - which contains Egg, and often cream - which is derived from Milk. Egg and Milk are both among the 14 major food allergens.
Dried apricots or raisins are also usually among the ingredients in Coronation chicken, and dried fruit may contain Sulphur Dioxide - another of the 14 allergens.
Depending on the exact recipe used, Celery and Mustard may also be present.
Coronation chicken tip

Add some chopped apple to your mixture - it's contrast to the creamy sauce will give the dish a kick, whilst still complimenting the sweet, tangy dried fruit.
You may also be interested in…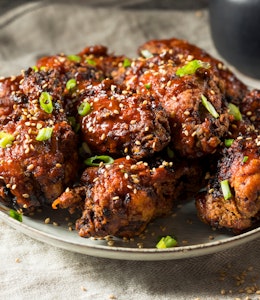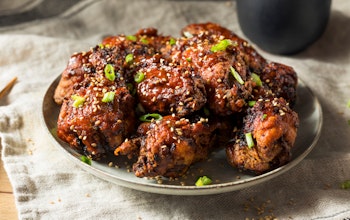 You may also be interested in…
Korean Chicken Wings with Garlic Salt by Cornish Sea Salt Co.
Read
You may also be interested in…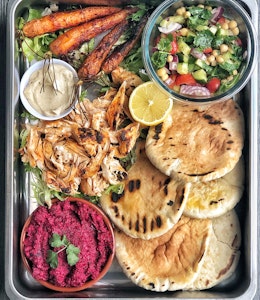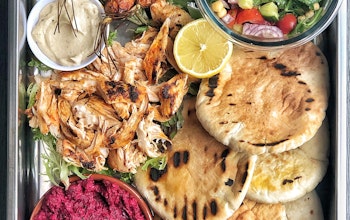 You may also be interested in…
"Charlotte Kidd Eats" Harrisa Chicken Pittas
Read