Tips for the best fish and chips
Fish and chips have been part of the fabric of Britain for as long as anyone can remember - they are the nation's favourite dish. But how do you keep fish and chips from being soggy? And why does the best batter use beer as a main ingredient?
---
Fish and chips can taste like heaven, but they're also easy to get very wrong, so we've put together this list of failsafe tips to make yours talked about for all the right reasons...
Top tip!
If possible, opt for fish that has been caught locally by inshore boats. It is fresher than trawler caught fish, and also considered more sustainable.
What is the best fish for fish and chips?
Cod is generally considered to be the best fish for fish and chips, and is famously associated with the dish. This is because its mild flavour and tender texture compliment the crunchy batter and fluffy potatoes, and doesn't clash with or overpower the traditional accompaniments such as salt, vinegar, mushy peas and curry or tartar sauce.
Cod is also low in cholesterol and sodium, and rich in polyunsaturated and monounsaturated fatty acids (the good fats). Haddock is also an increasingly common fish used for fish and chips, with pollock and plaice also popular choices because of their delicious flavour.
Top tip!
Don't forget to par-boil your potatoes for 10 minutes before frying, in order to remove the starch from the surface of the potato and ensure they have a crispy coating. If par-boiling isn't possible you can soak the chips in water for 10 minutes before frying.
What are the best potatoes for chips?
Maris Pipers are the best potatoes for chips because they are both floury and slightly waxy. This allows the centre of the chip to be fluffy and soft and the surface to be crispy and firm, King Edward potatoes are also a good choice.
Top tip!
After soaking or par-boiling (and allowing to cool), pat the moisture out of the chips with kitchen roll or a paper towel before frying. The drier the potato the crispier it will become once in the hot oil.
Why do you put beer in fish batter?
Beer is a very popular ingredient in the batter used for fish and chips - this is for multiple reasons, including adding flavour and making the batter lighter and crispier.
This is because the bubbles escape from the batter during frying, making it airier. The bubbles also add acidity to the batter and prevent it from becoming gluten-heavy and tough.
Beer batter cooks quicker than that made with water or milk, reducing the risk of over-cooking the fish.
Top tip!
People with Coeliac Disease or a gluten allergy or intolerance may wish to avoid beer batter, and can instead use sparkling water. Beer is used for getting air into the batter and making it crispy, something the bubbles in carbonated water can also do.
What's the best oil for cooking fish and chips?
Cooking oil with a high smoke point is required for frying fish and chips. Neutral-tasting oils such as sunflower oil, vegetable oil and rapeseed oil are all suitable choices.
You may also be interested in…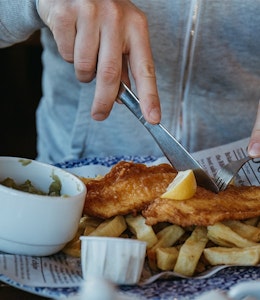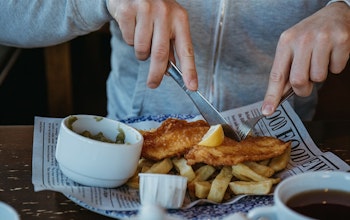 You may also be interested in…
Why Fish and Chips are a British Institution
Read
However, fish and chips were traditionally fried in hot lard or beef dripping and these are still considered the best options for flavour.
Top tip!
Chill your batter before use, or go one better and chill the ingredients before making the batter. Batter that is 6 degrees celsius is perfect, as it will react with the hot oil for the crispiest, fluffiest coating.
How do you keep fish and chips from being soggy?
To prevent soggy batter and soggy chips, you need to ensure the oil is hot enough. If it isn't at least 160 degrees celsius, too much of the oil will be absorbed into the fish and chips, making them limp and greasy.
After they come out of the fryer, moisture is the enemy of fish and chips, so keep them away from enclosed spaces where the steam coming from them will be reabsorbed and make the crispy outer shell soft.
Top tip!
Some recipes for batter will advise allowing it to rest for a few hours before using. Bear in mind this will make the coating denser and it may take longer to cook. Whether you choose to let it stand or not depends on whether you prefer a thick or thin batter coating.
What's the best temperature to fry fish and chips?
The best temperature for deep-frying fish and chips in oil is between 160 and 180 degrees celsius. You should check this temperature regularly with a cooking thermometer.
Top tip!
When frying fresh fish, dust the fillet in flour before dipping in batter. This removes excess moisture from the fish, for a crispier coating and will make sure the batter sticks to the entire fillet and avoids bare spots.
How do you properly eat fish and chips?
You can eat chips with hands, a fork, or traditionally for those eaten at the seaside, a wooden two-pronged fork.
Fish is better eaten with a knife and fork, though a fish knife (which has a wide flat blade used to separate the skin from the meat) is not necessary.
When it comes to condiments and accompaniments, salt and vinegar are practically mandatory, tartar sauce and mushy peas encouraged and buttered white bread welcomed.
Curry sauce and ketchup are also popularly eaten with fish and chips.
Top tip!
Fry your chips at least twice! The first time is to cook the chips through and ensure that fluffy middle. The second time should be quick and at a high temperature to achieve that crispy outer shell.
You may also be interested in…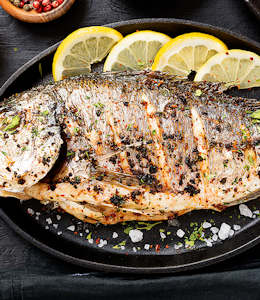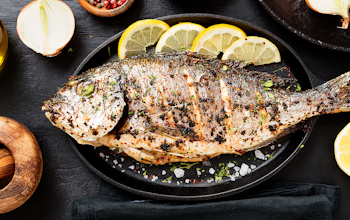 You may also be interested in…
Fish recipes and ideas for Good Friday
Read
You may also be interested in…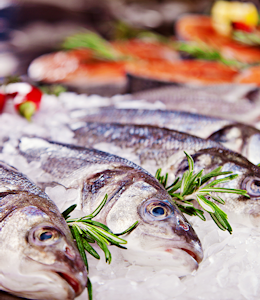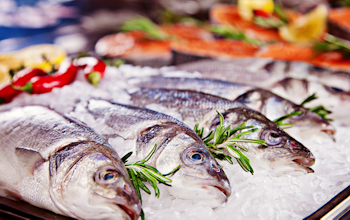 You may also be interested in…
Food Safety Cheat Sheet: Fish and Shellfish Guidance
Read
You may also be interested in…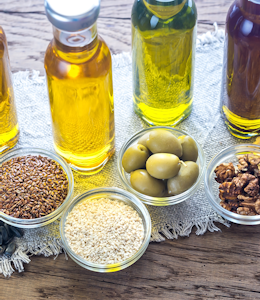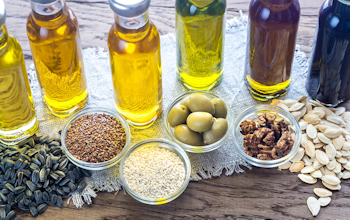 You may also be interested in…
Best cooking oil for every situation
Read