Pie tips and how to make the perfect pastry
With British Pie Week upon us there's never been a better time to ask the question - not to mention share tips for pie nirvana.
That's why we've put together this selection of easy advice on how to make the perfect pie and how to make a pie look professional - as well as delicious...
Top tip!
Make sure all of your ingredients are kept cold before starting to make your pie pastry - cold butter and cold water in particular. Doing so will give you the flakiest pastry, as the butter is prevented from melting into the crust.
What is a pie?

A pie is a pastry dish consisting of a dough casing and either a sweet or savoury filling. But to find out what the experts think a pie is you can visit our story on British Pie Week: A Debate.
Do pies contain any allergens?
Pies usually contain the allergens Milk and Cereals containing Gluten at a minimum, as butter and (wheat) flour are 2 of the main ingredients in all types of pastry. Pastry is often brushed with Egg, another major allergen.
Depending on the pie filling, more of the 14 major food allergens - such as Celery, Mustard and Sulphur Dioxide might also be present.
Top tip!
Bring pie filling up to room temperature before adding it to the pie shell, firstly to make it easier to spread it evenly in the pie dish, and secondly because when puff pastry is placed over cold filling it cooks unevenly.
What makes a good pie?
There are several components to a good pie - a uniformly well-cooked crust that avoids the dreaded soggy bottom, light and flaky or moist and crumbly pastry (depending on the type of pastry used) and the perfect amount of filling - not so much it bursts the pie and causes sogginess but enough to ensure each mouthful includes both filling and pastry.
Top tip!
By using the Erudus Recipe builder you can calculate the cost per serving of your pie before you have even bought the ingredients. Simply by selecting ingredients from the Erudus Data Pool and the amounts required, the Recipe Builder will aggregate the costs of the recipe per serving and for the dish as a whole, as well as the allergen and nutritional information.
Create a pastry recipe in Recipe Builder and in addition to calculating costs and nutritional and allergen information you can save it as an ingredient in itself, to be added alongside different fillings in all of your pie recipes - saving you time and keeping your costs consistent.
You can add the method, imagery and download all the info as a single PDF Recipe Card. Find out more about Recipe Builder here.
Do pies contain gluten?
Most pies contain gluten, as pastry is a major component of a pie and (wheat) flour is the main ingredient in pastry. Wheat is a Cereal containing Gluten, but there are many varieties of gluten-free flour available.
You may also be interested in…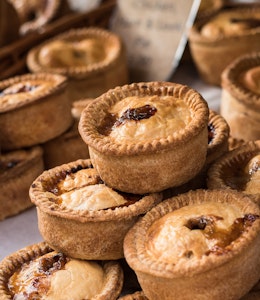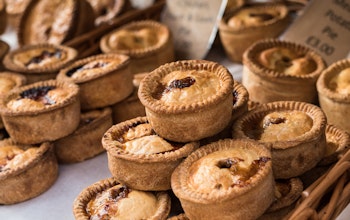 You may also be interested in…
Top tip!
Pre-bake your crust before adding filling, and then stick it back in the oven once the filling is in to cook properly. This step is important because it gives the pie a sturdy base and prevents the dreaded "soggy bottom".
Can pies be vegan?
Traditionally, pies are not vegan as pastry is made with butter - an animal-derived product. However, you can make vegan pastry by replacing the butter with vegetable oil or vegan butter.
Sweet pies are an especially good choice for vegans as they are usually filled with fruit.
Top tip!
Put your pie dish onto a baking sheet and then put it in the oven. Doing this means you can also use the baking sheet to remove the pie from the oven and avoid disturbing the crust and running its shape.
What's the best pastry for sweet pie?
Shortcrust pastry is the best for sweet pies such as apple and cherry as it is robust enough to firmly hold juicy fillings without leaking. You can even make sweet shortcrust pastry by mixing icing sugar in alongside the other ingredients.
Top tip!
If you want to make a pie that fits certain criteria - gluten-free, low-fat, vegan or free from allergens for instance, run your ingredients through the Erudus Allergen & Nutritional Data Search before you start. This tool allows you to see allergen content, dietary suitability and nutritional information (including Reference Intake) for the products in our Data Pool. Find out more about the Allergen & Nutritional Search here.
What's the best pastry for savoury pie?
You can use any type of pastry for savoury pies - buttery shortcrust is great for meaty pies such as pork pies and steak and kidney pies, flaky filo works well with light, flavourful ingredients such as leek and chicken, and puff pastry makes a show-stopping lid for pot pies.
Top tip!
Pop your pie pastry in the fridge after mixing the ingredients together, then again after rolling it out, and after putting it in the dish for baking. This is to ensure that the butter melts slowly when it goes into the hot oven, creating flaky layers, and avoiding the dough losing its structure and shape.
What are the most popular sweet pies?
In the UK the type of mince pie eaten at Christmas is the most popular sweet pie - made with ingredients such as mincemeat, dried fruit and spices.
Globally, apple pie is one of the most popular sweet pies, alongside cherry, pecan, and pumpkin pie.
Non-traditional pies such as banoffee pie are also increasingly popular.
Top tip!
Use a biscuit cutter to cut out pieces of pastry in shapes such as hearts or stars - these can be placed on top of the pie for a fun, professional look.
What are the most popular savoury pies?
Steak and kidney and chicken and mushroom are the 2 most popular savoury pies in the UK, but pork pies - which are generally smaller than most savoury pies and eaten cold, are also a national favourite.
Top tip!
For the flakiest pie crust, when making your pastry add the water to the flour and butter very sparingly, as little as a spoonful at a time.
What are the main ingredients in a pie?
A pie is composed of pastry and filling. The main ingredients in pastry are flour, butter, water or milk, and a pinch of salt.
Pastry is sometimes glazed with Egg. Filling can be pretty much anything, but is usually meat in some kind of sauce or gravy, or fruit in cream or its own juices.
Top tip!
For sweet pies, after brushing the pastry with egg wash sprinkle coarse sugar over the top of the pie. It adds crunch, pizazz and and sparkle.
What is the healthiest pie?
Pumpkin pie is thought to be the healthiest sweet pie - particularly when made with minimal sugar, as pumpkin is a healthy, low-calorie vegetable full of antioxidants and vitamin C. Pot pies are the healthiest savoury pies, as only the "lid" is made of pastry - the most carb-heavy and calorific part of the pie.
You may also be interested in…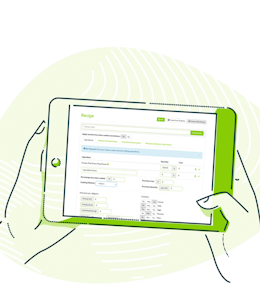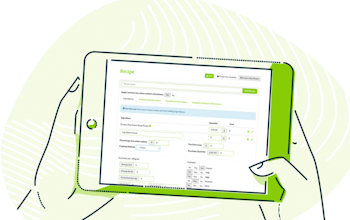 You may also be interested in…
Solutions Spotlight: Recipe Builder
Read
You may also be interested in…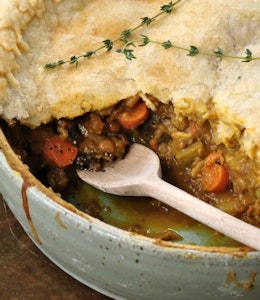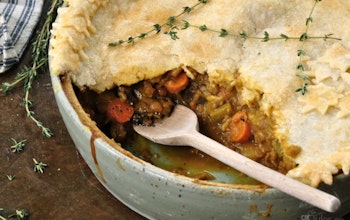 You may also be interested in…
gfJules's Gluten-Free Pot Pie
Read
You may also be interested in…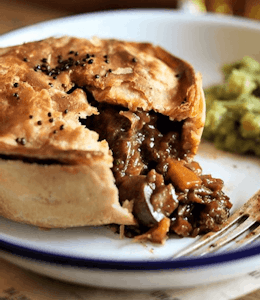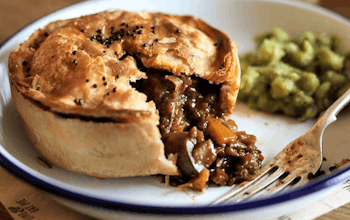 You may also be interested in…
British Pie Week: A Debate
Read