Elevated Easter Foods For Your Menu
Easter is almost upon us, and if you aren't celebrating by including a few special dishes on your menu, we urge you to consider it!
---
Because Easter is a great holiday for food, full of flavour and variety. Just look at these foods traditionally eaten at Easter:
Hot cross buns
Lamb
Chocolate
Fish
Carrot cake
Eggs
Easter biscuits
Simnel cake
There's so much culinary potential there, but if you need a little inspiration we're here to help. Presenting our top tips for standout Easter dishes...
Luxury hot cross buns
Why is a hot cross bun eaten at Easter?
Hot cross buns are eaten at Easter - specifically on Good Friday - because the cross on top (usually made with shortcrust pastry or a flour and water paste) symbolizes the crucifixion of Jesus. Invented in Ancient Rome by Christians, they are also made with spices that represent the spices used to embalm Jesus's body when he was buried, and served hot.
How to elevate hot cross buns on your menu
Give your hot cross buns the gold star treatment and they'll top any taste test. Firstly, up the ante with your dried fruit by adding cherries and berries to the mix and soaking them all in fruit juice for a couple of hours before use to keep the flavour fresher for longer. Next, avoid any advice to melt butter and then add to the flour - rubbing it in with your fingers whilst still solid will result in a softer and more delicate texture. A good dough should be as thin as possible - pretty much transparent, and once your buns are assembled mist them with water before putting them in the oven - it will moisten the dough skin and help them rise (taller = fluffier when it comes to a hot cross bun).
Allergy Alert
Wheat flour is a main ingredient in hot cross buns and Cereals containing Gluten is one of the 14 major food allergens. Milk, Egg, and Sulphites (through the dried fruit) are also 14 major food allergens and commonly used to make hot cross buns. Purchased hot cross buns might also contain Soya and Nuts (Tree Nuts).
Lamb in rosemary focaccia
Why is lamb eaten at Easter?
Lamb and lamb's blood has been associated with Passover (the Jewish holiday that occurs at a similar time to Easter) for hundreds of years, but for Christians the association is more symbolic. Jesus is seen as the 'Lamb of God', representing purity and sacrifice. Retailers often push lamb at Easter because it's a great domestic meat and arguably the most environmentally friendly meat in our diet. In addition to being the green option, the UK's lamb industry is joint top ranked in the world for animal welfare standards (and you can use the Erudus Data Pool to tell if a meat product has accreditations like The Red Tractor logo, which show is has been produced at the highest standard with the lowest impact on the environment).
How to elevate lamb on your menu
Any food that is perfect for takeaway will fare well in the current social climate, and lamb makes a great sandwich. Slow roast lamb shanks for meat that melts in the mouth and add Harissa paste, cumin and coriander to give it a kick. Fried red onions and feta cheese will provide crunch and creaminess respectively, and soft, springy focaccia has the ideal texture to hold it all together.
Allergen alert
Cereals containing Gluten will be present in the focaccia unless it's a gluten-free variety, and if using feta there will also be Milk (though from a sheep not a cow).
Chocolate eggs with sea salt
Why are chocolate eggs eaten at Easter?
The egg is the most well-known symbol of Easter, signifying the resurrection of Jesus Christ. The egg's hard shell is Jesus's tomb, and he is the baby chick emerging from it. Chocolate eggs have been produced in Europe (specifically France and Germany) for Easter since the 19th century, though they were much harder and more bitter than the sugary milk chocolate eggs we enjoy today.
How to elevate chocolate eggs on your menu
Milk chocolate eggs with sea salt are an inspired countertop treat to go - sweet, salty and moreish. Salt gives chocolate a more intense flavour because it enhances the sweetness. Be sure to use good quality sea salt flakes, because the crunch they give is essential for texture, and sprinkle over your chocolate about halfway through the freezing process. You can make your own egg mould, though it's easier to buy one.
Allergen alert
High quality chocolate is made with few ingredients - cocoa beans, cocoa butter, sugar and milk. Milk is one of the 14 major food allergens. Some varieties of ready made chocolate will include traces or more of Soya and Peanuts.
Posh fish supper
Why is fish eaten at Easter?
Fish is traditionally eaten on Good Friday, the day that Jesus died and sacrificed his flesh for our sins. Consequently many Roman Catholics chose not to eat warm-blooded animals on Good Friday, and other Christians followed suit. Fish is a cold-blooded animal and therefore seen as an acceptable alternative.
How to elevate fish on your menu
The fish supper has long been a Friday night dinner staple for the working classes, and has since found its way onto the bestsellers list of many a gastro pub menu. A fish supper is essentially fish and chips, and to give your fish the luxury treatment it should be fried in beer batter. Not only do the bubbles in the beer add body to the batter, but the alcohol in it evaporates faster than water - so a batter made with beer needs to be in the fryer less time than one made with water or milk. This leads to a lighter and crispier batter, with less chance of overcooking the fish. We suggest choosing our local beverage Newcastle Brown Ale for a batter that'll have a sweet caramel flavour devoid of bitter aftertaste. Rendered beef fat will give your chips a delicious coating - fry them first at a lower temperature to soften the potato, then again at a hotter temperature for a crispy exterior.
Allergen Alert
Fish is one of the 14 major food allergens, and batter is made with flour (Cereals containing Gluten). You should also be careful with the oil you cook with, as sometimes chips are fried in Peanut or Nut oil.
Venetian carrot cake
Why is carrot cake eaten at Easter?
It's hard to say exactly why carrot cake is eaten at Easter - we'd hazard a guess that it's a combination of the spices included in its ingredients being common in Easter foods, and the fact that carrots are associated with rabbits and rabbits are also associated with Easter. In any case, carrot cake has appeared in upmarket French recipe books since the 1800s, and it's thought that it evolved from the carrot puddings eaten in the middle ages.
How to elevate carrot cake on your menu
People with wheat and dairy allergies usually miss out when it comes to decadent cakes, and have to put off with less flavorful options, but Nigella Lawson's carrot cake recipe - inspired by Venetian Jews - is dairy-free and gluten-free and will stand out for all the right reasons. Using ground almonds instead of flour along with ingredients such as olive oil, pine nuts and sultanas, it is simultaneously sweet and sophisticated. See the recipe here.
Allergen alert
There are fewer allergens present here than you'd usually find in a cake, but the recipe still includes Egg, and relies heavily on Almonds - a Tree Nut. Nigella also soaks her sultanas in alcohol, which means it also contains Sulphur Dioxide. You should also note that a cream cheese frosting would mean the cake is no longer dairy-free and would contain Milk.
Goose egg potato nest
Why are eggs eaten at Easter?
Eggs are the most common symbol for Easter (see above), and in fact has long been associated with pagan festivals celebrating spring - and the new life that comes with it.
How to elevate eggs on your menu
Eggs are a common kitchen food all year round, but you can make them both luxurious and apt for Easter by putting them in a potato nest. The nest is made with shredded and roasted potato, and for best results use a nice deep muffin tin. Par boil the potatoes first to ensure the nests hold together, then coat with cornflour and oil, shape into place in the tin and roast in a very hot oven for close to half an hour (or whenever golden and crispy). To go full haute cuisine, use a duck or goose egg dipped in celery salt - they have a more refined flavour and texture and really stand out on a menu.
Allergen alert
Eggs are one of the 14 major food allergens and cornflour contains Cereals containing gluten. Celery salt is a mixture of salt and ground celery or celery seeds, and counts as an allergen.
Easter biscuits dipped in dark chocolate
Why are Easter biscuits eaten at Easter?
The clue's in the name. However an Easter biscuit can mean different things - many people assume this description refers to any biscuit shaped and decorated with an Easter theme, though the traditional 'Easter biscuit' - a spiced fruit shortcake - goes back to the start of the 20th century. In the West Country these biscuits were flavoured with Oil of Cassia - a cinnamon extract - partly in the belief that this oil was used to embalm Jesus.
How to elevate Easter biscuits on your menu
Take your cues from Bristol and the surrounding areas and use Cassia oil alongside flour, butter, egg yolk, baking powder, sugar and currants - it makes for a distinctive spicy taste that is well-suited to modern tastes. Cassia oil, though technically an essential oil has been filtered to remove any bitterness, and is much stronger than regular cinnamon. Offset the spice by dipping the biscuits in melted dark chocolate and leave to cool. The perfect tasty treat to enjoy with tea or coffee.
Allergy alert
The basic Easter biscuit recipe includes Cereals containing Gluten, Milk (butter) and Egg, and if you're dipping in chocolate you should check to see if it contains Nuts.
Boozy Simnel cake
Why is Simnel cake eaten at Easter?
Simnel cake is associated with Lent and Easter, and has been eaten since Medieval times. It is topped with 11 marzipan balls that symbolize the 11 disciples of Jesus. Similar to Christmas cake in flavour and texture, the marzipan coating or topping is the defining feature of a Simnel cake.
How to elevate Simnel cake on your menu
To make your Simnel cake memorable and moreish, soak your dried fruit (sultanas, currants and also sour cherries if you want to go all out) in booze - it will make the flavours really sing. Add in candied peel, and you'll have a cake that even the most sophisticated palette can enjoy.
Allergen alert
Marzipan is made from Almonds (Tree Nut) and dried fruit contains Sulphur Dioxide. There will also be Milk via the butter and Cereals containing Gluten via flour in the cake's batter.
You may also be interested in…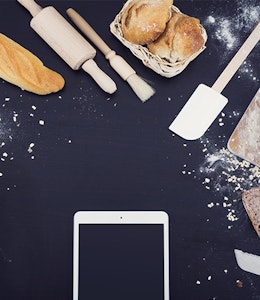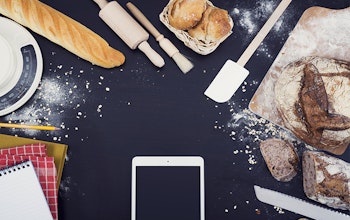 You may also be interested in…
Erudus… Has a Recipe Builder
Read