The Best Scottish Food and Drink
It's Scottish Food & Drink fortnight!
---
And as a proud Supplier member of the Scottish Wholesale Association (SWA), here at Erudus we love to take the occasion as the perfect opportunity to celebrate cuisine from north of the border.
Our favourite Scottish food and drinks are:
Haggis
Shortbread
Whisky
Porridge
Neeps & Tatties
Irn-Bru
Tablet
Aberdeen Angus Beef
Now time to find out more about them, as well as exploring their allergen information and tips for making them stand out on your menu...
Haggis
What is haggis?
Arguably Scotland's most famous delicacy - for those without a delicate constitution it's a gourmet delight. It consists of calf or sheep heart, liver and lungs mixed with onions, herbs, suet and onions, all boiled together in the animal's stomach. It's available in Scottish shops all year round, but is commonly associated with Burns Night, where it's the star dish at dinner.
Modern twist
Haggis sausage rolls make for a rich and tasty snack with novelty factor. Brush your puff pastry with mustard to give them that moreish edge, and if you're worried haggis is too much of an acquired taste, mix in some bacon to balance out the flavour.
Allergen alert
Haggis traditionally counts oatmeal and suet as ingredients (and pastry for sausage rolls usually contains wheat flour), all of which count as Cereals containing Gluten - one of the 14 major food allergens.
Like Haggis? Listen to the Burns Night episode of The Erudus Podcast, in which host Andrew speaks to James Macsween, Managing Director of the award-winning Macsween of Edinburgh about all things haggis.
What is shortbread?
A rich buttery biscuit whose first printed recipe goes back to 1736 and one Mrs McLintock, a Scotswoman. Traditionally made in a 'round' that can be broken up into triangular pieces, shortbread is made with 3 ingredients only - sugar, butter and flour.
Modern Twist
Savoury shortbread can elevate a simple soup into a fancy meal. You can flavour your basic shortbread mix with rosemary or thyme (but be sparing so you don't overpower the biscuit's own flavour), or go all out by incorporating onion or ham into the recipe.
Allergen alert
2 of shortbreads 3 ingredients are major allergens - Butter comes from Milk, and flour is made from Cereals containing Gluten.
Whisky
What is whisky?
Scotland's national drink - it's name even comes from the Gaelic word for 'water of life'. To be called Scotch whisky, the liquor has to be made in a manner specified by law. It comes in 5 different categories - single malt, single grain, blended malt, blended grain, and simply blended Scotch whisky, and can be made from malted barley, wheat or rye (malted barley is the oldest, and purist's choice). It's also worth noting that whisky is Scottish, and 'whiskey' is Irish.
Modern twist
Looking to add pizazz to afternoon tea? Whisky tea is smooth and smokey and has all the aromatic qualities of whisky without any of the alcohol. It's made by marinating black chinese tea in whisky.
Allergen alert
Although some alcoholic drinks like beer and wine contain Sulphur Dioxide (a major allergen) spirits do not usually contain it in a large enough quantity to be labelled as such, though those with this allergy should be careful.
Porridge
What is porridge?
A popular breakfast yes, one Scots have been swearing by for hundreds of years. Oats, the basis of porridge, are one of the only grains suited to the Scottish climate, and mixed with milk and pinch of salt they make for a nutritious meal packed with vitamins, minerals and fibre. National superstition dictates that Scottish porridge should always be stirred clockwise to stop the devil coming for you.
Modern twist
Make porridge the perfect to-go breakfast by turning it into delicious bars. Simply mix in dried fruit like blueberries or apricots with steel cut oats, along with your favourite seeds, then add an egg and some milk and bake for 45 minutes to an hour.
Allergen alert
Porridge is made from oats, a Cereal containing Gluten and therefore one of the 14 major food allergens. They are usually cooked with Milk, another allergen, and some recipes also include Egg and dried fruit (which may contain Sulphur Dioxide).
Neeps & Tatties
What are neeps and tatties?
The most Scottish sounding dish ever, consisting of swede or yellow turnip (the 'neeps') and potato (the 'tatties'), boiled then mashed. They're another Burns Night fixture, sometimes mixed together but more commonly served separately alongside haggis and a whisky sauce.
Modern twist
The Scots are famously fond of deep frying just about anything, so shape your neeps and tatties into patties, coat in batter and deep fry for an indulgent and comforting side dish.
Allergen alert
Tatties are usually cooked with butter, cream or milk (all made from Milk).
Irn-Bru
What is Irn-Bru?
Scotland's other national drink, famously produced by A.G Barr of Glasgow, and still made in North Lanarkshire. An advertisement for Irn-Bru featuring Barr's original strongman label dates all the way back to 1900. The drink is famed for its distinctive flavour and bright orange colour, but as of 2018 only 3 people in the whole world reportedly know the recipe.
Modern twist
Forget continental cocktails by putting an unmistakably Scottish spin on boozy favourites. We suggest swapping out the soda water in an Aperol Spritz for Iron-Bru. Or use half soda water and half Irn-Bru as your mixer alongside the Aperol and prosecco if the taste is too bitter.
Allergen alert
Irn-Bru does not contain any of the 14 major food allergens. If served with prosecco the drink may contain Sulphur Dioxide.
Tablet
What is tablet?
Tablet is a confectionary product similar to fudge, but with a harder, grainy texture (fans of the sweet will definitely be able to tell the difference). Made from sugar, butter, and condensed milk, the ingredients are boiled and then left to crystallize and cool.
Modern twist
Go all in on the Scottish theme by flavouring your tablet with whisky. Not only will it give the flavour a kick but whisky goes well with tablet's grainy texture. Just always be sure that your sugar has dissolved completely before you turn up the heat of the mixture to start the boiling process - if the sugar is not dissolved the mixture won't set properly.
Allergen alert
Tablet is made from butter and condensed milk, both of which come from Milk - a major allergen.
Aberdeen Angus Beef
What is Aberdeen Angus beef?
Named after the breed of small beef cattle it comes from (which are native to Aberdeenshire and Northeast Scotland), Aberdeen Angus beef is renowned for its marbled meat - giving it a tender, juicy texture and making it extra tasty. As such it can often be more expensive than other varieties of beef.
Modern twist
Though Aberdeen Angus makes great burgers and steaks, there's nothing more cosy and Scottish (or keeping with the vogue for fresh local produce) than using it in a slow-cooked stew bursting with seasonal, domestic vegetables such as turnip, potatoes, onions and carrots . Add a liberal dollop of redcurrant jelly to reduce in your stew and make the flavours pop.
Allergen alert
Aberdeen Angus beef is not an allergen, but a stew may contain several of the 14 major food allergens - most likely Celery (used in the sauce or vegetable base) and Cereals containing Gluten (via flour used for thickening).
You may also be interested in…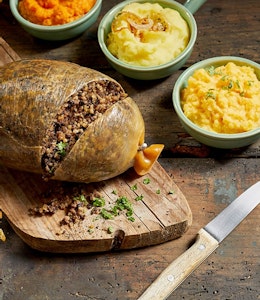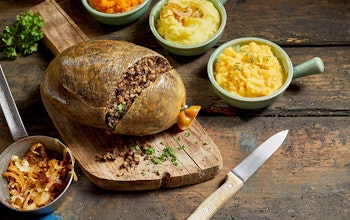 You may also be interested in…
Burns Night Fun Facts
Read
You may also be interested in…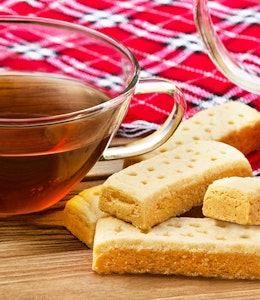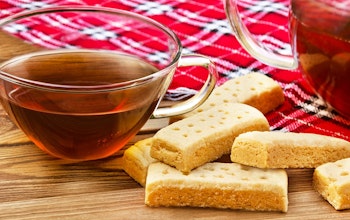 You may also be interested in…
Local Hero: Scottish Shortbread
Read