Vegan Banana Breakfast Muffins
Ingredients
Gluten-Free Self-Raising Flour (150g)
Demerara Sugar (75g)
Ground Cinnamon (½ Tsp)
Ground Nutmeg (½ Tsp)
Ground Ginger (½ Tsp)
Light Olive Oil (75ml)
Cider Vinegar (1 Tbsp)
Water (100ml)
2 Ripe Bananas, mashed (200g without skins)
Gluten-Free Oats (50g)
Reference intake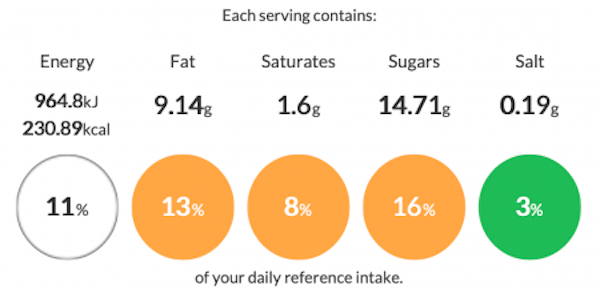 Method
1.
Preheat your oven to 150°C and line your muffin tin with 10 muffin cases.
2.
In a mixing bowl add in your gluten-free self raising flour or flour mix, sugar and ground spices. Mix until evenly incorporated.
3.
In a jug, mix the oil, vinegar and half the water. Add to the dry ingredients and mix.
4.
Add in the banana and stir until evenly mixed. Now add in the gluten-free oats.
5.
Pour in the last of the water and mix until you have a slightly looser cake batter.
6.
Now use a tablespoon to evenly divide the batter between your muffin cases.
7.
Pop into the middle shelf of your oven and cook for 30 minutes.
8.
Once golden brown, take out and place on a cooling rack until warm to touch.