Honeybun's Gluten-Free Amondi Cookies
Reference Intake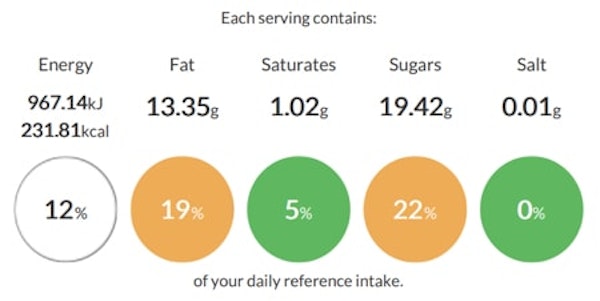 Dietary info
Allergens
Ingredients
4 Egg Whites
Ground Almonds (400g)
Granulated Sugar (280g)
Ground Brown Flaxseeds (50g)
Orange Oil (1 Tsp)
Finely Grated Zest of 2 Oranges
Icing Sugar (4 Tbsp)
14 Whole Almonds
Method
1.
Preheat the oven to 180°C (350°F/Gas 4). Cut a piece of baking parchment to line the bottom of a large baking sheet.
2.
Put the egg whites into a large clean mixing bowl and whisk with an electric mixer until they form stiff peaks.
3.
Add the ground almonds, sugar, flax seeds, orange oil and orange zest and beat using an electric mixer at low speed until you have a sticky dough.
4.
Dust your hands with icing sugar and divide the dough into 14 equal portions. Roll into balls and roll these in the icing sugar, then place on the baking sheet. The cookies will spread as they bake, so make sure you leave plenty of space between them.
5.
Using the palms of your hands, squash each cookie to a disc about 1 cm/½ in thick. Place a whole almond in the centre of each cookie and push it in gently.
6.
Bake for 15–18 minutes, until lightly golden on top and mid-golden underneath: use a fish slice to check the bottom of a cookie after 15 minutes.
7.
Leave on the baking sheet for 5–10 minutes, then transfer to a cooling rack. When cold, Amondi should be firm and chewy, but not hard.