Gluten-Free Chocolate Pancakes
Reference Intake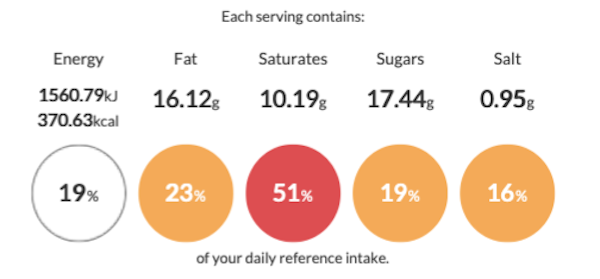 Dietary info
Allergens
Ingredients
Gluten-Free Plain Flour (160g)
Cocoa Powder (20g)
Caster Sugar (3 Tbsp)
Salt (1/4 Tsp)
2 Eggs
Milk (300ml)
Vanilla Extract (1/2 Tsp)
Butter, melted (2 Tbsp)
Dark Chocolate Chips (80g)
Method
1.
Whisk flour, cocoa powder, sugar and salt together in a large mixing bowl.
2.
Beat together the eggs, milk and vanilla extract in a separate bowl and then mix in the melted butter.
3.
Pour the wet ingredient combination into the dry ingredient bowl and mix until just combined. Stir in the chocolate chips to the combined mixture.
4.
Heat a lightly greased pan over a medium to high heat. Use approx. 1/2 a ladle of batter per pancake.
5.
Cook until bubbles appear in the centre of the batter (usually about 2/3 minutes), at this point flip over and cook for another 1 minute on the other side.