gfJules's Gluten-Free Pot Pie
Serves
1 Large Pot Pie or 6 Small Ramekins
Download
Welcome to The Erudus Recipe Book, where we share delicious recipes from our manufacturers and friends in the food industry and throw in all the allergen and nutritional information as an added bonus. It's also the perfect place to highlight our Recipe Builder tool – designed to aid caterers by automatically aggregating nutritional values, costs and allergy statements as you add ingredients.
This week's recipe comes from Jules Shepherd at gfJules, food blogger and advocate of gluten-free living. Over on the other side of the pond, Jules has been branded "one of the top experts on gluten-free living in the Washington area", and was voted "Gluten Free Person of the Decade" in the 2020 Gluten Free Awards – with Time magazine, ABC and other major media outlets lining up for her advice.
When Jules was diagnosed with coeliac in 1999 there was a severe lack of tasty gluten free options, so she set about perfecting an all-purpose gluten-free flour blend. Now her award-winning company gfJules provides coeliacs with flour and baking mixes, and Jules has achieved her dream of making a gluten-free diet safe, delicious and fun.
Jules' Gluten Free Pot Pie is filled with is the perfect recipe to make for British Pie Week – containing lots of delicious veggies and is free from all major 14 allergens, apart from celery.
Ingredients
gfJules All Purpose Gluten Free Flour (120g)
Salt (1/2 Tsp)
Marquee All Vegetable Shortening (2 Tbsp)
Flora Dairy Free Spread (3 Tbsp)
Smirnoff Red Label Vodka (50cl)
Cold Water (2-4 Tbsp)
Non-Dairy Milk (To Brush on Crust)
Lentils (200g Prepared/Cooked)
Potatoes (750g)
1/2 Red Onion
2 Large Portobello Mushrooms
1 Courgette
1 Butternut Squash (Diced)
3 Large Carrots (Diced)
1/2 Bunch Asparagus
Creamy Mushroom Soup (900g)
Potts Vegetable Stock (500ml)
Spring Onions (2 Tbsp)
Fresh Dill (2 Tbsp Minced)
Lemongrass (1 Stalk)
Salt & Pepper
Broccoli (To Serve)
Mash Potato (To Serve - Optional)
Gravy (To Serve)
Reference intake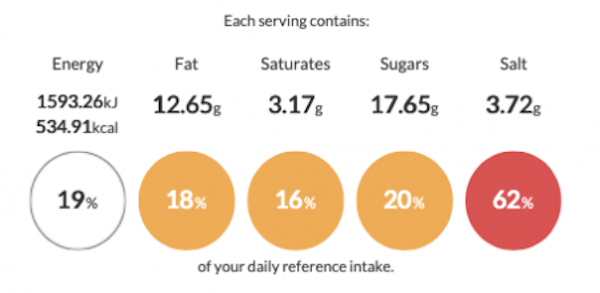 Method
1.
To Make the Dough: In a large bowl, whisk together the dry ingredients. Cut in the vegetable shortening and butter using a pastry cutter (or the flat paddle attachment on a stand mixer or a food processor). Add the vodka/water gradually to make the consistency you need to form a ball – err on the side of it being wetter rather than crumbly. Don't overwork the dough, or it may become tough when baked. Form a disc with the dough, wrap in plastic and set aside on the counter for 30 minutes while you make your filling.
2.
Rolling the Dough: After allowing the dough to rest, roll the pastry out onto a surface dusted well with gfJules™ All Purpose Gluten Free Flour. Use a flexible pastry mat and rolling pin covers or a pie crust bag for rolling and transferring your gluten free crust easily. Gently roll in each direction — do not press down on the pin while rolling — to a circle with a diameter at least 1 inch larger than that of your pie pan.
3.
To Transfer the Crust: Gently lift an edge of the rolled out crust over your rolling pin. With one hand under the baking mat, use the pin in the other hand to lift the crust so that it is supported by the rolling pin as you pull the crust gently off of the baking mat. Transfer gently over the pie plate to centre. Drop gently into the plate and press in with floured fingers. Pat into your pan.
4.
Preparing the filling: Prepare lentils according to package directions in a large stock pot (usually rinse well, add water and boil for 20 minutes or until tender) or in a pressure cooker. In a separate pot, place the diced potatoes and cover with water. Bring to a boil and cook just until fork-tender. Drain.
5.
Sauté the onion and mushrooms, then remove to a bowl and repeat the sauté process with the squash in a large sauté pan with enough olive or avocado oil to lightly cover the bottom of the pan. Sauté remaining vegetables the same way, until lightly browned on the edges. Meanwhile, fill a large soup pot with stock and soup. Add cooked lentils, potatoes and veggies. Stir in herbs and salt and pepper, to taste. At this point, you have a delicious vegetable soup, so you should add more herbs or seasoning if you need to suit you and your family.
6.
Preheat the oven to 375° F (190 Degrees Celsius) If you choose to line the bowl(s) with crust, liberally dust a pastry mat or clean counter with gfJules™ All Purpose Gluten Free Flour and roll each piece into a circle large enough to line the bottom and up the sides of your bowls or large casserole. Brush the edge of the crust with egg wash or milk. Divide the soup filling equally among ovenproof bowls or pour into large dish, filling only up to 1/2 inch from the top.
7.
If baking in ramekins, divide the remaining dough into enough pieces so that there is one piece of dough for every dish (e.g. 4 bowls = 4 pieces of dough). Roll out as described above and trim the circle(s) to 1/2-inch larger than the top of the bowl(s). Fold the dough over the edges of the bowl(s), pressing lightly to stick to the bowl(s) or the bottom crust, if using. Brush with more egg wash or milk and make 2 slits in the dough to vent. Place bowls on one or more baking sheets to catch any overflow from the hot filling.
8.
Bake for 1 hour, or until the tops are golden brown and the filling is steaming. If the tops are browning too early, cover with aluminum foil. Serve with some veggies, some mash if you want a big hearty meal, some rich gravy and enjoy!