Farrington Oils Pear & Dark Chocolate Granola Bars
Reference Intake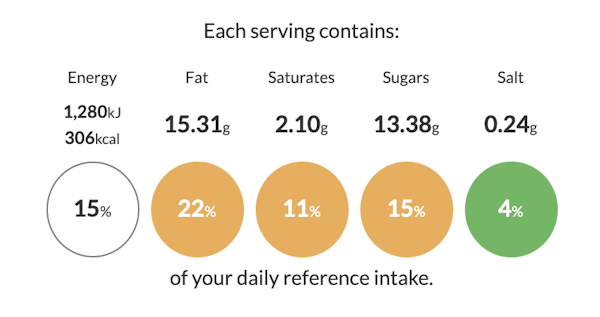 Dietary info
N/A
Allergens
Ingredients
Peeled and diced pears 1-2 pears (150g)
Date nectar or other syrup if you prefer (120ml)
Farrington Oils Mellow Yellow Rapeseed Oil (100ml)
1tsp Vanilla extract
½tsp ground cinnamon
¼tsp salt
Flaked almonds, plus extra for topping (50g)
oats (150g)
Wholemeal spelt flour (200g)
Apricot conserve
Dark chocolate chunks 50g
Method
1.
Preheat your oven to 180°C/170°C fan. Line a 24cm square tin.
2.
In a pan, gently heat your oil and date nectar until gently simmering then remove from heat.
3.
Add the vanilla extract and mix.
4.
In a large mixing bowl, add your oats, wholemeal spelt flour, cinnamon, flaked almonds and salt and mix. Pour in the oil and date nectar mix. Stir everything together.
5.
Press two thirds of your mixture into your lined baking tin. Spread a thin layer of apricot conserve on top.
6.
Sprinkle with the pear chunks and the chocolate chunks. Top with the remaining mixture and sprinkle a handful of flaked almonds on top.
7.
Gently press everything down again.
9.
Leave to cool before cutting.