World's Most Famous Cocktails
In today's alcoholic beverage market cocktails are wildly popular, with more bars than ever before possessing whole Martini menus and canned Daiquiris and Negronis lining the shelves at the supermarket.
---
The exact kind of cocktails on offer depends on the fashion of the day - during the 90s Sex and the City fans knocked back Cosmopolitans whilst in 2022 the Pornstar Martini rules. But some cocktails have a longer shelf life than others, more authenticity, more history, more staying power.
These are some of the most famous and revered of the lot, the type that never go out of style:
Martini
Old Fashioned
Margarita
Tom Collins
Long Island Iced Tea
Mojito
Caprina
White Russian
Aperol Spritz
Espresso Martini
Now let's find out more about them...
Martini
Forever associated with James Bond, the Martini is simple but effective, and there's nothing chicer.
What's in a Martini?
A traditional Martini is made with just 2 ingredients - gin (not vodka, though vodka Martinis are very popular, particularly in America) and vermouth. The exact amounts of each depend on how dry you want the drink to be - 6 parts gin to 1 part vermouth is standard, with 8 parts gin to 1 part vermouth for a dry Martini. Some purists prefer to merely wash the glass out with vermouth or forgo it altogether. The drink is shaken or stirred with ice and strained into a martini glass, then served with either olives or a twist of lemon to garnish.
The story
There is no confirmed origin for the Martini, but several different theories about its invention. One relates to a bartender at New York's Knickerbocker Hotel creating the drink for American business titan John B. Rockerfeller, though the stories of it being named after either the Californian town of Matinez, or the 'Martinez' cocktail drunk at the Occidental Hotel in San Francisco before taking the ferry to Martinez, are equally popular.
Top tip
If you like a strong drink, go against Bond and take your Martini stirred not shaken. A vigorously shaken Martini will chip the ice into the gin and dilute it.
There is a brand of vermouth also called Martini, and some people even believe that is where the cocktail gets its name. Vermouth is a sweet, fortified wine, infused with spices and botanical extracts.
Old Fashioned
An old American favourite, the Old Fashioned found itself back in vogue when Don Draper made it his drink of choice on Mad Men.
What's in an Old Fashioned?
The Old Fashioned is a whiskey-based cocktail, made by adding the whiskey or bourbon to a mixture of water and sugar muddled with bitters. An orange slice or orange zest, plus a cocktail (or maraschino) cherry provide the finishing touches. The drink is served in an 'old fashioned' glass.
The story
It is generally agreed that the Old Fashioned was invented at The Pendennis Club, a Kentucky gentlemen's club founded in 1881. It was allegedly created by a barman in honour of one Colonel E. Pepper.
There are some theories that suggest it is an evolution of a gin cocktail, the "Old Fashioned Holland Gin Cocktail" which appeared in a 1862 cocktail recipe book, and was made with sugar, bitters, ice, lemon peel and Holland gin.
Top tip
For a twist on the Old Fashioned, use maple syrup instead of sugar or sugar syrup. It is just as sweet, and its flavour compliments the smoky whiskey.
Margarita
A real party drink, the Margarita is the perfect way to celebrate, and to get summer started.
What's in a Margarita?
The ingredients in a margarita are tequila, Triple Sec (a type of orange liqueur) and lime juice - shaken with ice and strained into a margarita glass of which the rim has been rubbed with a lime wedge and dipped in salt. Sometimes the drink is served blended with ice, or even frozen as a slushie.
The story
There was a popular cocktail in America during the early part of the 20th century called the "Daisy", which was made with brandy. When Prohibition came in, drinkers were forced to head over the border to Mexico to get their alcohol, and the brandy was replaced with the Mexican spirit tequila and the name amended to the Spanish word for daisy, "Margarita". This is one theory of the Margarita's origins, another is that it was created in 1936 in Puebla, Mexico by the managed of the Hotel Garci Crespo, for his girlfriend Margarita.
Top tip
Add a squeeze of orange juice to your lime juice when making the cocktail, it will make it extra refreshing and add some sweetness to the sharp lime.
You may also be interested in…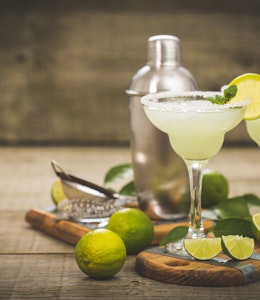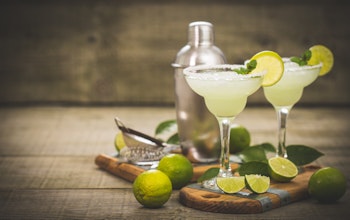 You may also be interested in…
The Ultimate Tips For Making Margaritas
Read
Tom Collins
A gin lovers cocktail with extra pizazz, the Tom Collins is a light and refreshing long cocktail.
What's in a Tom Collins?
A Tom Collins is made from lemon juice, fizzy water, sugar syrup and gin. It is served over ice in a "Collins" glass, which is slightly taller than a highball.
Sometimes the drink is served "virgin", without the gin so it is non-alcoholic, but the term "Collins" cocktail means a sour cocktail with a spirit base.
The story
Though the Tom Collins bears a resemblance to several gin-based drinks served in 1800's London, the first mention of the cocktail came in New and Improved Bartender's Manual, an 1882 book on mixology by Harry Johnson. It includes both a Tom Collins and a "John Collins" recipe, each using a different type of gin.
Some believe the name comes from a strange phenomenon in New York in 1874, during which people would try and convince each other that a fictitious man called Tom Collins was talking about them behind their back. It became a popular joke across the entire country.
Top tip
The Tom Collins is typically built in the glass it is served in, but for a smoother and more consistent taste it is better to shake in a cocktail shaker to mix the ingredients sufficiently together - particularly since one of them is fresh lemon juice.
Long Island Iced Tea
This boozy treat has made a comeback in the past few years, after shedding its association with American college students.
What's in a Long Island Iced Tea?
A Long Island Iced Tea contains several measure of alcohol - vodka, tequila, light rum, gin and Triple Sec, topped up with coke and served over ice. It is much more alcoholic than most cocktails.
You may also be interested in…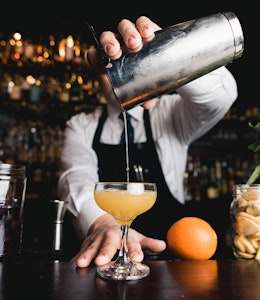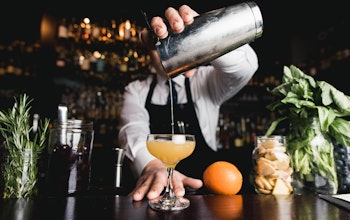 You may also be interested in…
How Allergens Hide in Alcohol
Read
The story
The 2 different origin stories for Long Island Iced Tea come from 2 different Long Islands in America - one in Long Island, New York and the other in Long Island, Tennessee.
The first involves a man named Robert Butt, who worked at the Oak Beach Inn on New York's Long Island and claims he invented the drink when entering a contest in 1972 to make a new cocktail with Triple Sec as an ingredient.
The other story is older, though the recipe is slightly different than the one we know today, with an "Old Man Bishop" in Long Island, Tennessee creating the drink during Prohibition. This version included multiple spirits but no coke or Triple Sec.
Top tip
Add some sweet and sour mix to the Long Island Iced Tea to get it really kicking.
Mojito
Often cited as iconic writer Ernest Hemingway's favourite beverage, this Cuban import has serious kudos.
What's in a Mojito?
A traditional Mojito has 5 ingredients - light rum, lime juice, mint, sugar and soda or carbonated water. The cocktail is served in a highball glass, usually with plenty of ice.
The story
The Mojito comes from Havana, Cuba, that much is certain. Less certain are the exact origins. One theory is that it was brought back from Cuba by a small boarding party as a "medicine" used by the natives. This mixture was made of an early form of rum, sugarcane, lime and mint. Another theory is that it is an evolution of a brandy-based cocktail invented by the British explorer Sir Francis Drake.
Top tip
Before using, slap the mint leaves (by putting them in one hand and smacking them with the other) to warm them and allow the juices to emerge. It will give the cocktail a richer mint flavour.
Caipirinha
The Brazilian national cocktail, a Caiprinha is carnival in a glass.
What's in a Caipirinha?
Sugar and lime, along with cachaça, are the ingredients in a Caipirinha. Cachaça is a Brazilian spirit, distilled from sugarcane juice that has been fermented - it is similar to rum and even whiskey, in its flavour profile, which is smokey and raw.
The drink is served in a short glass, and with a couple of cubes of ice (though in Europe it is frequently drunk with a lot of crushed ice), and sometimes made in pitchers and then poured out by the glass.
The story
It's generally agreed that the Caipirinha was invented in the 1800s in the Piracicaba region of São Paulo by local landowning farmers as a celebration drink. Sugarcane was a native crop. The name Caipirinha is a diminutive of the Brazilian Portuguese word "Caipira", which means someone from the rural parts of Southcentral Brazil.
Top tip
There should always be more lime than ice in a Caipirinha, and the lime juice should be freshly squeezed - approximately the juice of 3 limes per drink is about right.
White Russian
For years a forgotten cocktail, the White Russian had a renaissance when The Big Lebowski was released in 1998 and the Dude's favourite drink has retained cult status ever since.
What's in White Russian?
A White Russian tastes like a cold, chocolatey coffee. This is due to its ingredients - vodka, coffee liqueur and cream. It is mixed and served over ice in an old fashioned glass.
The story
The first publicly recorded mention of the White Russian cocktail appeared in a Californian paper, the recipe was used as an insert in the Oakland Tribune in 1965, but the drink goes back further - a Belgian barman named Gustave Tops was said to have created both the White Russian and the Black Russian (which does not contain cream) at the Hotel Metropole in Brussels in 1949.
Top tip
Add a grating of nutmeg or cinnamon to the White Russian for festive flavour in the Christmas period.
Allergen alert

The White Russian cocktail contain cream. Cream is derived from Milk, one of the 14 major food allergens.
Aperol Spritz
Once an Italian secret, the Aperol Spritz is now one of the most globally popular summer cocktails.
What's in an Aperol Spritz?
Aperol is the main ingredient in an Aperol Spritz. It is a bitter apéritif liqueur, bright orange in colour and relatively low in alcohol. It is mixed with ice, prosecco and soda water and served with a slice of orange.
A Spritz Veneziano is a similar, Northern Italian cocktail is essentially the same as an Aperol Spritz but made using Select, a traditional Venetian spirit instead of Aperol.
The story
The drink of Spritz goes back as far as the 1800s, in the Kingdom of Lombardy-Venetia (which no longer exists), where visiting diplomats and merchants not used to the strong local wine would dilute it with water.
It evolved in Northeastern Italy, and by the late 20th century was hugely popular locally. It became popular outside of its native country only as recently as 2018, but is now one of the world's most popular cocktails.
Top tip
Use Sprite or lemonade rather than soda in the Spritz to balance out the bitterness of the Aperol.
Allergen alert

Aperol Spritz is made with prosecco, a wine. Many wines contain Sulphur Dioxide - one of the 14 major food allergen.
Espresso Martini
Famous for its fashion origins, the Espresso Martini is now a fixture on cocktail menus everywhere from Lisbon to Liverpool.
What's in an Espresso Martini?
The Espresso Martini actually has nothing to do with tradition Martini ingredients, but it is served in a martini glass. It is made with cold espresso coffee, coffee liqueur and vodka. Sometimes sugar or simple syrup is also included among the ingredients. The ingredients are shaken with ice in a cocktail shaker and strained into the glass. Coffee beans are added as a garnish.
The story
The most famous origin story for the Espresso Martini involves a famous British supermodel who asked bartender Dick Bradsell of Fred's Club in London to make her a drink that would "wake me up then f%@k me up". The cocktail was the result of this request.
Top tip
A good layer of foam on top is key to the Espresso Martini, and the trick to achieving this is to shake for at least 30 seconds and pour into the glass immediately so the foam doesn't have a chance to break down.
You may also be interested in…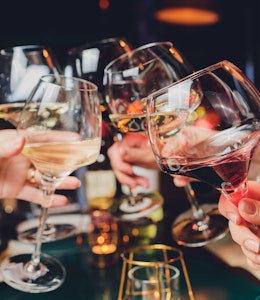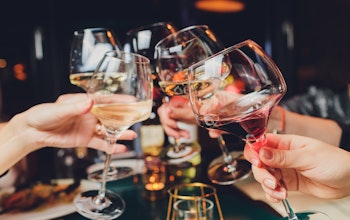 You may also be interested in…
Can You Be Allergic to Alcohol?
Read
You may also be interested in…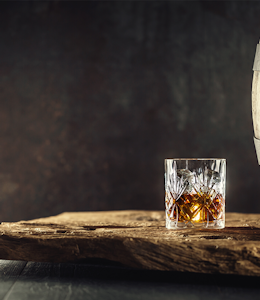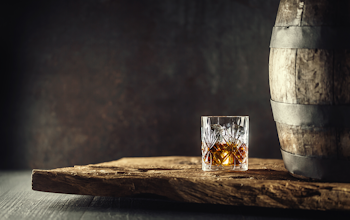 You may also be interested in…
Whisky tips and recipe ideas
Read
You may also be interested in…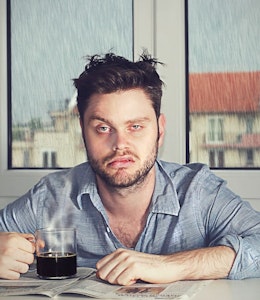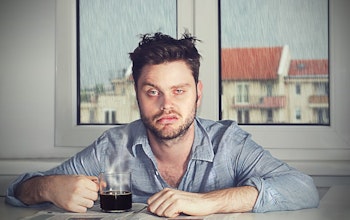 You may also be interested in…
The Holy Grail of Hangover Hacks
Read