What to do if your Customer has an Allergic Reaction: Part 3
The best laid plans…you've clearly communicated and displayed all of your allergen information across your menus and around your business, you've followed guidance and implemented procedures in your kitchen to avoid cross-contamination, you've briefed your staff thoroughly… and then the worst happens and someone suffers an allergic reaction to one of your dishes.
---
Sometimes no matter how well prepared we are an accident might happen. It might not even be any fault on your business, and that the customer has misunderstood or miscommunicated something.
What can you do? You can be prepared for the worst and know the best way to deal with it.
Would you and your staff know what to do and what steps to take should a customer suffer an allergic reaction? If not, don't worry, we're here to help. In this special series we speak to a number of foodservice and allergy experts about how Caterers can best respond and react to an allergic reaction in their business.
To read the full "What to do if your customer has an allergic reaction" guide, click here.
Food Allergy Aware's Caroline Benjamin and author of The Reluctant Allergy Expert Ruth Holyord penned Parts 1 and Part 2, now meet our third contributor...
Lindiwe Lewis, creator of The Allergy Table Blog
Lindiwe Lewis, creator of The Allergy Table blog has created a safe space and community through her blog for those managing severe allergies. Through The Allergy Table Lindiwe reviews food, restaurants, brands and cities, and shares personal stories about living life with allergies. Here's what Lindiwe has to say…
A disclaimer
"Please note - I am not a doctor, or a specialist - this is only coming from experience and what I have been told."
The overview
"The main piece of advice I would give to all establishments is - allergy reactors are people. We are risking our lives by walking into your restaurant or ordering your food. Yes for you, you may see it as a nuisance, but for us it is a life and death risk. We did not ask for allergies, but just because we have them doesn't mean we have to stay inside and cook for ourselves 24/7 for the rest of our lives. Treat us with respect, kindness and patience - and stay with us if we are fighting for our lives, because of the food we trusted you with. It is the least you can do."
What to do if someone is having a serious allergic reaction in your restaurant or food business
"No movement: Do not make them walk or move; lie them on the ground and wait for the paramedics to come. They should also track down the reactor's emergency plan.
EPI FIRST, EPI FAST: Make sure that somebody has called an ambulance and administered the adrenaline.
Fear: The allergy reactor will be scared and panicked - everyone around them needs to remain calm, a panic attack will not help the situation (for both parties).
Explain that help is on the way: Have someone stay with them at all times, explaining what is happening and that they are going to be okay. (From personal experience) My eyes are always swollen shut in a serious reaction and having my friends there or a staff member telling me what is happening has relieved my stress in every reaction - I know I am not alone.
Stay with the individual having a reaction: I hear a lot of the times that the staff have left the reactor and moved on with business - this is not a duty of care. One staff member should be with the reactor (hopefully their server or a manager) and explaining what has happened to the paramedics."
If you have allergies and you're ordering a takeaway
"I don't order takeaways because the chef or staff cannot see me, so they can't see me as a human being. I also live alone, which adds to the fear of having a reaction. But here are my tips if you are home alone and ordering takeaway:
Always have your epipen and phone near you when ordering in.
Stick to what you know: If you eat at this restaurant, order what you normally order; if this is the first time eating at the restaurant, order a meal that is simple and something you would get at a restaurant normally.
Communicate your allergies, every time: Make your allergies clear and detail the severity. Ask them to tell you the ingredients of the dish, so you can know exactly what is in your food.
Tell a friend or family member: Tell someone that you are ordering in and where the food is from. Ask them to call you in 20 minutes if they haven't heard from you."
In conclusion...
"Reactors: Make sure to call the restaurant if you have had a reaction, and discover why and what practices they have in place whether you eat in or at home. If they are supplying you with food, they need to do their due diligence in making that food safe. Remember to tell the staff about all of your allergies, be kind but direct and don't be embarrassed. Remember to carry your 2 epipens in a place where the staff or whoever you are with can find them easily.
Establishments: To go above and beyond when it comes to takeout, call the customer who informed you of their allergy 30 minutes after receiving the food, to check in (like you would in a restaurant). Be transparent, we don't want to have a reaction anymore than you want us to. Inform us of the ingredients, and please follow the correct steps if we do have a reaction."
You can Visit Lindiwe's The Allergy Table, here.
How Erudus can help you manage allergens
It's our goal to make adapting challenges and new legislation in the foodservice industry as easy and efficient as possible. That's why we've created a selection of tools and solutions to help Caterers (and Retailers manage and communicate the allergen content of their products.
Our Recipe Builder allows you to instantly find allergen information for a single ingredient, or view the aggregated allergen summary for an entire recipe.
Our Allergen and Nutritional Search provides essential allergen and nutritional information across tens of thousands of products, directly from the Manufacturer.
And you can find out more about how Erudus can help Caterers here.
Managing allergies and knowing how to deal with allergic reactions is important in all environments, not just restaurants. Next time we chat with ARK in Schools about how schools should be following procedures and what to do in the event of a child having an allergic reaction.
You may also be interested in…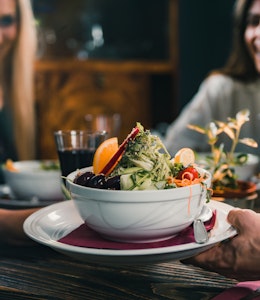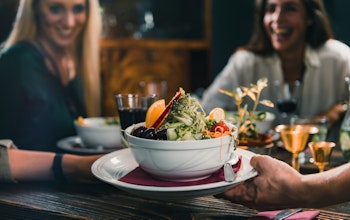 You may also be interested in…
What to do if a Customer has an Allergic Reaction to your food: Part 2
Read