What to do if a Customer has an Allergic Reaction to your Food: Part 1
The best laid plans…you've clearly communicated and displayed all of your allergen information across your menus and around your business, you've followed guidance and implemented procedures in your kitchen to avoid cross-contamination, you've briefed your staff thoroughly… and then the worst happens and someone suffers an allergic reaction to one of your dishes.
---
Sometimes no matter how well prepared we are an accident might happen. It might not even be any fault on your business, and that the customer has misunderstood or miscommunicated something.
What can you do? You can be prepared for the worst and know the best way to deal with it. Would you and your staff know what to do and what steps to take should a customer suffer an allergic reaction?
If not, don't worry, we're here to help. In this new series we're speaking to a number of foodservice and allergy experts, sufferers and influencers about how Caterers can best respond and react to an allergic reaction in their business.
To read the full "What to do if your customer has an allergic reaction" guide, click here.
First up is one of our very own Industry Consultants...
Caroline Benjamin - Founder of Food Allergy Aware
Food Allergy Aware's Caroline works with all kinds of foodservice business, from health care Trusts, pub chains and high street restaurants to cruise liners, schools and colleges, helping them to enhance their allergen processes and policies through consultancy, auditing, training, events and workshops.
This is Caroline's advice:
During the reaction
"Your first priority is to ensure your customer receives fast medical assistance. Call 999 for an ambulance and then check that the customer has an adrenaline injector that they are able to self-administer, or your first aider is present to assist administering.
If the reaction is severe, state that it is an anaphylaxis reaction. The customer may not want to cause a fuss but it is best to call an ambulance as they can deteriorate quickly in the event of anaphylaxis.
If an adrenaline injector is administered the customer should always go to hospital to be reviewed and assessed as 'late phase' reactions can occur up to 2-6 hours later. Administer the adrenalin injector in the outside of the person's thigh, if you need to administer a second injector it should be in the other leg. The person should not be moved and where possible lay flat with legs raised until the ambulance arrives."
After the reaction
"There are a number of areas to consider. Once the customer is stable and under medical care you need to review your internal processes. It may be that you take a contact number and follow up once treatment has been received… Here are some areas to consider:
Who took the order?
What details were given at the order booking stage?
Was an allergen request submitted? (It maybe the first time this person has had a reaction)
If the food is available seal and store safely, labelling as appropriate as there may be a visit from the local EHO who will ask for the sample if available.
Inform your head office according to your set procedures and complete forms to ensure that details are documented.
All staff who were part of the customer's journey should write up statements.
If you have the customer's contact details, follow up with them to understand what happened and to see if there was any miscommunication, have a set list of questions for allergic incidents, this will help in capturing all the information without any back and forth needed.
On completion of the enquiry, a review should be carried out by key management staff and the kitchen to understand what happened and how this can be prevented going forward. If there is an EHO enquiry it is better that you have all the details and cooperate fully and show that you have put processes in place to prevent such an incident recurring as appropriate to the outcome.
We would recommend logging all incidents with headings and descriptions (and sections relating to reasons for the incident happening) in either your online management system or an Excel spreadsheet, so you can understand if there is a pattern occurring. Here are some examples of categories/descriptions:
Staff communication
Information NOT on the booking form/reservation
Information not given to manager/server
Server did not acknowledge and put on order ticket
Chef ignored the allergen alert
Customer communication
Customer did not inform venue of allergy
First time customer had reaction
Kitchen cross-contamination
Food prepared on incorrect boards
Staff did not clean area
Mislabelling
Food stored incorrectly
Label missing on supplies
You should encourage your staff to report near misses or customer feedback on potential issues and they can be logged in the same way as above. It should be noted that Pret-a-Manger were warned at least 6 times about a potential issue occurring with sesame flour not clearly labelled on their baguettes, but this feedback was not recorded.
Natasha's Law has been set up to ensure correct labelling is available on all PPDS food products but it was highlighted by the coroner to monitor feedback which should include near misses in food management safety systems. Had the feedback been noted and the Head Office informed. a recurring pattern would have appeared, and could have potentially saved Natasha Ednan-Laperouse from eating the baguette."
Further steps
"Food Allergy aware has developed a reporting form, and if you would like more information please contact consultancy@fatc.co.uk or visit our new website here.
The Reluctant Allergy Expert book from allergy blogger Ruth Holroyd (author of this series's next installment) of What Allergy is another useful resource that tells of experiences of living with life-threatening allergies, and includes guidance on areas such as adrenaline pens, eating out, holidays when you have allergies – this book is useful for those in the hospitality industry as it explains how it feels from the perspective of an allergy sufferer."
How Erudus can help you manage allergens
It's our goal to make adapting challenges and new legislation in the foodservice industry as easily and efficiently as possible. That's why we've created a selection of tools and solutions to help Caterers (and Retailers manage and communicate the allergen content of their products.
Our Recipe Builder allows you to instantly find allergen information for a single ingredient, or view the aggregated allergen summary for an entire recipe.
Our Allergen and Nutritional Search provides essential allergen and nutritional information across tens of thousands of products, directly from the Manufacturer.
And you can find out more about how Erudus can help Caterers here.
Next time…
Putting yourself in other people's shoes is key to understanding what this scenario might feel like, so we're speaking to Ruth Holroyd about her experiences, and how restaurants should deal with the event of anaphylaxis.
You may also be interested in…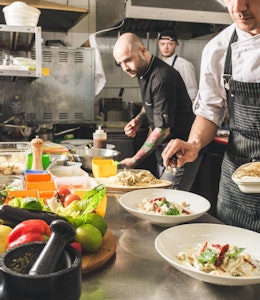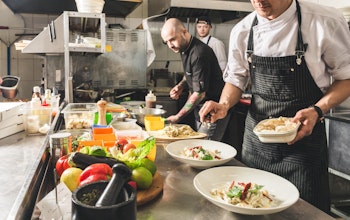 You may also be interested in…
Why you should make avoiding Cross Contamination a priority
Read