What are the main gravy ingredients? Everything you need to know about gravy…
Let's be honest, no one would want to eat a Christmas dinner without it, so knowing how to make gravy is one of a culinary expert's most important skills. That's why we're rounding up the most important things to know about arguably the best sauce there is…
---
These are the important questions when it comes to gravy:
What is gravy?
What are the main gravy ingredients?
Is gravy vegan?
Does gravy contain any allergens?
Is gravy suitable for Coeliacs?
Is gravy a sauce?
Is gravy healthy?
How do you make gravy?
Does gravy go off?
Can gravy be frozen?
Now let's find out the answers...
What is gravy?
Gravy is a savoury sauce traditionally made from the juices left in the pan after roasting a joint of meat in the oven, alongside other ingredients - such as flour, butter and cornstarch to thicken.
The name "gravy" is thought to derive from the French "gravé", which appears in several French cookbooks from the mediaeval era. Gravé refers to the juice that comes from roasted meat.
What are the main gravy ingredients?
The main ingredients in gravy are meat juice or dripping, butter (or oil) and flour (plain white wheat flour). Boiling water with or without stock, and cornstarch to thicken are also common gravy ingredients. Other ingredients such as red wine, mustard, cider, redcurrant jelly, fried onions and pepper may be added to taste.
Is gravy vegan?
Traditional gravy is not vegan - not only is the base ingredient the juice from roasted meat, but it is also usually made with butter, which is derived from Milk.
You can make a vegan gravy by instead using ingredients such as vegetable stock, boiling water and gravy salt.
If your gravy has lumps (from the flour, for example), don't sweat it. Strain it through a sieve and then heat - you won't lose any of the flavour.
You may also be interested in…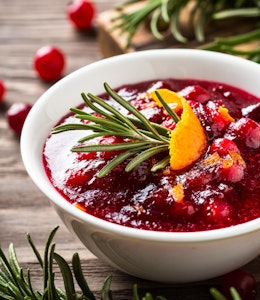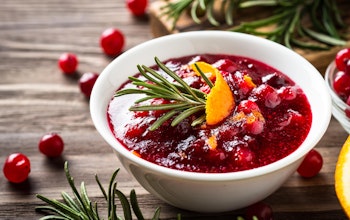 You may also be interested in…
Everything You Want to Know About Cranberry Sauce
Read
Does gravy contain any allergens?
Gravy's base ingredients contain 2 of the 14 major food allergens - Milk from butter, and Cereals containing Gluten from wheat flour. Gravy may contain further allergens depending on the additional ingredients - for instance Mustard, Celery (through celery salt) and Sulphur Dioxide (in red wine).
Is gravy suitable for Coeliacs?
Most traditional gravy is not suitable for those with Coeliac disease or an allergy or intolerance to Cereals containing Gluten, because it is made with wheat flour. However, it is easy to make gluten-free gravy, by using cornstarch only to thicken the sauce.
You can add chicken livers to your gravy whilst you heat it, to add a burst of extra flavour. The chicken livers can be removed before serving.
Is gravy a sauce?
Gravy is classed as a sauce, one made with meat juice and broth. Sometimes it is a runny liquid and sometimes it is thicker and more like other sauces - it depends on the combination of ingredients, and how long it has been cooked.
Is gravy healthy?
Most gravy is not healthy. Because of the roasted meat juice it is high in saturated fat and sodium, and with ingredients such as flour and butter it can have more calories than you expect. Gravy has little nutritional value, though by adding water that vegetables have been boiled in you can add some nutrients.
Gravy made with gravy salt or vegetable stock and boiling water is healthier than traditional gravy.
If your gravy is too salty, whisk in a teaspoon of red wine vinegar or lemon juice.
How do you make gravy?
To make gravy you start by removing a joint of meat from the roasting pan. You can then either choose to make the gravy in the roasting pan or pour the juice into a saucepan.
Gradually add a tablespoon of flour to the meat juice and whisk in. Add melted butter, and whisk until you have a meaty roux.
Add gravy salt or stock (beef, chicken or vegetable depending on taste) to boiling water or the water vegetables have been boiled in, and gradually mix into the gravy until you have the texture you want. Simmer for several minutes - the gravy will thicken during this process.
Add other ingredients - mustard, red wine, fried onions etc, to taste.
Does gravy go off?
Gravy does go off - and particularly fast if left out at a temperature between 8 and 60 degrees celsius (the danger zone for food poisoning). Gravy should be fine for 3-4 days if left in the fridge, but make sure it is cooked to a temperature above 60 degrees before consuming.
If the gravy is too fatty or oily, put a couple of ice cubes in the pan. The fat will gravitate to the ice and make it easy to spoon out.
Can gravy be frozen?
Yes, gravy can be frozen. You must wait until it has cooled entirely, and then place in an airtight container or freezer bag. It can then be safely frozen for 4-6 months. Once defrosted, gravy cannot be frozen again.
You may also be interested in…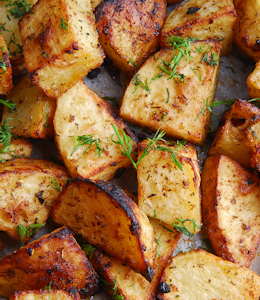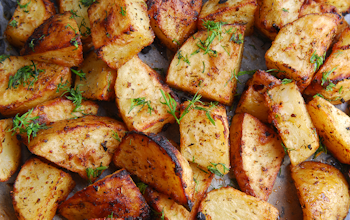 You may also be interested in…
The best fat for roast potatoes
Read
You may also be interested in…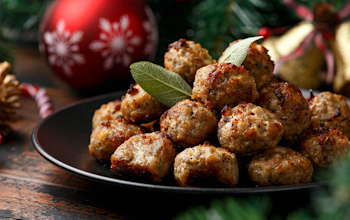 You may also be interested in…
Everything you want to know about stuffing
Read
You may also be interested in…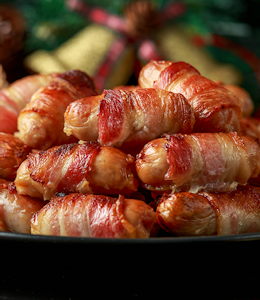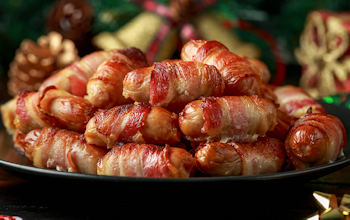 You may also be interested in…
Everything to know about pigs in blankets
Read