Everything you want to know about stuffing
Christmas stuffing - well, really it's just plain old stuffing but as the perfect accompaniment to turkey it's as festive a food as any other. But different stuffing recipes have different ingredients, and in today's culinary landscape - fraught with allergies and dietary restrictions that can be a minefield. Is stuffing vegan? Is it suitable for people with a gluten intolerance?
---
These are the important questions and that's why we've compiled all the answers into this cheat sheet, so you can make sure your stuffing is traditional or allergen-free or whatever you need it to be - and of course tasty goes without saying...
What is stuffing?
Stuffing is a mix of edible ingredients such as herbs, bread and a binder such as egg, traditionally stuffed into a meat cavity before it is cooked.
Other ingredients in stuffing might be meat, nuts, butter, chopped vegetables and even fruit or oysters.
Stuffing is a favourite for Sunday roasts and festive or other holiday dinners, and can also be cooked separately from meat - usually in a loaf tin or dish or rolled into balls.
What is stuffing made of?
Stuffing can be made of many different things, but the ingredients most varieties of stuffing have in common are some sort of starch (breadcrumbs, rolled oats, pearl barley etc), some sort of herb (bay leaves, sage, garlic) and chopped onion or another kind of vegetable. Stuffing needs the ingredients to bind together, and this is usually done with egg.
Other popular stuffing ingredients include sausage meat, chopped nuts, leeks, mushrooms, chopped fruit, cider and even tofu for vegan or vegetarian stuffing.
You may also be interested in…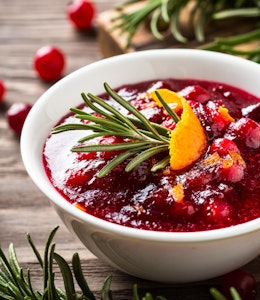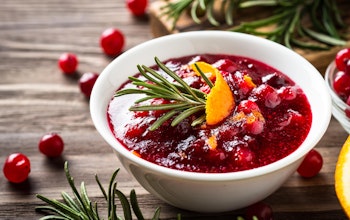 You may also be interested in…
Everything You Want to Know About Cranberry Sauce
Read
What are different types of stuffing?
There are many different types of stuffing and thousands of different stuffing recipes, with the most popular being pork, sage and onion - which is made with sausagemeat. Chestnut stuffing (made with chopped chestnuts and herbs and spices) is also very popular, as is apple stuffing, and even oyster stuffing.
Top tip!

Experiment with different types of bread or breadcrumb for your stuffing - the type of bread used can add texture (sourdough), heartiness (wholemeal bread) or even flavour (cornbread).
What is the most common type of stuffing?
What is the most common type of stuffing depends on location and the dish the stuffing is being served with - for instance, in the UK a joint of pork might be served with apple stuffing.
However, the most traditional and popular type of stuffing is sage and onion (with or without sausage meat), which is made with breadcrumbs, onion, sage, salt, pepper and Egg.
Sausagemeat is a popular addition because it goes well with sage, and the fatty juices in pork help keep poultry moist when the stuffing is cooked inside the bird.
Why is it called stuffing?
The name stuffing is self-explanatory - traditionally it is a food used to stuff another food such as poultry before it is cooked.
Stuffing can also be served as a side-dish but it will still be called stuffing.
Up until the 16th century stuffing was known as "farce", which is the French word for stuffing and comes from the Latin "farcire" - which means "to stuff".
Top tip!

Make your stuffing ahead of time and then freeze it. You can pull it out whenever needed and cook from frozen - just make sure to add to 10 minutes to the usual cooking time.
What is the proper name for stuffing?
The proper name for stuffing is, unsurprisingly, stuffing. Stuffing can also be known as "farce", "forcemeat" and occasionally "dressing".
Does stuffing contain any allergens?
Whilst it depends on the recipe, the pork, sage and onion stuffing traditionally used for Christmas meals contains several of the 14 major food allergens.
These are:
Other varieties of stuffing may also contain the following allergens:
Where is stuffing made?
A lot of stuffing that we eat in the UK is manufactured here too, though the first known stuffing came from a 1st century Roman recipe book.
Is stuffing vegan?
Most stuffing uses Egg and/or butter to bind the ingredients together, and consequently it is not suitable for vegans - though it is suitable for vegetarians. However, there are many great plant-based stuffing recipes around, which use ingredients such as linseed, water, olive oil and vegan butter or margarine to act as a binder.
Top tip!

Be sure of what's in your stuffing with an Erudus Nutritional & Allergen Data Search. You can find out ingredients, any allergens it does or may contain, and which diets they are not suitable for, as well as much more.
You may also be interested in…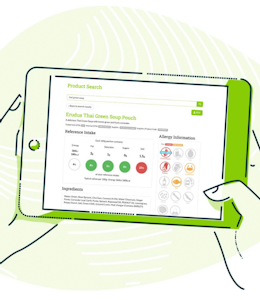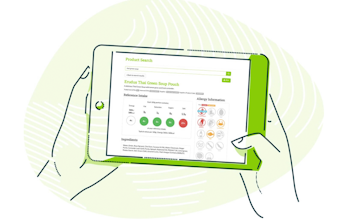 You may also be interested in…
Solutions Spotlight: Allergen & Nutritional Data Search
Read
Is stuffing suitable for Kosher diets?
Stuffing that contains pork is not suitable for a Kosher diet, and stuffing recipes that contain Egg not from Kosher hens are also not suitable for those who keep Kosher.
You may also be interested in…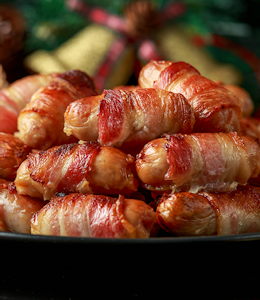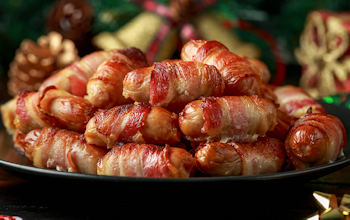 You may also be interested in…
Everything to know about pigs in blankets
Read
There are several types of manufactured stuffing that are declared Kosher, such as Manischewitz® Homestyle Stove Top Stuffing, and many Kosher stuffing recipes available online.
On Erudus, you can check the Dietary Information section on a product specification to see if it has been declared Kosher by the Manufacturer or not.
Is stuffing gluten-free?
Most stuffing is not gluten-free and therefore not suitable for those with a Cereals containing Gluten allergy, a gluten intolerance or Coeliacs disease. This is because of bread, breadcrumbs or some type of cereal being a major ingredient in most recipes.
However, you can sub out wheat bread for gluten-free bread in most cases.
Top tip!

Instead of cooking your stuffing inside poultry, roll it into balls and cook on a baking tray or placed around the turkey. Not only will the stuffing look great, have a crispy shell and be easier to portion out, it's safer to cook meat and stuffing separately as the chance for contamination and under-cooking is significantly reduced.
Why is stuffing eaten at Christmas?
There is no particular reason why stuffing is eaten at Christmas, other than it is a traditional accompaniment to turkey, the most popular Christmas meat. Turkey can be quite bland and stuffing is considered to add flavour and texture to the dish.
What are some other uses for stuffing?
Leftover stuffing has many uses, such as:
Sandwiches (alongside turkey or pork)
Turkey pie
Bubble and squeak
Quiche
Casserole
Mixed with roasted vegetables
You may also be interested in…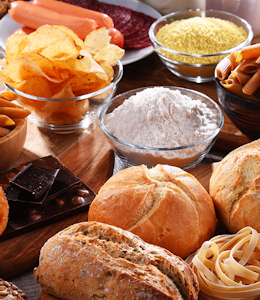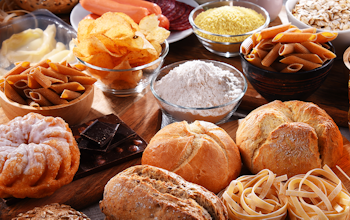 You may also be interested in…
Allergen Deep Dive: Cereals containing Gluten
Read
You may also be interested in…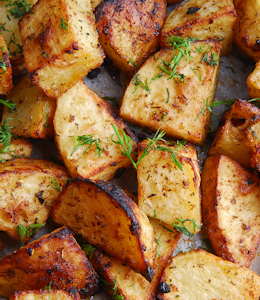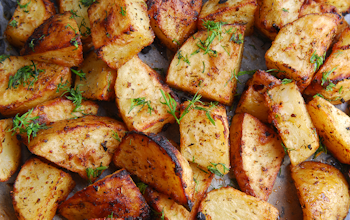 You may also be interested in…
The best fat for roast potatoes
Read
You may also be interested in…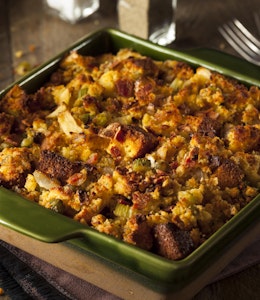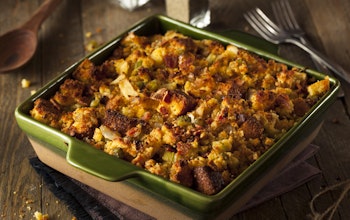 You may also be interested in…
Your Takeaway-Ready Christmas Menu
Read