Are eggs a dairy food? Is cheese? And does all dairy food contain lactose?
---
With dairy food so connected to allergies and intolerances as well as vegan and vegetarian diets, there are constantly questions around just exactly what counts as one, where you might find them and who can eat them.
So we've put together this handy guide that tells you everything you need to know about dairy foods so that you have all the answers you need...
What are dairy products?
Dairy products, which are also sometimes known as milk products or lacticnia are foods, drinks and non-edible products made or derived from the Milk of a mammal such as a cow, goat, ewe or water buffalo.
Dairy products contain good amounts of protein, fat and vitamins and minerals - particularly calcium, which promotes bone and teeth health.
The main dairy products are:
Milk
Cheese
Butter
Cream
Yoghurt
What does dairy mean?

The word "dairy" evolved from the Old English word "dæge", meaning kneader of bread, housekeeper, female servant". Circa 1300, the word "daerie" meaning "building for making butter and cheese; dairy farm".
Here's a bit more about each of them...
Milk
Milk is a creamy white liquid that is produced by mammals via their mammary glands, and used to feed and provide nutrition to their young. It is also produced and sold commercially as a drink (and as an ingredient in other food and drink) and made into other products such as butter and cheese.
Commercial Milk is generally pasteurised (part-sterilised) to remove any harmful bacteria and make it safe for everyone to drink. Some people also believe pasteurised Milk has an improved taste.
Milk can come in various levels of fat content - with whole milk containing the most amount of fat and skimmed milk containing no fat.
Some other types of milk include:
Buttermilk (used in cooking, especially for dishes such as fried chicken)
Condensed milk (used in cooking and baking)
Curds
Evaporated milk (used in cooking and baking)
Infant formula
Scalded milk
Whey
Milk is an ingredient in many different foods, including:
Baked goods (Cookies, biscuits, cake)
Cereals
Chocolate
Coffee drinks
Custard
Fudge and other confectionery
Gelato
Ice cream
Sauces
Milkshakes
Milk is also a surprising ingredient in many foods, you can see a list of them here.
Cream
Cream is a runny, cream coloured dairy product derived from Milk. It is made from the top layer of fat that rises to the top of unhomogenised milk. Consequently, is has a much high level of fat than Milk and contains high levels of saturated fat.
Cream can be sold in different grades, and the texture of these different types can range from liquid to an almost foam-like consistency.
The different types of cream are:
Clotted cream
Crème fraîche, slightly fermented cream
Single cream
Double cream
Soured cream
Whipped cream
The various types of cream can be found in many foods, such as:
Burritos
Casseroles
Coffee toppings and coffee drinks
Curries
Custard
Desserts and puddings
Ice cream
Nachos
Pasta dishes
Sauces
Soups
Tacos
Butter
Butter is a dairy product derived from Milk (most commonly from a cow, goat, sheep or buffalo) and made from cream that has been churned until the globules have been separated from the buttermilk. The buttermilk is then drained to leave just the butterfat. Butter itself is generally around 80% milk fat, with the rest being water and a small amount of milk solids.
A lot of butter also contains salt - in pre-refrigeration times this was to preserve it during transportation, but now it is more likely to be added for flavour.
Butter is semi-solid and spreadable at most room temperatures, but can be hardened below 5 degrees celsius and melted at around 35 degrees celsius.
Butter usually comes in 2 types:
Butter
Butter spread (made with a mixture of butter and oil)
Clarified butter
Butter can be eaten on its own with bread, and as an ingredient in many, many foods. These include:
Baked goods (cakes, biscuits, scones, cookies, pies)
Curries
Gravies
Pasta dishes
Pastries (croissants, Danish pastry, tarts etc)
Sandwiches
Sauces
Sauteed meat
Sauteed vegetables
Cheese
Cheese is a dairy product of varying consistencies that is made by separating the milk curds from the milk whey after the Milk casein has been coagulated via the addition of rennet or bacterial enzymes.
The solid milk curds are pressed into cheese and left to ripen, sometimes with the addition of aromatic mould, or other flavour-enhancers such as herbs, spices or wood smoke.
Cheese comes in many different textures, flavours and ages, and can be made with Milk from mammals ranging from cows, goats, sheep and buffalo, and is known for its long shelf-life, calcium content and versatility.
Cheese can come in the following types:
Soft cheeses such as
Brie
Camembert
Chevre
Cottage cheese
Cream cheese
Feta
Gorgonzola
Ricotta
Roquefort
Semi-soft cheese such as
Semi-hard cheeses such as
Cheddar
Emmental
Gouda
Gruyère
Havarti
Manchego
Provolone
Taleggio
Hard cheeses such as
Cheese can be eaten alone or found in many different types of food. These foods include:
Crisps and snacks
Croquettes
Baked goods such as tarts, quiche and pies
Burgers
Halloumi fries
Pasta dishes
Pastries
Pizza
Sandwiches
Sauces
Yoghurt
Yoghurt, also spelled as yogurt, yogourt or yoghourt is a dairy product derived from Milk.
Yoghurt is made by the bacterial fermentation of Milk (commonly from a cow, goat or sheep and even camel and yaks), in which the sugars in the milk produce lactic acid. It's the lactic acid acting on the proteins in the milk which give yoghurt its texture and slightly sour, tart flavour.
The bacteria used to ferment the milk are known as cultures, and are thought to be good for gut health, and yoghurt is also rich in vitamins and minerals such as B12, B2, calcium, zinc, phosphorus and selenium.
Yoghurt is often flavoured with other ingredients such as vanilla, strawberry and chocolate and eaten as a dessert. Plain Greek or Greek-style yoghurt is also used in many other dishes such as:
Curries
Puddings
Sauces
Soups
Is dairy an allergen?
Yes, all dairy foods and products are derived from Milk, which is one of the 14 major food allergens.
Unlike with lactose, people with a Milk allergy are allergic to proteins in either the milk curds or whey, which cannot be removed from the Milk. You cannot get allergen-friendly cow milk.
Are eggs a dairy product?
Eggs are not a dairy product, although they are often sold in the same area of a shop as dairy products. Dairy products are all derived from Milk, which comes from mammals such as cows, goats and sheep. Eggs come from chickens and other birds.
To avoid dairy you should avoid foods that contain Milk or any of its derivatives, such as cheese, cream, butter and yoghurt.
If a food product contains Milk this will be indicated on the label, and in restaurants or other food hospitality establishments servers should be able to tell you whether milk or any of its derivatives are among the ingredients or it should be indicated on the menu (this is because Milk is among the 14 major food allergens).
There are many dairy-alternatives currently on the market, including plant-based milks and butters, and also things like vegan cheese and vegan ice-cream - made from ingredients such as nuts (cashews, macadamias and almonds) and soy or coconut milk .
You may also be interested in…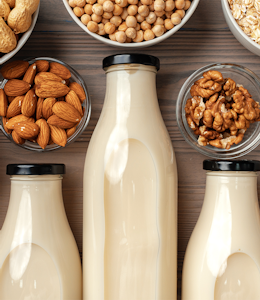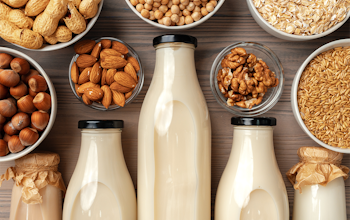 You may also be interested in…
Best Plant Milks: Your Guide
Read
Is chocolate a dairy food?
Yes, most chocolate is a dairy product as it has Milk among its ingredients (in addition to sugar and cacao) - Milk is a dairy food.
Some dark chocolate may only contain very small amounts of Milk or no Milk at all.
Do all dairy foods contain lactose?
All dairy foods contain the sugar lactose but some contain more lactose than others. Hard cheeses such as parmesan contain very little lactose, whilst Milk contains high-levels of lactose.
There are versions of dairy products on the market where the lactose has been removed, such as lactose-free cheese, which can be eaten by people with lactose intolerance.
Is lactose-free the same as dairy-free?
Lactose-free and dairy-free are not the same thing.
Lactose-free means that lactose (a type of sugar found in Milk) has been removed from the milk or dairy product within a food or drink.
Dairy-free means that a product has been made using no dairy ingredients at all. For example, a dairy-free milk will be made from something plant-based such as Soya or Oats.
Is lactose in eggs?
Eggs do not contain lactose. Lactose is a type of sugar found in Milk, which comes from mammals, unlike Eggs which come from birds.
You may also be interested in…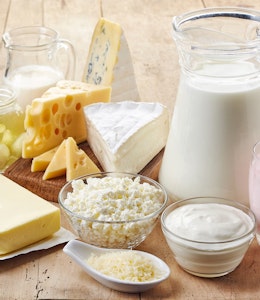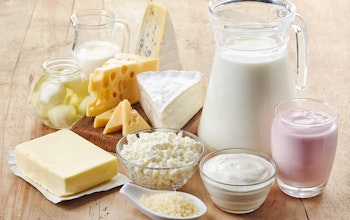 You may also be interested in…
Lactose intolerance - everything you need to know
Read
Can vegetarians eat dairy foods?
You may also be interested in…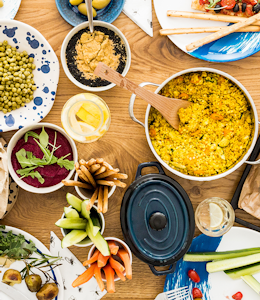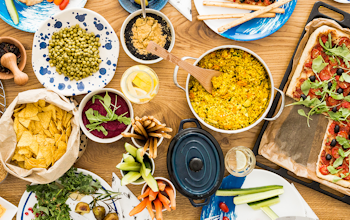 You may also be interested in…
What's the difference between vegetarian and vegan?
Read
Depending on the type of vegetarian they are, vegetarians can generally eat dairy foods such as:
Milk
Butter
Cheese
Yoghurt
Cream
Many vegetarians also eat Eggs.
However, vegans cannot eat any animal-derived foods at all and since dairy products come from mammals such as cows, goats and sheep, they cannot be eaten by those who follow a vegan or plant-based diet.
Vegans also cannot eat Eggs, which come from birds.
You may also be interested in…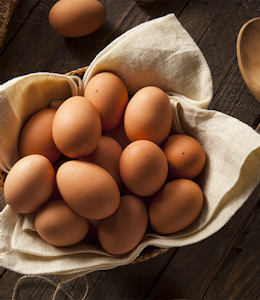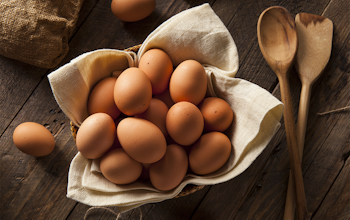 You may also be interested in…
Allergen Deep Dive: Eggs
Read
You may also be interested in…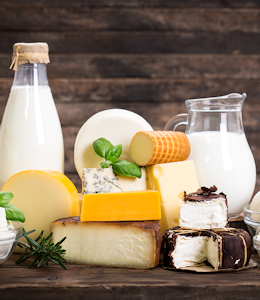 You may also be interested in…
Allergen Deep Dive: Milk
Read