The Best Food and Drink Ideas For Gin
The gin and tonic is an English institution, but why stop there when there's so many great drinks and dishes you can make with gin.
We've pulled together the most appetising food and drink ideas for gin, so read on for tips and advice on these tasty menu treats - whether you're a professional Caterer or just a dedicated foodie...
Martini
Gin smoothie
Gin & tonic ice lolly
Gin cookie
Gin cheesecake
Gin sorbet
Boozy fruit salad
Gin tarte Tatin
French 75
Martini
What: Arguably the world's most famous cocktail - gin and a splash of vermouth shaken or stirred with ice and strained into the famous triangular glass. Served with an olive or a twist of lemon.
Try it because: The journalist H.L Mencken called the martini the 'only American invention as perfect as the sonnet', and famous fans include James Bond, Humphrey Bogart and Dorothy Parker. There is simply no chicer, more sophisticated drink.
Top tip: Keep a jar of olives and a jar of pickled onions to hand and easily triple your martini selection - adding olive brine to the drink to make a 'Dirty Martini' and substituting the olive or lemon garnish for a pickled onion or 2 to create a 'Gibson'.
Gin smoothie
What: Fruit (we recommend strawberries and other berries), ice and a shot of gin blitzed in a blender. Lighter vegetables such as cucumber and celery can also be added into the mix. Serve in a long glass.
Try it because: It's the perfect way to indulge in 'Ginuary' and New Year resolutions about eating more fruit and vegetables. Aside from the boozy buzz, it's also bursting with vitamins C and E, folic acid, calcium, zinc and lots of other goodies that will have anyone feeling great.
Top tip: Banana is a popular smoothie ingredient - however, it's not very complimentary to the taste of gin so best avoided here. Lime on the other hand goes perfectly, so feel free to add a good squeeze of lime juice before blending.
---
Gin & tonic ice lolly

What: Gin, tonic and caster sugar mixed together until the sugar is dissolved, poured into lolly moulds and frozen for at least 4 hours (but longer is better).
Try it because: These treats are so much more than a summer novelty (though let's face it they're a pretty fabulous summer novelty), they're also a fun and non-messy party dessert. And they have great takeaway potential too!
Top tip: When mixing the gin and tonic with the sugar, you'll need to make sure that the tonic has lost any fizz before freezing.
Gin cookie
What: Delicious buttery cookies (base ingredients butter, egg, flour, sugar and bicarbonate of soda) laced with gin - and usually another additional flavour such as lemon, or tonic.
Try it because: Biscuits and cookies are a great menu area in which to experiment and switch things up. Gin's distinctive flavour makes it an unusual choice but a sophisticated one, and it's also a non-alcoholic way of enjoying one of the nation's favourite tipples.
Top tip: As with cocktails, you can experiment with different pairings - gin goes well with rosemary, orange and berries. Switch in and out your ingredients until you find the perfect combination.
Gin cheesecake
What: An indulgent yet summery dessert made even more indulgent with the addition of gin and lemon or lime. No cooking necessary. Simply refrigerate and then enjoy.
Try it because: The kick added by gin gives extra punch to the combination of smooth, cream cheese filling and buttery biscuit base. As sweet summer treats go, they don't get any more refreshing than this.
Top tip: Although digestives are the traditional ingredient for the base, you can make your cheesecake ultra-luxurious by subbing in speculaas (also known as Speculoos) or any other kind of caramelised biscuit.
Gin sorbet
What: A classic palette cleanser made from tonic water, sugar, lime juice, gin and gelatin powder. Some recipes include a beaten egg white instead of gelatin.
Try it because: Gin sorbet isn't just a great dessert, or light end to a meal - it can also be served in a glass as a cocktail. A versatile addition to any meal or menu.
Top tip: If you're serving gin sorbet as an alcoholic drink, try adding an additional splash of gin to the glass and mix in well before serving. Potent yes, but it'll really bring out the gin flavour and make the sorbet sing.
Boozy fruit salad
What: Your favourite fruit mix - summer berries, tropical, English apples and pears - served with a syrup, sugar and gin mixture that acts a sweet, boozy glaze.
Try it because: Fruit should always be a dessert option - it's light, flavourful and provides at least one of the recommended 5 fruit and vegetable portions a day. The gin glaze can be an optional extra to make it more exciting.
Top tip: If you want to create the flavours of a fruit salad with gin in a drink, there are several liqueurs that recreate the taste. Serve with ice and soda water in a highball glass.
Gin tarte Tatin
What: A spin on a French classic (an upside-down tart in which the fruit is caramelised in sugar and butter before the entire tart is cooked), in which gin is added to the butter/sugar glaze.
Try it because: Tarte tatin is a much loved dessert with a rich culinary history dating back to the 1880s, the kind of menu item that sets out to impress. The addition of earthy gin will make yours stand out from the crowd.
Top tip: Add vanilla essence or vanilla seeds alongside the gin if you prefer to keep the flavour of the tart on the sweeter side.
French 75
What: A glamorous cocktail that dates all the way back to the early 20th century - it was thought to be created in Harry's New York Bar in Paris in 1915. It contains gin, champagne, simple syrup and lemon juice.
Try it because: The French 75 is so named because it gives the drinker a kick similar to that of the ultra-accurate and fast 75mm Howitzer field gun used in WWI. Exactly what you want from a cocktail.
Top tip: There are several recipes for a French 75 out there but one thing modern incarnations uniformly agree on is that powdered sugar is best.
Allergen Alert
Some of these drinks and dishes might contain one or more of the 14 major food allergens, and especially one or more of the increasingly common other allergens. So if you're planning on serving any of these gin-based treats it's important to let sufferers know if a triggering allergen might be present. Erudus can help make that process quick, easy and accurate with our Recipe Builder tool. Recipe Builder automatically aggregates nutritional values, costs and allergy statements as you add ingredients to the recipe you're building, and puts all this information into one easy to read document. So you can share any allergen information with consumers and staff and everyone can enjoy utmost confidence about what's in the dish.
You may also be interested in…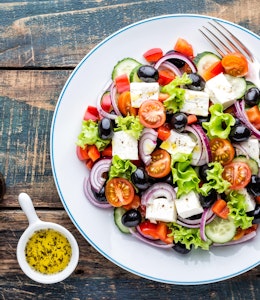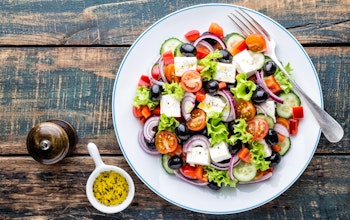 You may also be interested in…
World's Most Famous Salads
Read