St Patrick's Day Menu Ideas
Every year revellers around the world gather on 17 March to celebrate St Patrick's Day, but there's so much more to this cultural holiday than sinking pints of Guinness. As of the 17th century, it is a recognised Christian feast day, and as such the perfect occasion to pay homage to Irish cuisine.
---
So we've put together a menu inspired by the Emerald Isle, perfect for St Patrick's Day and the onset of spring…
Apéritif - Irish Eyes
An apéritif is a (usually alcoholic) drink that stimulates the appetite and sets the tone of the dining experience. And the emerald green hue of an Irish Eyes cocktail makes it ideal for this occasion, achieved through the use of palette-refreshing green crème de menthe. A splash green crème de menthe is added to one measure of Irish whiskey and topped with a measure of cream and shaken with ice before being strained into a glass (with fresh ice if desired).
Allergen alert
The Irish Eyes cocktail contains cream, which is derived from Milk - one of the 14 major food allergens.
Starter - Boxty bites with sour cream
An Irish potato pancake local to the north midlands, north Connacht and southern Ulster regions of Ireland, boxty can be the base of a main course in itself, but cooked in individual smaller portions it works as a starter or even a canape. Made by grating a potato and straining it to remove starch before frying on a piping hot griddle pan, boxty's crisp and fluffy texture makes it a melt in the mouth taste sensation when served with rich sour cream - a surefire way to get the meal off with a bang.
Allergen alert
Boxty is commonly made with flour - a Cereal containing Gluten, which is one of the 14 major food allergens. Some recipes may also include Milk and Egg.
Main Course - Irish stew with soda bread and colcannon
Irish stew isn't just one of the region's most famous dishes, it's also one of the very best for showcasing foods native to Ireland - lamb, mutton, potatoes, root vegetables such as onions, leeks and cabbage, and many recipes have been perfected and passed down from generation to generation.
Using locally sourced ingredients is key to keeping the spirit of this dish, even if you're not located in Ireland - it's the idea of taking domestic meat and vegetables and turning them into a rich, hearty stew - though dried fruit can also be added for flavour and zest.
Colcannon is made by mashing potatoes with milk and butter and mixing in cabbage or kale, and as a national favourite (particularly around Halloween) it's the ideal side dish to Irish Stew.
Of course, what you really need to go with an Irish Stew is some bread to mop up the lovely leftover gravy and soda bread's mild, biscuit-like flavour and dense texture give it most excellent mopping-up properties. As an added bonus, soda bread is quicker and easier to make than other types of bread - flour, salt, buttermilk and bicarbonate of soda (as opposed to yeast) are the only ingredients used.
Allergen alert
Stews have a gravy base, which is usually made using flour, a Cereal containing Gluten. Some stews also include Celery, another of the 14 major food allergens. Celery might also be present in colcannon, which also counts Milk (and butter, a derivative of Milk) as a primary ingredient. Soda bread is made with flour (Cereals containing Gluten) and Buttermilk (Milk).
Dessert - Guinness chocolate cake with irish cream
It really wouldn't be an Irish menu without something Guinness related… and the sugar in chocolate cake balances out the bitter Guinness for a rich, heady flavour that's more sophisticated than regular chocolate cakes and utterly distinctive. Simply add Guinness and sour cream to your favourite chocolate sponge cake recipe, and use a good quality Irish butter such as Kerrygold to make a cream cheese icing that provides a light counterpoint to the cake and visually represents the white froth on top of a cold pint of Ireland's favourite stout.
Serve with rich Irish cream for extra indulgence.
Allergen alert
There are several allergens in Guinness chocolate cake - Cereals containing Gluten via the flour, Eggs, and Milk via cream and butter. There is also Milk in the cream cheese frosting.
What is Guiness?

Guinness is a dry Irish stout, and one of Ireland's most famous exports. It was first manufactured in 1759 by Arthur Guiness's Dublin brewery, and has a distinctive flavour derived from the combination of malted barley and roasted, unmalted barley and a kick to it that is achieved by blending aged beer with freshly brewed beer. Guinness is famous for dark colour and velvety finish, and is drunk by people around the world.
Coffee is always a great way to end a meal, and Irish Coffee is a more than worthy finale.
The trick is to use regular filter coffee, stronger varieties like espresso will overpower the Irish whiskey and you want to be able to taste the smoky single malt. The whiskey should be infused into the coffee, and then topped with double cream.
Add brown sugar if a burst of sweetness is required.
Allergen alert
Cream is made from Milk, one of the 14 major food allergens.
You may also be interested in…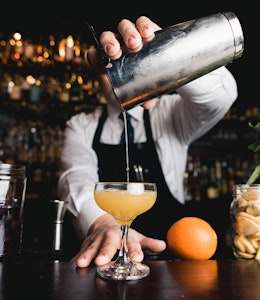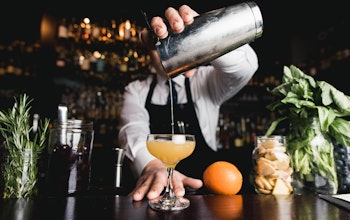 You may also be interested in…
How Allergens Hide in Alcohol
Read
You may also be interested in…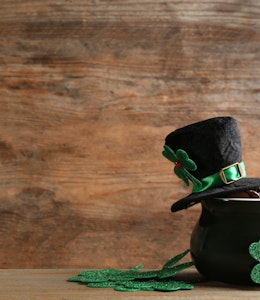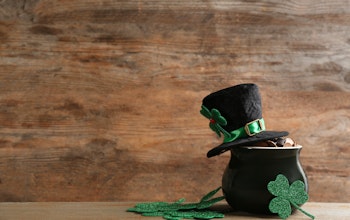 You may also be interested in…
Famous Irish Foods and Drinks
Read