Famous Irish Foods and Drinks
St Patrick's Day might not be here quite yet, but here's our round-up of the tastiest treats from the Emerald Isle, plus some tips for serving them - because Irish food and drink makes a moreish menu addition all year round...
---
What is Irish Coffee?
A rich black coffee infused with blended or preferably, single malt whiskey and brown sugar then topped with double cream. And it has to be double. The coffee is then drunk through the cream. The Irish Coffee was said to be invented in the 1940's by one Joe Sheridan in County Limerick, and provided weary travellers on their way to the US or Canada with a liquid boost.
Irish Coffee tip

Regular filter coffee is the ideal choice - other black varieties like espresso or Americano will overpower the taste of the Irish whiskey.
Allergen alert
Cream is made from Milk, one of the 14 major food allergens.
Soda Bread
What is Soda Bread?
Soda bread uses sodium bicarbonate as a leavening agent rather than yeast, which makes it quicker and less complicated to make. It's other ingredients are flour, salt and buttermilk, which give it a mild and biscuit-like taste. It is low in saturated fat and cholesterol, which may reduce the risk of heart disease and makes it a better bread choice for those trying to follow a weight-loss plan.
Soda Bread Tip

For a lovely soft crust wrap your bread in a damp tea towel after removing from the switched-off oven and then return it there to cool. Prefer a hard crust? Leave it to cool on a wire rack without a tea towel.
Allergen alert
Soda bread is made with flour (Cereals containing Gluten) and Buttermilk (Milk). Some recipes include Egg too.
Irish Stew
What is Irish Stew?
The most important thing to know about an Irish Stew is that the ingredients should be native, or on-hand to the Irish. Lamb or mutton and root vegetables (potatoes most significantly) are the primary components, with onions and parsley and sometimes leeks or cabbage. There is no one consistent recipe for Irish Stew, it is often passed down from generation to generation, varying over geographical location too.
Irish Stew tip

For a sophisticated take, add a new dimension to the flavour of the stew. You can do this by adding spices or Worcestershire sauce, but what really compliments the basic ingredients is dried fruit - apricots, cranberries or prunes.
Allergen alert
Cereals containing Gluten will be present via flour in the stew's gravy, and some recipes may include Celery too.
White Pudding
What is White Pudding?
White pudding is a blood-less version of black pudding, and a delicious addition to a fried breakfast. It's predominant ingredients include suet, onions, oatmeal or barley, breadcrumbs and pork (sometimes pork liver too). White pudding is a traditional Irish food and recipes have varied and evolved over the years - it is also sometimes referred to as a 'sausage'.
White Pudding tip

White pudding is one of the only foods that tastes equally great when cooked in a microwave. So just be sure to slit through the skin beforehand, then enjoy the convenience of microwave heating.
Allergen alert
There are several of the 14 major food allergens present in recipes for white pudding - Cereals containing Gluten (oats and/or barley) and Milk are the main two, but some varieties also include Soya, and Sulphites (via preservatives). Onions are also an increasingly common allergen.
Guiness
What is Guiness?
Guinness is an iconic Irish strout, dark in colour and dry in taste. It originated in Dublin and was first produced by Arthur Guiness's brewery in 1759. Its distinctive flavour comes from malted barley and roasted, unmalted barley and a sharp kick originally achieved by blending aged beer with freshly brewers beer. Health benefits from Guiness are said to include reducing the risk of heart and attacks and blood clots, antioxidants that slow cholesterol, and increased fibre intake.
Guinness tip

Guinness shares its antioxidant properties with dark chocolate, and like dark chocolate, it makes for a delicious ingredient in brownies or chocolate cake.
Allergen alert
Like most beers and ales, Guinness is not suitable for those with a gluten allergy. It counts barley as a main ingredient, a Cereal containing Gluten.
Colcannon
What is Colcannon?
Traditionally made with only 4 ingredients - mashed potatoes, butter, milk and cabbage - Colcannon is a popular Irish dish and a Halloween culinary staple on the Emerald Isle. It's thought that the first part of the name comes from the Irish word 'cál' meaning cabbage, though some people use kale in their recipes instead.
Colcannon tip

Boil your potatoes in their skin - it keeps them drier, which in turn makes them fluffier. Fluffy mashed potatoes are the most luxurious.
Allergen alert
Milk is a primary ingredient in colcannon, and some recipes also include Celery.
Irish Cheddar
What is Irish Cheddar?
Irish Cheddar is a cheese made in Ireland, with Irish milk. Irish Cheddar commonly has a sharp taste that comes from being aged, but the most significant factor in its flavour comes from grass the cows are fed on. Irish pastures are known for their lushness, and fans rave about the rich, sweet flavour that comes from Irish milk (and consequently, cheese).
Irish Cheddar tip

Irish cheddar is perfect for rich, cheese-based pasta dishes - use it in mac and cheese for the ultimate Irish-American fusion dish (with Guiness if you want to pack extra punch).
Allergen alert
Cheese is made from Milk, one of the 14 major food allergens.
Barmbrack
What is Barmbrack?
Barmbrack is a quick bread with a rich Irish history. It contains sultanas and spice in addition to regular bread ingredients, and the name is linked to the word 'barm', referring to the froth or "barm" leftover after fermenting beer or ale. It's a customary Halloween food, and similarly to a Christmas pudding, is baked with trinkets inside. It's considered lucky to receive the piece of bread that contains a trinket.
Barmbrack tip

Sultanas and spices are standard ingredients in a barmbrack, but you should also include vanilla extract to set off the other flavours.
Allergen alert
Barmbrack generally contains flour (Cereals containing Gluten) and dried fruit (Sulphur Dioxide), and sometimes Egg too.
Boxty
What is Boxty?
Boxty is an Irish potato pancake, made with grated potato sometimes strained to remove the majority of starch and water, and flour. It's then fried on a hot griddle pan. Boxty is generally associated with places like Leitrim, Mayo, Sligo, Donegal, Fermanagh, Longford, and Cavan, and is referenced in an old Irish rhyme: "Boxty on the griddle; boxty on the pan. If you can't make boxty, you'll never get a man!"
Boxty tip

Cook boxty slowly - or at least cook it slowly rather than quickly. Cooking it over a medium heat will result in a golden crust and soft, fluffy texture. Cooking it too fast will give you a raw pancake with a burn outside.
Allergy alert
Boxty may contain flour (Cereals containing Gluten), Milk and Egg.
Irish Mussels
What are Irish Mussels?
Irish Mussels are a seafood caught in the Irish Sea, and cheap to produce because they do not require feeding or fertilising. Mussels are usually served in a creamy or wine-based sauce, and ingredients such as Guiness and Irish cider are particularly common with those of the Irish variety.
Irish Mussels tip
If a mussel remains open after you tap it, throw it in the bin. It's no good.
Allergen alert
Mussels are a Mollusc, one of the 14 major food allergens. Milk, Celery, Mustard and Flour (Cereals containing Gluten) may also be found in the sauces mussels are served in.
You may also be interested in…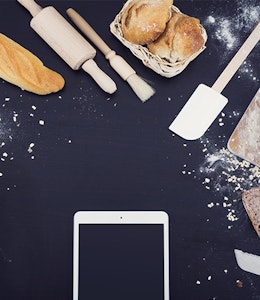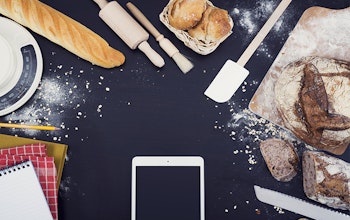 You may also be interested in…
Erudus… Has a Recipe Builder
Read