Everything You Need To Know About Strawberries
Summer may be some way off yet, but we're already looking forward to the warm weather, longer days and fresh and light alfresco meals. The US celebrates National Strawberry this week, on 27 February, so we thought we'd get a head start on healthy summer eating and join them. Here's everything you could want to know about one of the nation's favourite foods...
---
What are strawberries?
Strawberries are a juicy red fruit… or are they? Technically, no. They are a multiple fruit (consisting of many tiny fruits all embedded in one receptacle), and they certainly aren't berries - due to the fact their seeds are on the outside. Each strawberry has around 200 seeds.
Strawberry plants are a member of the rose family, and produce runners. The first fruit to ripen in spring, for hundreds of years they sourced from the wild. The first garden strawberries were grown in the 1700s, in Brittany in France.
Where does the name strawberry come from?
In the UK the window for ripe strawberries is a small one. With the season running from late May to July, producers can't afford to waste a single crop. Traditionally, farmers used straw to protect their emerging plants from harsh weather and muddy soil. And thus came the name 'strawberry'.
Where are strawberries grown?
When the French cultivated their first garden strawberries (see above), they used a cross of Fragaria virginiana from North America, and Fragaria chiloensis from Chile - both wild varieties.
But while strawberries are primarily native to North America, as recently as 2017 China was the top producer of the fruit, with around 40% of production.
Are strawberries good for you?
Strawberries are very good for you, and people have known that for thousands of years. The Romans used strawberries to treat fevers, blood disease, liver problems, kidney stones, gout and inflammations, as they were thought to alleviate symptoms.
Strawberries are rich in vitamin C (great for skin and the immune system), Folate (needed for tissue growth and regeneration) and potassium (which benefits blood pressure).
Because strawberries are over 90% water they are naturally low-carb. They are also low-fat and low in protein, and contain less sugar than oranges, apples and bananas. All factors that make them a healthy snack. Additionally, an average serving of 5-7 strawberries only contains 32 calories.
According to A Woman's Health Study reported on in 2015's American Diabetes Association's 75th Scientific Sessions, women who eat strawberries at least once a month had a lower risk of diabetes.).
How should you store strawberries?
If you want to avoid mouldy strawberries (and you should), keep them cold and dry. Refrigeration until you're ready to use them is the obvious answer - do so on a paper towel lined tray - but strawberries can also be stored in the freezer for up to 3 months.
Never ever wash strawberries until you're ready to eat them or use them - they are incredibly absorbent and will suck up any water around them. The more water they come into contact with, the mushier the strawberries will be.
Can anyone eat strawberries?
With the exception of those with a strawberry allergy (see below), people with just about any other dietary restrictions can eat strawberries.
They are vegan, gluten-free and dairy-free. They are low-fat and low GI, meaning diabetics can eat them too.
There has been some controversy over whether they are Kosher - due to the presence of small insects in some batches, so anyone keeping kosher may prefer to check labelling carefully or ask the producer for more information before consuming.
Are strawberries an allergen?
Strawberries are not one of the 14 major food allergens, which means that they do not have to be declared as an allergen ingredient (in bold) on food product packaging. Still, strawberry allergies do exist, and the fruit is one of the allergens on the rise.
Anaphylaxis from a strawberry allergy is very rare, and the most common symptom is a red rash around the mouth. Other symptoms of a strawberry include itchy skin, tingling, watery eyes, a runny nose, bloating and diarrhoea, nausea and a swollen throat and/or tongue.
Internal symptoms such as nausea, diarrhoea etc are unlikely to occur if the sufferer has come into contact with a strawberry but not ingested it.
The symptoms of a strawberry intolerance are similar to those of an allergy, but unlike an allergy they can be temporary, and may take hours or days to develop. A person with a strawberry intolerance may also suffer an upset stomach.
What foods are strawberries in?
Strawberries are very often eaten fresh, with cream or other fruits. They are also a common ingredient in other fresh or prepared dishes. You can find strawberries in the following foods:
Jam
Milkshake
Smoothies
Chocolates and candies
Ice cream
Puddings and desserts such as Eton Mess (strawberries with cream and broken up meringue)
Salads
Cobbler
Biscuits and cookies
Shortcake
Cheesecake
Strawberry Tips
When selecting strawberries go for those that are vibrant red, and firm. Strawberries do not ripen after being picked, so in addition to avoiding mould and blemishes make sure yours have no yellow or green areas.
When using strawberries in a dessert, try pan-roasting them first. It'll give them a delicious caramelised flavour.
Strawberries can help you burn more calories during exercise. Why? They are high in nitrate, which increase blood and oxygen flow to the body's muscles. This can lead to improved endurance, and more endurance means more time exercising and more calories burned.
We all know overripe strawberries are great for jam, but unripe strawberries have their use too - as an unusual but tasty pickled snack!
Balsamic vinegar brings out a strawberry's flavour - that's why they make such a great salad ingredient. They taste delicious with the dressing.
When storing strawberries in the fridge, do so in a colander - the holes allow the cool air to circulate around them and keep them extra fresh.
For an indulgent afternoon tea experience add blended strawberries to butter, for a creamy spread that will elevate scones and muffins.
Add blended strawberries to your margaritas. Perfect for those with a sweet tooth (and if you want advice on how to make the perfect margarita we have all the tips right here).
Now let's celebrate National Strawberry Day!
You may also be interested in…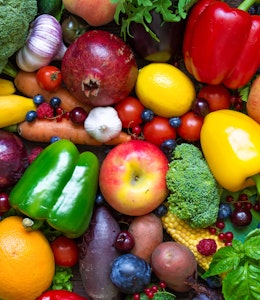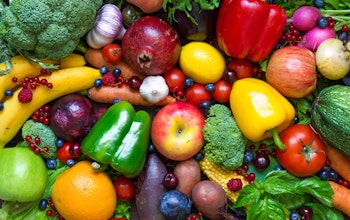 You may also be interested in…
All About New Common Allergens
Read