Christmas foods to make now, use later
Like most in the food industry, here at Erudus our minds are firmly on Christmas - specifically Christmas dishes, Christmas drinks and Christmas menus.
---
We already looked at the details and impact of a haute cuisine Christmas feast, and now we're turning our attention to getting a head start on the holidays, with a round-up of Christmas foods you can make now and serve when December arrives. So if you find yourself short on time or ingredients are scarce there'll be no need to panic because you're already prepared.
Our preservable Christmas Menu includes:
Christmas chutney
Honey roasted vegetables
Pickled brussel sprouts
Gravy
Dry cured pigs in blankets
Redcurrant jelly
Christmas pudding
Sugar plums
Read on to find out more about these long-lasting twists on festive favourites that will also make your dishes stand out from the crowd...
Christmas chutney
Not only do unopened chutneys have a shelf life of at least a year, but chutney that has been opened and refrigerated will also last for around two months, so a large batch will take you through the entire festive season.
For a cosy, warming chutney with a kick, bring spices, ginger, sugar, onions and cider vinegar to the boil in a saucepan. Then stir in chopped pears and chillies until the mixture becomes syrupy, before adding sultanas just before everything is ready to come off the heat. Cool and spoon into jars for storage, and when ready to use serve with cheese or roasted winter squash.
Allergen alert
Sultanas are a dried fruit, and they and cider vinegar both contain Sulphur Dioxide - one of the 14 major food allergens.
Honey glazed carrots and parsnips
Carrots and parsnips can be blanched in boiling water then cooled and frozen, ready to defrost and cook when needed.
The honey glaze can also be prepared in advance - honey has been used as a preservative since ancient times, primarily because of its high sugar content. Because of this, pure honey has an extremely long shelf life. The other main ingredient in a honey glaze is white wine vinegar - vinegar is highly acidic and therefore unlikely to go off even months after opening.
Allergen alert
White wine vinegar contains Sulphur Dioxide.
Pickled brussel sprouts
Traditionally the least loved part of a Christmas dinner, this tangy take on sprouts makes them surprisingly moreish - and you can prep them months in advance. Soak the sprouts in salted water for 15 mins then pickle in jars filled with a boiled water, pickling salt and vinegar mixture as well as the herbs and spices of your choice - we recommend garlic, peppercorns, and bay leaves.
You'll also need a jar rack that you can immerse in boiling water to finish the pickling process.
Allergen alert
As with most pickled foods which use vinegar as part of the preparation process, pickled sprouts likely contain Sulphur Dioxide.
Potatoes - whether roasted or mashed - are the part of a Christmas dinner that should really be made close to time because whilst potatoes can be frozen if pre-cooked, they really taste much better fresh.
Gravy
Gravy can be made in batches then cooled to room-temperature and frozen in either ice cube trays for single portions or roomy tupperware for large amounts. It will be good in the freezer for around 5 months, and during that time can be thawed out in the fridge then brought to room-temperature and reheated.
A few things to note - this only works for flour and fat-based gravy, anything cream or milk-based will likely spoil in the freezing process, and should only be thawed once, with flavour decreasing on each reheating.
Allergen alert
Flour is an ingredient in gravy - this counts as a Cereal containing Gluten, one of the 14 major food allergens. Some gravy recipes contain another allergen - Mustard.
Salt cured pigs in blankets
Most of the meat in a Christmas dinner can't be prepared in advance - meat has a high moisture content and so spoils quickly, but salt cured pigs in blankets are treated to reduce the amount of water in the pork.
Instead of chipolatas, make your own salami sausage with casings, good minced pork, fat and seasonings, which you can then leave to ferment dry out in a warm, relatively humid space. The sausage will take anything from 6-10 weeks to mature and be ready to eat, so can be made well ahead of Christmas. You can purchase dry cure mix to cure your bacon for the pigs in blankets, simply apply it to pieces of thin cut pork belly and place them in polyethylene zip bags. These then need to go in the fridge for 21 days, after which the bacon is cured and ready to use for pigs in blankets when needed.
Allergen alert
Pork is not one of the 14 major food allergens.
Vegans take note - tofu, a popular substitute for turkey in meat-free Christmas dinners, freezes very well. It can be prepared in advance and frozen, without losing its flavour or texture.
Redcurrant jelly
Redcurrant jelly is a tasty alternative to the traditional cranberry sauce, and one that will keep for much longer.
Like jam, redcurrant jelly is a preserve, and like jam it is made by softening the fruit and breaking down the fruit over a heat, before straining through muslin or a jelly bag and adding sugar while the juice simmers. After bringing to the boil, the mixture should come off the heat when it reaches setting point, before being left to set and then put in jars.
If prepared and stored properly the jelly can sit on the store shelf for at least a year, and opened in the fridge for multiple months.
Allergen alert
There are many recipes for redcurrant jelly, with lots of different ingredients including rosemary, lemon zest, shallots and allergens such as Mustard, red wine (Sulphur Dioxide), white wine (Sulphur Dioxide), and Port (Sulphur Dioxide).
Christmas pudding
The classic - traditionally made on 'Stir Up Sunday', which happens roughly 5 weeks prior to Christmas in order to ensure that the pudding has had time for the flavours to ripen and develop. However, it can be made even more in advance than that, with a pudding lasting for up to 2 years if stored in a cool, dry place.
When ready to serve, the puddings are simply resteamed for a couple of hours. Find out more about Christmas puddings in our interview with pudding maestro George Hollywood of Georgie Porgie's Puddings.
Allergen alert
There are classically 13 ingredients in a Christmas puddings - many of which are allergens. Suet, breadcrumbs and flour are all Cereals containing Gluten, raisins and currants can contain Sulphur Dioxide, and Milk and Eggs are major allergens in their own right.
Sugar plums
The perfect Christmas dessert given their strong festive connections (they are name-checked in both The Nutcracker and The Night Before Christmas). Contrary to what the name suggests, these little treats are not simply plums rolled in sugar, but a mixture of dried fruit (including plums but also cherries and apricots), powdered or flaked almonds, and spices (such as carraway, star anise and fennel) that has been blitzed together and rolled into balls which are then coated in decorating sugar.
You can prepare them up to a month in advance, simply keep in an airtight container in the fridge and bring to room temperature before serving.
Allergy alert
Dried fruit contains Sulphur Dioxide, one of the 14 major food allergens.
You may also be interested in…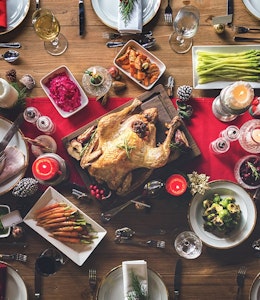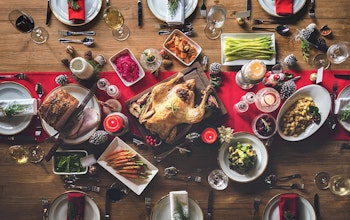 You may also be interested in…
An Allergen Aware Christmas Dinner
Read
You may also be interested in…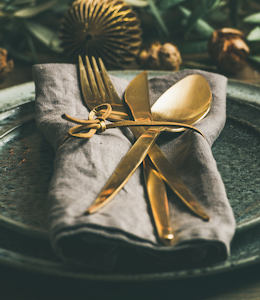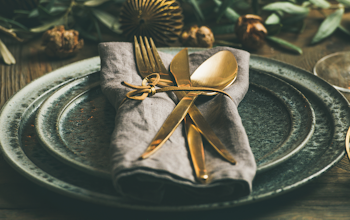 You may also be interested in…
The Haute Cuisine Christmas Menu
Read
You may also be interested in…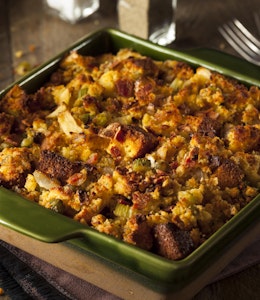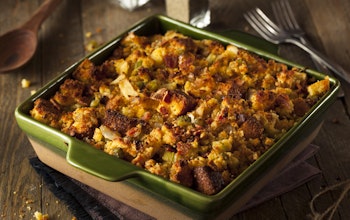 You may also be interested in…
Your Takeaway-Ready Christmas Menu
Read