The Haute Cuisine Christmas Menu
Most people may still be getting to grips with the end of summer, but in the hospitality industry all eyes are already firmly on Christmas and the eating, drinking and being merry that comes alongside it.
---
Last year foodservice was hit hard by the pandemic and pretty much missed out on festive business entirely. This year things look more promising, but with erratic COVID-19 case numbers, projected food shortages and a nation desperate to celebrate anything could happen.
So here at Erudus we're looking at some fail safe Christmas menu options to ensure you're prepared, even if the unexpected occurs. First up, a haute cuisine inspired meal so rich and delicious that a little goes a long way - perfect for when you're working with smaller deliveries than usual and a smaller number of ingredients.
What is haute cuisine?

Haute cuisine generally refers to a menu of many courses consisting of small portions of high quality, flavourful food and cooked by a trained (often well-known) chef. Literally translated it is French 'high level' food.

Why is haute cuisine good for a Christmas menu?

Haute cuisine is actually perfectly suited for a Christmas menu, not least because like Christmas menus haute cuisine always comes as a 'set' menu and uses a select number of predetermined ingredients. Haute cuisine food also tends to be extremely rich, and Christmas is the perfect time to be indulgent.
The Erudus Haute Cuisine Christmas Menu
Hors d'oeuvres
Yorkshire puddings with roast beef and horseradish sauce
Yorkshire puddings can be whipped up from just flour, eggs and milk (with a pinch of salt) and provide the perfect cushion for a slither of finely sliced, juicy roast beef and mouth watering horseradish. A meal in a mouthful.
Top tip
Hot, strong horseradish is needed for this dish - if the sauce isn't hot you'll need more of it for flavour and anything more than a pea sized blob will ruin the hors d'oeuvres' texture.
Make sure it has a real kick by waiting 3 minutes before adding vinegar to your creamed horseradish root for maximum heat.
Allergen alert
This dish contains Milk, Egg and Cereals containing Gluten via the Yorkshire puddings - 3 of the 14 major food allergens. There may also be traces of Sulphur Dioxide (Sulphites) from the vinegar in the horseradish sauce.
A Christmas menu, no matter how fancy, wouldn't be a Christmas menu without a pig in a blanket. These tasty little morsels make for ideal finger food and need no accompaniment.
Top tip
Opt for maple cured bacon - the sweetness it brings will add new dimensions of flavour to the salty, savoury pig in the blanket without requiring any further additions of sugars, sauces or glazes.
Allergen alert
For haute cuisine you should be using the highest quality chipolatas possible - ideally 100% pork. However, many sausages do contain breadcrumbs or rusk - which are made of flour and therefore have Cereals containing Gluten, one of the 14 major food allergens.
Starter
Wild mushroom pate
The UK is full of wild mushrooms and they can be sourced locally and ethically, for a starter that's as environmentally friendly as it is elegant.
Top tip
Add truffle oil for the finishing touch - it's earthy flavour perfectly complements the mushrooms and it had the luxury kudos needed for haute cuisine.
Allergen alert
Whilst mushrooms are not one of the 14 major food allergens, Celery and Nuts (which many recipes include) are. Most mushroom pate recipes also include lentils, onions and garlic - all of which are increasingly common allergens.
Main Course
Orange stuffed duck
Duck usually tastes richer and more flavourful than other bird meats because of its high fat content. It's also high in protein, and one beautifully prepared duck breast can satisfy foodie palettes more than piled slices of turkey or chicken.
Orange and duck are an iconic culinary pairing, and on that's surprisingly festive when you take into consideration the longstanding use of orange and tangerines in Christmas dishes and traditions.
Top tip
Serve with a helping of orange, hazelnut and apple stuffing (used to stuff the duck) - the hazelnuts will add texture (as well as extra protein) and the sweet flavours of the fruit mean a small portion will be more than enough.
Allergen alert
Whilst duck and orange themselves aren't among the 14 major food allergens (though orange is a citrus fruit and therefore an allergen on the rise), many of the other ingredients in the recipe will be - for example, hazelnuts are a Tree Nut, breadcrumbs and flour are Cereals containing Gluten, butter is made from Eggs, balsamic and white wine vinegar contain Sulphur Dioxide and Celery is a popular sauce ingredient and one of the 14 allergens.
Gratin dauphinoise
A classic French potato dish, gratin dauphinoise fits beautifully into the haute cuisine theme. Packed with cream, butter and cheese, this most decadent of side dishes is so rich.
Top tip
Want to save on cooking and plating time? Make single portions in individual ramekin dishes that will cook through quickly and go straight onto the plate. A perfect little pot of creamy, crispy potato to be savoured.
Allergen alert
Cream, butter and cheese are all main ingredients in gratin dauphinoise, and all come from Milk - one of the 14 major food allergens.
Roasted vegetables may not be the most glamorous part of a Christmas meal, but they are an integral one. Whether it's carrots, parsnips, sprouts or even squash, vegetables are great for adding flavour and a pop of colour to a haute cuisine plate.
Top tip
A honey glaze will make your vegetables moreish, but sweet enough to satisfy a palette without wanting a huge portion. Use herbs and white wine or sherry vinegar in your glaze to make your honey go further.
Allergen alert
Though some vegetables are among the upcoming popular allergens, there are no root vegetables in the 14 major food allergens. However, white wine and sherry vinegar may contain Sulphur Dioxide (Sulphites), which is a major allergen.
Indulgent Addition

Looking for that final addition to leave your customers full? A side of cauliflower or celeriac cheese will do the trick - both cauliflower and celeriac are routinely used as the main course alternative for vegans, and and cheese is an excellent source of protein and fat.
Port gravy
The indulgent upgrade to regular gravy, this sticky and sweet sauce cranks up the richness of any meal at least ten notches.
Top tip
Use bacon fat in addition to chicken stock for extra flavour, and mustard for a kick that will bring out the Port's sweetness.
Allergen alert
Depending on the recipe, Port gravy might contain a number of the 14 major food allergens. These include Mustard, Celery, Sulphur Dioxide (in the Port), Milk (via butter), and Cereals containing Gluten (via flour).
Dessert
Peanut and chocolate brownie
Brownies are the gold standard crowd pleaser, especially when dressed up with creamy, filling peanuts and oozing caramel . Small squares, or 'cake-pop' styles work either as a dessert or part of a petit four style course.
Top tip
Always allow brownies to cool before cutting - you want chewy brownies not crumbly ones, and cutting them up before they are sufficiently cool will lead to chalky, crumbly slices that fall apart.
Allergen alert
Peanuts are one of the 14 major food allergens. Other brownie ingredients that are major allergens include butter (Milk), flour (Cereals containing Gluten), Eggs and Chocolate (also Milk).
Cheese course
Dried fruit compote and goat cheese
At the end of a good meal fruit can be the perfect palette cleanser. With dried fruit compote you get the sweetness of fruit but in a more filling and festive form. Dried fruit can be prepared and stored months in advance, as well as being sourced domestically. Serve with a small piece of strong goat cheese.
Top tip
Soak the dried fruit in rum for that boozy indulgence associated with Christmas.
Allergen alert
Dried fruit is likely to contain Sulphur Dioxide (Sulphites), one of the 14 major food allergens. Cheese is also one of the 14 major food allergens.
You may also be interested in…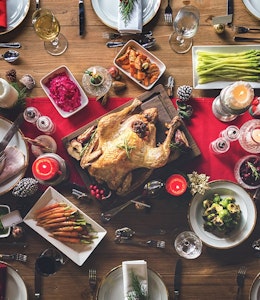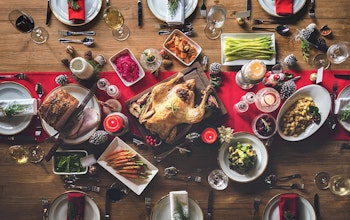 You may also be interested in…
An Allergen Aware Christmas Dinner
Read
You may also be interested in…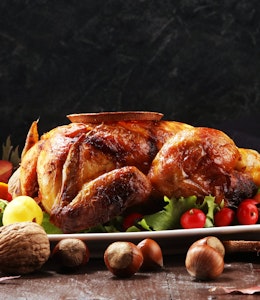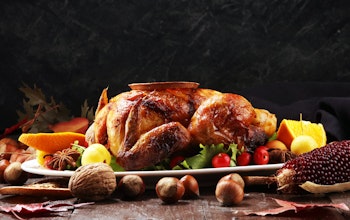 You may also be interested in…
12 Meats of Christmas
Read