Potatoes are one of the cornerstones of English cuisine - fish and chips, roast dinners, Shepherds and Cottage pie all feature potatoes as a main ingredient.
---
Some would say a menu is not complete without at least one potato dish, and given their low-cost and versatility it's hard to disagree.
But there are many, many different potato varieties, and hundreds of different dishes that contain them. So we did the hard work and pulled together a list of the very best - the choice that will make your meals and menus stand out from the crowd. They are:
Potato dauphinoise
Tater tots
Goose fat roast potatoes
Patatas bravas
Taritflette
Poutine
Loaded potato skins
Bubble and squeak
Potato salad
Samosas
Now let's learn a little more about the dishes - including top tips for making them and whether they contain any allergens….
What is a potato?

A potato is a root vegetable, and its name comes from the Spanish word "patata" (which also means potato). It comes from the Solanum tuberosum plant, native to the Americas.
Potato Dauphinoise
An easy way to elevate roast dinners, or an ideal gastropub side dish, the French origins of dauphinoise potatoes give them added foodie kudos.
The dish first appeared in the Southeast France region of Dauphiné - hence the name. It consists of thinly sliced potatoes layered and covered with milk or cream then baked in a dish rubbed over with garlic (some recipes call for garlic to be included among the actual ingredients but traditionally it is only used as a rub). The potatoes should be pre-boiled before slicing rather than used raw - this is one of the differences between potato dauphinoise and potato gratin.
Butter and a grating of nutmeg are also sometimes included in potato dauphinoise, though they are not necessary.
Top tip
One potential pitfall when cooking potato dauphinoise is the cream curdling due to the acid in the potatoes and the dish becoming lumpy and sour. To prevent this from occurring, use standard white potatoes, and when blanching them blanche them in milk.
Allergen alert
Milk is one of the 14 major food allergens, and along with its derivative cream, one of the main ingredients in potato dauphinoise.
Tater tots
An American institution that's starting to pick up traction on the gourmet fast food market, tater tots make a fun alternative to chips on your burger menu. Tater is slang for potatoes, and the name tater tots copyrighted by US-based frozen foods company Ore-Ida, who invented them in 1953, when the founders came up with an ingenious use for the potato offcuts from their other products.
They consist of slithers of potato combined with herbs such as oregano and flour, shaped into small balls and deep-fried. They are similar to hash browns, which are generally larger and not as round.
Top tip
For the crispiest tots use a spray oil to ensure your pieces are fully coated, and shake or flip the basket at regular intervals for even cooking.
Allergen alert
Tater tots include flour among the ingredients - a Cereal containing Gluten.
Are potatoes a vegetable?

Yes, potatoes are a vegetable. They fit the definition of vegetable, as edible plant matter, however nutritionally they are usually classified as a carbohydrate alongside other starch-rich foods such as pasta and bread.
Goose fat roast potatoes
Roast potatoes aren't just for Sunday roasts and Christmas dinner - they make a modern gourmet finger dish, and can accompany many meat dishes for a sense of decadence.
The best fat for roasting is a subject for debate (and depends on the dietary requirements), but goose fat is definitely the one that looks the most luxurious on a menu.
They're also very simple to make - simply peel Maris Piper potatoes and cut into pieces with lots of edges (to help them crisp up), then par-boil and dry out before putting in a roasting pan full of goose fat that has been heated to smoking point. Use tongs to rotate the potato pieces so they're fully coated and add seasoning and fresh rosemary.
Top tip
Sprinkle the potatoes with semolina before roasting, it will add texture and crunch.
Allergen alert
There are no allergens in goose fat roast potatoes, but they are not suitable for vegans.
Patatas bravas
Translated as 'spicy potatoes' in their native Spanish, patatas bravas (sometimes called patatas a la brava) is a traditional tapas dish consisting of cubed, fried potatoes in a spicy sauce.
Originating from, and patented in Madrid, there are many current variations on the bravas sauce, but traditionally it is made with just olive oil, smoked paprika, stock and flour. Many recipes choose to use tomatoes instead of stock and flour, and add other ingredients such as garlic, chilli, sherry or red wine vinegar and sugar.
Top tip
Soggy or limp potatoes can absolutely ruin patatas bravas. To stop this from happening, fully dry out the potatoes after cubing in 2cm pieces by leaving on the heat for a minute after draining and/or patting with a paper towel or kitchen roll.
Allergen alert
Some recipes may include sherry vinegar or red wine vinegar, which could contain Sulphur Dioxide - one of the 14 major food allergens.
Is potato an allergen?

Potatoes are not among the 14 major food allergens.
Tartiflette
A supremely rich dish associated with après-ski cuisine, it's no surprise that tartiflette comes from the snowy French Alps (and the Aosta Valley).
Whilst potatoes are a primary ingredient in this dish, the real star is Reblochon - a French Alpine cheese with a soft-washed rind and a smooth, rubbery texture. The recipe calls for par boiled and drained potatoes - some variations call for sliced and others cubed - to be layered with a mixture of fried onions or shallots and lardons (a splash of white wine is optional) and topped with the sliced up Reblochon. The whole thing is then baked in the oven till gooey.
Chives and creme fraiche are also sometimes included.
Top tip
Leave the skins on your potatoes - it will add flavour and texture and a more rustic feel to the dish (as well as saving time).
Allergen alert
Reblochon is a type of cheese, and as such is made from Milk.
Poutine
Some call this "posh cheesy chips and gravy", though that would be considered sacrilege in Quebec, the French-speaking Canadian region where poutine was invented, allegedly some time around 1957.
Chips are indeed the basis of the dish - though of the thin-cut french fry variety, topped with soft, squeaky cheese curds (whilst widely available in Canada, cheese curds are harder to come by in the UK and the closest alternative would be a high-quality mozzarella) and smothered with gravy. A thin brown gravy with a chicken stock is preferable, often with added black pepper and sometimes flavoured with chicken wings. Some recipes use a mixture of beef and chicken stock for the gravy, and vegetable stock can also be used for meat-free poutine.
Top tip
This dish only works if assembled immediately before serving - otherwise the fries will become mushy and the curds may meld into the gravy.
Best practice is to bring fresh cheese curds to room temperature so they aren't jarringly chilled but won't melt, add to the fries and then fully coat with piping hot, thin gravy that will run between all the cracks.
Allergen alert
Milk from the cheese curds and Cereals containing Gluten from the flour in the gravy. Some gravy recipes may also contain Mustard.
Loaded potato skins
This indulgent treat is a great snack, sharing plate option or appetiser - as well as a way to make your potatoes go further.
Primarily associated with American dining, there are several US establishments that claim to have invented the dish back in the 1970s - TGI Fridays, Chicago's R. J. Grunts and the Prime Rib restaurant of Washington, DC.
The most common form of loaded potato skins consists of potato skins or hollowed out potato halves loaded with multiple toppings - cheddar cheese, bacon, chopped green onions - then baked in the oven and served, often with the addition of sour cream.
Some restaurants offer variations which include ingredients such as guacamole, olives, chilli and even pulled pork.
Top tip
Oil is the key to making crispy potato skins, but adding it too early in the baking process can actually be counterproductive. For best results, wait until the dish has halfway reached the temperature of the oven itself and then add oil and a sprinkling of sea salt to help things on their way.
Allergen alert
The allergen content of loaded potato skins is dependent on the exact toppings used, but sour cream and cheddar cheese both are derived from Milk.
Is potato vegan?

Potatoes are vegan, but they are often cooked or served with butter, which is vegetarian but not vegan.
Bubble and squeak
Once described as the "great peasant dishes of the world", bubble and squeak goes back as far as 1762 and now has real culinary kudos and pops up on all kinds of gastropub menus. But at heart, it's still a very simple dish, traditionally made with just 2 ingredients - cabbage and potatoes, mashed together and fried in butter. The name bubble and squeak comes from the noises that occur during the cooking process.
In the early days of the recipe, cooked beef was actually the main ingredient, but even current variations on the dish that feature foods such as carrots, parsnips, spring oninios, greens and cheese tend not to involve meat.
Top tip
Add an egg to the cabbage and potato mix to hold the bubble and squeak together and prevent it crumbling on the fork - this also allows you to serve in smaller, carefully shaped portions for an haute cuisine feel.
Allergen alert
Bubble and squeak is generally cooked in butter, a derivative of Milk. The dish also may include Egg.
Potato salad
Perfect for barbecues, picnics and summer menus, potato salad is served cold, and despite its links to America, is thought to originate from Germany.
Cooked, chopped potatoes form the base of the salad, with chopped shallots or onions, celery, capers and sometimes chopped vegetables or boiled egg mixed in. The dressing is usually a creamy combination of mayonnaise, white wine vinegar and olive oil - plus a pinch of salt.
Top tip
Make sure to use the least starchy potatoes you can find, to avoid them falling to mush after cooking and make sure they are fully drained and cooled before assembling the salad. Failing to do either of these things will mean the potatoes retain water and the salad will be soggy.
You may also be interested in…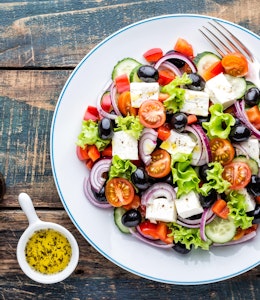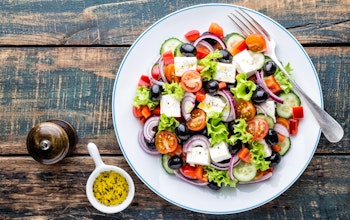 You may also be interested in…
World's Most Famous Salads
Read
Allergen alert
A potato salad might include many allergens - Milk (via cream or butter on the potatoes), Egg via mayonnaise, Sulphur dioxide via white wine vinegar, Celery and Mustard for flavour.
Samosas
A popular snack and starter that's associated with India but is actually popular across most of Asia, the word "samosa" comes from the Hindi language and as a delicacy it's been around since Mediaeval times.
A pastry parcel that most commonly comes in a triangular shape (but can be a rounded half-moon), spiced mashed or boiled potatoes are the main filling alongside onions, peas and sometimes ginger, cinnamon or green chilli.
Samosas are deep fried in vegetable oil, or occasionally the Indian butter Ghee. Whilst many samosas are vegetarian, you can get meat varieties which include beef or chicken livers among the ingredients.
Top tip
When deep-frying samosas, don't use too high a flame - this will cause bubbles to form on the surface of the pastry, ruining the texture, and cooking the pastry much faster than the filling - so you end up with either undercooked filling or burnt pastry. On a medium heat the pastry and filling will cook all the way through for a crisp outer and fluffy middle.
Allergen alert
If fried in Ghee, the samosas will contain Milk, as it is a kind of butter. It's also worth noting that lentils and peas are pulses, which are not allergens but sometimes have cross-reactivity for those with a Peanut allergy, as they are all legumes.
You may also be interested in…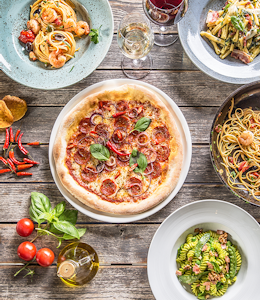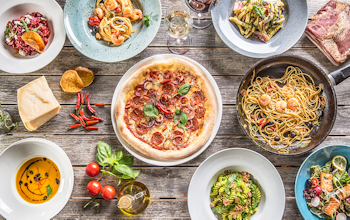 You may also be interested in…
World's most famous pasta dishes
Read
You may also be interested in…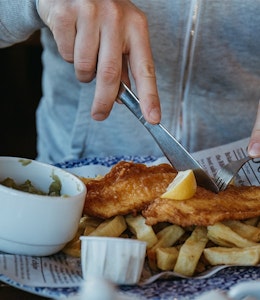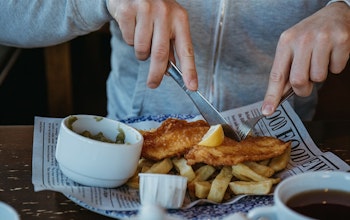 You may also be interested in…
Why Fish and Chips are a British Institution
Read