Best biscuits to keep in the kitchen
Tea and biscuits are a British Institution, woven into the very fabric of our national identity. Nearly every kitchen keeps some sort of biscuits to hand, but not all biscuits are created equal. Some are best for dunking, others look beautiful on the plate, some are specially created to meet dietary requirements. But this selection of biscuits is special because they go far further than elevenses, or accompanying that afternoon cup of coffee.
---
They are the biscuits that can be eaten alone or used as an ingredient in a range of delicious dishes, the multi-purpose heroes of the biscuit and cookie world.
In short, we're getting ready for National Biscuit Day by looking at the hardest-working biscuits out there…
Ladyfingers
Digestives
Chocolate chip cookies
Shortbread
Ladyfingers
What are Ladyfingers?
Ladyfingers, often referred to here in the UK as sponge biscuits or sponge fingers are sweet, dry, finger-shaped sponge biscuits with an egg base. They have a number of different uses - as a dessert ingredient, a gateau lining, a snack for teething infants, and are sometimes soaked in liqueur of coffee before use.
The main ingredients of ladyfingers are flour, eggs (separated), baking powder and sugar, and they were originally created in the late 1600s at the court of the Duchy of Savoy (Savoy was a historical region in the Western Alps) to celebrate a visit from the King of France.
Found in
Tiramisu
Charlottes
Trifle
Parfait
Ice cream cake
Top tip
When using ladyfingers as an ingredient the distinctive ladyfinger shape is often very important (especially in recipes involving liquid), but they are prone to spreading and flattening during the baking process. To prevent this from happening, simply add a spoonful of cornstarch to the batter mix - this will prevent spreading and hold the biscuit's shape.
Allergen alert
Ladyfingers contain 2 of the 14 major food allergens - Eggs and Cereals containing Gluten.
What is a biscuit?

A biscuit is a baked good, typically hard or semi-hard, and made with a flour base. Biscuits can be savoury but are more often sweet, and often flavoured with ingredients such as cinnamon, vanilla, chocolate, or ginger.

In most parts of America however, a biscuit is more like a scone.
Digestives
What are digestives?
Digestives are arguably the most iconic English biscuit - firm, semi-sweet and said to have an antacid property that aids digestion, hence the name. They were invented by a pair of Scottish doctors in 1839, and first manufactured by McVities in 1892 - which remains the UK's best-selling biscuit today.
Typical ingredients in a digestive include sugar, vegetable oil, malt extract, sodium bicarbonate, salt, and most importantly, coarse brown wheat flour - this is what gives the biscuit its texture and flavour. Various recipes may contain other ingredients - among them oatmeal, dried why and skimmed milk.
Found in
Tiffin
Cheesecake
Pie Crust
Homemade granola mix
Top tip
Digestives can be very heavy and earthy, so to stop them being overpowering as an ingredient you can use the brown wheat flour 2:1 with white wheat flour. Some suggest that that recipe is also closer to the branded commercial versions.
Allergen alert
Both brown and white flour are made from wheat, a Cereal containing Gluten.
What's the difference between a cookie and a biscuit?

Cookies are softer and heavier than biscuits, they are made with a soft dough as opposed to a biscuit's hard dough. And cookies are more likely than biscuits to include Egg among the ingredients, unless it is a sponge biscuit.
Chocolate chip cookies
Chocolate chip cookies are synonymous with American cuisine, so it's little wonder that they were invented by American chefs - namely Ruth Graves Wakefield and Sue Brides of the Toll House Inn in Massachusetts. Back in 1938, they used a chopped up Nestlé chocolate bar in an existing drop cookie recipe (a drop cookie has a soft dough dropped onto the baking sheet by the spoonful).
Typical chocolate cookie ingredients include flour, butter, white sugar (and sometimes and/or brown sugar), chocolate chips, eggs and vanilla or vanilla extract. Hot water, baking soda and a pinch of salt might also be added.
Found in
Cookie dough
Ice cream
Layer cake
Ice cream sandwiches
Stuffed oreos
Sweet pizza
Top tip
Use salted butter - it has that moreish quality - and melt it halfway in the preheated oven before adding to other ingredients, it will give the cookies that perfect soft yet chewy texture.
Allergen alert
Chocolate chip cookies contain several allergens - Milk from butter and chocolate, Cereals containing Gluten from flour, and Egg.
Are biscuits vegan?

Most biscuits are not vegan, because butter is one of the main ingredients, and often Egg too.
Shortbread
Shortbread is a buttery, crumbly biscuit, so called because it uses a "short" dough that is not stretchy (unlike a "long" dough). It only has 3 ingredients - butter, sugar and flour, and does not contain any leavening ingredients such as baking soda or baking powder.
It is a famed Scottish invention, going back as far as the 12th century, and likely evolving during the country's alliance with France during the time of Mary, Queen of Scots.
Shortbread can be baked in sticks, wedges, rounds or triangles known as "petticoat tails".
Found in
Millionaire's Shortbread
Fruit tart crust
Lemon bars
Truffles
Top tip
After pressing out the shortbreads and placing them on the baking tray, put them in the fridge for at least half an hour - this will solidify the butter and stop the biscuits from spreading too much.
Allergen alert
Milk from butter and Cereals containing Gluten via flour.
Do biscuits contain any allergens?

Yes, many biscuits contain Butter - a derivative of Milk, and wheat flour, which is a Cereal containing Gluten. Both of these ingredients are among the 14 major food allergens.
You may also be interested in…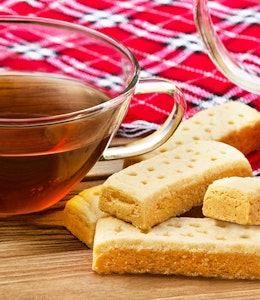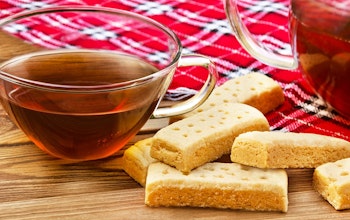 You may also be interested in…
Local Hero: Scottish Shortbread
Read
You may also be interested in…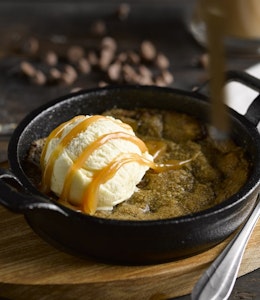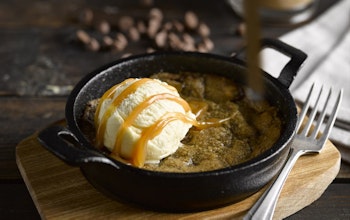 You may also be interested in…
Baker & Baker Warm Cookie Dough Dessert
Read