Manufacturer Up Close: The Good Pea Company
"Our mission is to inspire a healthier world one carton at a time, with delicious, nutritious and sustainable plant drinks, which nourish the planet and its people." This is the ethos of The Good Pea Company, whose plant-based milk has the (much longed-for by coffee lovers) advantage of making perfectly frothy lattes and flat-whites without using traditional cow's milk.
---
Their hypo-allergenic signature drink prides itself on a velvety smooth texture and unique ingredient blend, and its data can now be found on Erudus. So we caught up with the company's founders Nikki and Su to find out about the brand's origins, their quest to make healthy taste great and the steps they've taken to make their products as sustainable as possible...
The Good Pea Co emerged from 2020's lockdown
Nikki & Su say: "The idea of the business came about in the lockdown 2020 when Nikki's husband was diagnosed with a dairy allergy, and as a family they decided to go from vegetarian to plant-based [diets]. Su's family was also making the journey to veganism. Nikki and Su have 4 young children between them that consume milk multiple times a day, and when scouring the supermarket shelves to find dairy alternatives they were unable to find something that was nutritional, sustainable and tasty… so they decided to make their own."
Yellow split peas are the star of the show
Nikki & Su say: "Coming from Indian heritage, it seemed natural to think of lentils and legumes to be the hero ingredient. After a lot of research into sustainable plants, the yellow split pea topped the list - especially on discovering that field peas are naturally nitrogen-fixing, meaning little to no nitrogen fertilisers are required to grow the crops, keeping our lakes and oceans cleaner."
Their recipes have organic beginnings and expert execution
Nikki & Su say: "Following the first lockdown in the pandemic, when the business idea came to fruition, we spent the majority of 2020 and 2021 building the business from scratch and developing the recipes. The first pea milk recipes were whipped up in Nikki's kitchen and tested on family and friends. Several months later, an award-winning food technologist was enlisted and the first official batch of milks were produced in the UK's leading plant milk Manufacturer."
Their range is small by design
Nikki & Su say: "We wanted to keep the range as small and simple as possible, so we created the 'Original' for cereals, smoothies, shakes, [whilst] 'Barista' was made specifically with coffee in mind - because coffee is acidic we needed to ensure that [our plant milk] would not split like other plant milks. You can also use it for teas and matcha drinks. Both Original and Barista are great to cook and bake with too!"
Being allergen-free is a brand USP
Nikki & Su say: "Our priority is to be as inclusive as possible - it's very difficult living with an allergy and always having to check the back of the pack before consuming anything, so it is important for us to make people aware that we are free from the top 14 allergens. In 2022 we showcased our products at the Free From Show at London Excel, and we had countless dietitians and nutritionists exchange details with us and start referring us to their clients - not only because of the 'free-from' element [to our products] but also because of the full of nutrition aspect of our [plant] milks."
2022 was a whirlwind for The Good Pea Company...
Nikki & Su say: "We had a whirlwind year in 2022, from Selfridges approaching us 7 months from launching to getting into 30 stockists across the UK along with hotels and health and wellness centres. We've also had really touching moments where we've received hand-written letters from people thanking us for creating an allergen-friendly [plant] 'milk' they can drink, the first after sometimes 20 years of searching. [We also] won the Vegfest Bronze Award for non-alcoholic drinks."
...and 2023 looks set to continue the trend
Nikki & Su say: "2023 will see us through some exciting plans, as we already have commitments from 3 red-brick universities. We will [also] be growing and expanding our business in the Retail sector, taking a larger market share in the UK and internationally and expanding our wholesale functions - supplying a larger share of the Education, Hospitality and Travel sectors."
Their customer base is broader than you might think
You may also be interested in…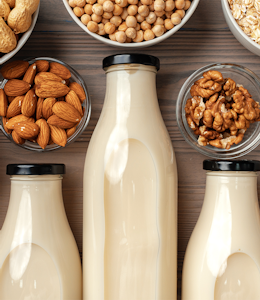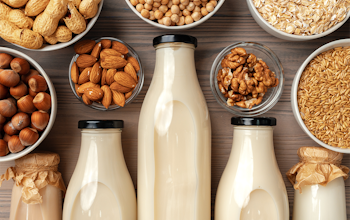 You may also be interested in…
Best Plant Milks: Your Guide
Read
Nikki & Su say: "Our customers include vegetarians and vegans, those who have allergies (such as to dairy, Soy, Nuts, Cereals containing Gluten), and flexitarians, Millennials and those in Generation Z making a stand with their lifestyle choices and/or trying trending vegan challenges, as well as families looking for a tasty, nutritionally-rich drink high in protein, calcium and vitamins but low in sugar."
Their top recipe suggestions for their plant milks are...
Nikki & Su say: "Matcha iced latte and berry smoothie bowl!"
The company is committed to being environmentally-aware
Nikki & Su say: "Being planet-friendly is one of our top priorities - we have already taken 4 steps to be sustainable and we are always looking for ways to be carbon negative. Currently The Good Pea Company uses yellow split peas as the hero ingredient - a nitrogen fixing pea that omits the need for nitrogen fertilisers in the fields, keeping our lakes and oceans cleaner, and locally sourced ingredients to minimise supply chain impact. We use SIG packaging, which is fully recyclable and outer cases which are made from 70% recycled material. In the future, we are looking to find pure pea protein grown in the UK and use plant-based materials to make up our cartons."
Vegfest Brighton is the next event on the agenda
Nikki & Su say: "We love taking part in shows like Vegfest and Free From/V-fest, both of which we attended in 2022 and were overwhelmed with the positive responses - not just from consumers and those with allergies but dietitians from across the UK. Our next show will be in April at Vegfest Brighton, which is coming back after 4 years, so we are excited to showcase our milks there."
Erudus saves them precious time
Nikki & Su say: "As a brand we have spent a lot of time completing spreadsheets and forms detailing all the product specs each time we present our product to a potential partner. Erudus has enabled us to input all that information in one place in an easy-to-understand format, so anyone in the food industry can access this and work with us quicker!"
For more information about The Good Pea Company visit their website.
You may also be interested in…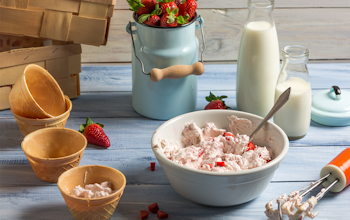 You may also be interested in…
Meet some exciting new Manufacturer additions to Erudus…
Read