Everything you need to know about back of pack labelling
Various pieces of information are required to be on pre-packed foods, and in most cases, one of these is nutritional information.
---
Often referred to as "back of pack", since 2016 there have been various requirements set out about the display of this nutritional information, ranging from presentation to the presence of particular nutrients and units.
Our guide explains everything you need to know about these requirements...
So, exactly what information is required?
The requirements for "back of pack" labelling are in relation to retained Regulation EU Food Information for Consumers (FIC) 1169/2011.
Energy in the form of both kilojoules (kJ) and kilocalories (kcal) as well as a set of 6 mandatory nutrients, namely: Fat, Saturates, Carbohydrate, Sugars, Protein and Salt (see table for reference), must be provided.
"Salt" is the required form, therefore, where a sodium value is known this can be multiplied by 2.5 to calculate the salt content.
Other nutrients are voluntary to declare.
These are:
Mono-unsaturates
Polyunsaturates
Polyols
Starch
Fibre
Various vitamins and minerals (see table for reference)
In certain circumstances these nutrients may instead be required, for example those cases where a nutrition / health claim is made on pack.
Only energy and the nutrients included in the table can be included in the nutrition declaration. Similarly, where one of the permitted vitamins or minerals are provided (this list can be found in Annex XIII of FIC), they have to be in 'significant amounts' (also found in Annex XIII of FIC). You can find out more here.
How should this information be declared?
Generally speaking, energy and nutrients are to be declared per 100g/ml, but they may also be declared per portion/consumption unit.
Where vitamins or minerals are present, additional information must also be included - in the form of percentage reference intakes (% RI).
The table to the right explains which of the various nutrients are mandatory and in what form it should be listed.
What should the nutrition label look like?
There are various formatting requirements, which include:
Minimum character font sizes
Largest surface with area 80cm2 or above: X-height is 1.2mm or higher
Largest surface with area less than 80cm2: X-height is 0.9mm or higher
Largest surface with area less than 25cm2: exemption from nutrition declaration
Information on X-height can be found in the Department of Health Nutrition Guidance document here.
Nutrition declaration placement and presentation
Although commonly referred to as "back of pack", the required nutrition information can be found on surfaces other than just the back of a product. It is however required that this information can be found in the "same field of vision".
You can find technical guidance from the government on nutritional information here.
There is also a requirement to provide this nutrition information in a particular order. Ideally, this will be listed in a table (as seen above), however if this is not plausible a linear presentation is permitted.
What products have to comply with the requirements?
Whilst most pre-packed products require nutritional information, there are some exemptions. Some are listed in Annex V of FIC and include:
Single ingredient / ingredient category of unprocessed products
Flavourings
Salt and salt substitutes
Food additives
The full list can be found here.
"Please note the latest known version was accessed to provide this information - please review to ensure the information is accurate at the time of use."
One of the listed exemptions (number 19) relates to some smaller local businesses, and reads:
"Food, including handcrafted food, directly supplied by the manufacturer of small quantities of products to the final consumer or to local retail establishments directly supplying the final consumer."
The Department of Health nutrition guidance provides clarification on some of the above text. For example:
"Manufacturer of small quantities"
This is referring to micro businesses (EU/UK definition: <10 employees, <£1.4million turnover/balance sheet total).
"Local retail establishments"
Supplying within their own county and neighbour county/counties OR Supplying within 30 miles of the manufacturers' county boundary
In certain cases nutrition declarations can be provided voluntarily. For instance, the regulations are in regards to pre-packed foods - by contrast non-prepacked foods can choose to provide nutrition information.
Alcoholic beverages above 1.2% ABV (alcohol by volume) are also exempt, but a nutrition label is allowed to be provided voluntarily, covering either full mandatory information (see above) or just energy.
The information provided in this article focused around mandatory back of pack information. Front of pack labelling (such as the traffic light labelling often used in the UK) is currently voluntary to adopt.
Additionally, there are certain groups that are not required to fulfil the nutrition information requirements set out in EU FIC 1169/2011, for example:
Natural mineral waters (Directive 2009/54/EC)
Food supplements (Directive 2002/46/EC)
You can see more information here.
You may also be interested in…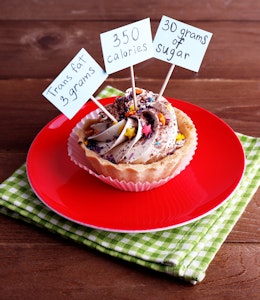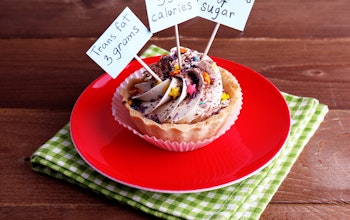 You may also be interested in…
What you need to know about Mandatory Calorie Labelling
Read
You may also be interested in…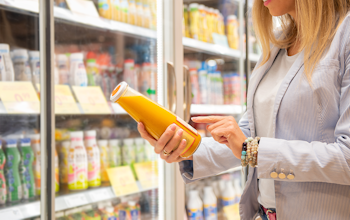 You may also be interested in…
Pre-packed Food Labelling
Read