Caterer Receives Hefty Fine in Allergen Mock Trial
Erudus was delighted to offer full support and sponsorship to the event. The mock trial was an opportunity to witness an all too real possibility of real-life cases, such as these, as well as forewarn of the legal, ethical and financial dangers of ignoring due diligence and allergen laws.
---
Back in January, we told you about the organisation Food Allergy Aware working in conjunction with Blake Morgan LLP Solicitors to host a mock trial, sentence and prosecution event centred in the food industry.
It was conducted to enhance food businesses' knowledge of their legal obligations on allergens, and to communicate to caterers to 'sit up and take notice'.
The interactive event was held at Blake Morgan's New Kings Court office in Eastleigh and saw practising barristers and solicitors play out the fictional prosecution.
Erudus was delighted to offer full support and sponsorship to the event. The mock trial was an opportunity to witness an all too real possibility of real-life cases, such as these, as well as forewarn of the legal, ethical and financial dangers of ignoring due diligence and allergen laws within the foodservice industry.
In this 'mock case', the failure to meet food safety standards and requirements, resulted in a harmful impact on the end users/customers.
The event was a great success and highlighted the need to adhere to allergen regulations and have robust food safety procedures, in order to protect consumers.
In a day and age where food allergies and intolerances are increasing, it is essential that caterers and foodservice businesses are giving their full attention to allergen awareness and food safety regulations across the board and ensuring they take precautions to protect their customers.
Caroline Benjamin, founder of Food Allergy Aware, said:
Despite a number of high-profile legal cases involving food outlets and allergens in the last 12 months, it's not surprising to see bad practise still exists across the UK with allergen tables created as a tick box exercise with very little care taken to ensure their accuracy.
So, let's take a look at what happened in the mock trial:
The case focused on a family run company (which owns 5 restaurants) and their restaurant "Baby Basiletti's" which had taken a family booking via email, which had detailed the customer's food allergies, in order to assure the dishes served on the day would be allergen free.
The booking was accepted, and the meal went ahead. Due to several points of negligence by many of the employees, from the business owner John Basiletti, to the chef, the food served contained the previously highlighted nut, pea and gluten allergens.
This impacted two boys in the family of diners; one boy had an allergy to cashew nuts and was served a meal containing the ingredient and his brother was allergic to peas and gluten and ate a meal consisting of both, before falling ill. This led to the case being brought against the restaurant and the caterer admitting to flouting allergen laws.
During the trial, the prosecution drew the court's attention to a number of factors that aided this overall negligence, such as:
Poor or no communication on the customer intolerance and allergy issues between management team and employees.
A kitchen and utensil policy that had not been implemented in the correct way and did not adhere to the food safety procedural policies.
Failure to properly act on a product recall and to update front of house about a change in the nut allergy status of a meal.
Falsely describing dishes as 'Allergen Free' thus misleading consumers.
Failure to identify hazards or implement effective and regular monitoring procedures as set out by EU laws and regulations
Failure to adhere to the Food Safety & Hygiene England regulations 2013.
And as such, the above misdemeanours resulted in a total of 5 charges being brought against the business and its director, including misleading consumers and selling unsafe food.
This resulted in a fine to the restaurant of £12,000, additional court costs of £24,000 and a fine to the company Director of £2,880, totalling a whopping financial penalty of nearly £40,000!
And it could have been much worse should the customers have been affected to a worse degree the level of fines and costs would no doubt have increased considerably.
You may also be interested in…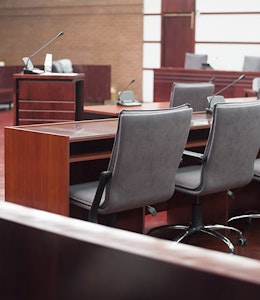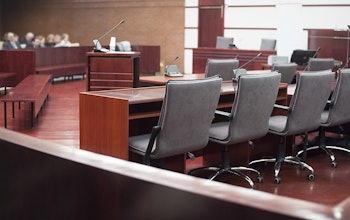 You may also be interested in…
Erudus Sponsor 2020 Food Allergy Mock Trial
Read
The mock trial is an example of what can happen when there is a miscommunication or lack of communication. Failure to get it right can have catastrophic results. In addition to placing people's lives at risk, caterers risk hefty fines and potentially irreparable damage to their reputation.
As demonstrated in the mock trial, adhering to allergen law goes far beyond having access to the data. The event was an example of a breakdown in processes and procedures, which led to misinformation and mistakes, concluding with two young boys being served meals that contained ingredients they were allergic to despite the family advising of their allergy requirements at the time of booking.
This type of incident is occurring for real, far too often across the UK and is totally preventable!
It is our hope that this event has sent a clear message to caterers and the foodservice industry as a whole that they need to sit up, take notice and review allergy processes and procedures.
Caroline Benjamin, founder of Food Allergy Aware, said:
I hope this event helps to promote potentially critical issues facing the hospitality industry, where there is a possible incident just waiting to happen.
The lesson of the story – caterers must follow safe and sensible food preparation and food service guidance to prevent harm to customers, finances and reputation
The mock trial event serves as food for thought and indeed a rallying call for caterers, they must reflect on this mock trial example, review their current procedures and processes and regulate their communication channels.
Communication of food product data, whether that be internal with all employees or externally with suppliers, is key. The food data information must be readily available and assimilated in recipes and dishes for all customers.
We look at the top 5 ways that caterers can improve their business and put in place processes to prevent such malpractices:
1. View set up of premises
View set up of premises, including types of foods being prepared / sold – Undertake an audit and evaluation of all the available foods and ingredients available to customers and understanding which products and recipes contain allergens. Communicating this information to all employees, from kitchen to front of house, ensuring end users are suitably catered for upon service.
2. Systems & Procedures
Look at paperwork and systems and procedures in place – Assess the way information is currently shared, gain feedback from employees and customers to ensure best practice is being followed. Identify any information gaps and rectify where necessary.
3. Employee Training
Review employee training records – Ensure employees are trained in the current procedures and policies established by the restaurant. Regularly review this to ensure employee competency. It is also important to ensure information is regularly communicated to employees, so that food product data and suitability is able to be adhered to and communicated with customers.
4. Observe Processes & Practices
Watch the processes/practices in place during a shift, speak to employees during this – Monitor the current systems and processes within the food service arena to identify any misinformation or gaps and upskill and train where required.
5. Feedback & Recommendations
The management team will give feedback and recommendations following the review of practices– Feedback from all employees and customers alike, to be conveyed and acted upon to ensure smooth processes and due diligence are paramount.
Quick recap:
Caterers take note: don't let this happen to you or your customers.
Cutting corners, not adhering to allergen/food safety guidelines and regulations, miscommunication about, and misrepresentation of, your food offering to clients, can result in risks to the health (and even life) of customers, as well as resulting in damaging legal cases, severe fines or worse!
Not only that but cases such as the mock trial example are also bound to damage your business reputation; it's all so avoidable.
Follow the tips and advice outlined in our 5 ways to improve your foodservice and business in general. Ensure you, your team and the company owners are fully aware of and adhering to, the legally required food data and information.