Menu Planner
Meal planning, made easy.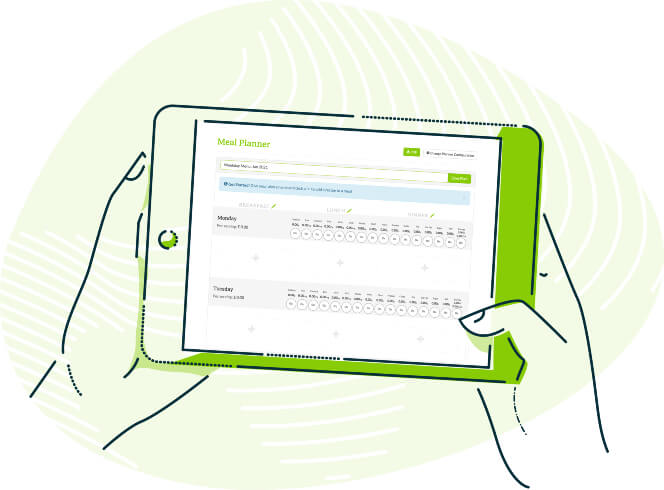 Want to know the nutritional content not just of one meal but of 3 meals a day combined? What about a week's worth of meals? Menu Planner will aggregate the allergy, dietary and nutritional data for as many recipes as you choose and put it in one easy to read document.
Recipes
Use Erudus Recipe Builder to save your recipes and calculate their allergens, nutritional data and serving costs, then simply mix and match them into a customisable daily or weekly meal plan. Menu Planner will provide you with both a nutritional overview of the day or week, and individual Recipe cards for each meal.
Menus
Publish your menu for the day or week, safe in the knowledge Menu Planner will pull together all of its nutritional and allergen content and display this for your customers in an easy to understand format.
Customised Reference Intake
With Menu Planner you can set Reference Intake, and curate a daily or weekly meal plan that's low in sugar, high in fibre, or rich in protein. Perfect for environments where Reference Intake targets are closely monitored and necessary for different customer groups.
Dietary Suitability
Catering to vegetarian, vegan, gluten-free, halal or kosher diets? Menu Planner allows you to customise entire meal plans that are suitable for those with special dietary requirements.
Allergen Information
With Menu Planner you can instantly find allergen information for a single meal, or view the aggregated summary for the entire day or week's menu. Allergens are displayed using our standardised food allergy icons which represent the 14 major food allergens in a colour coded traffic light system for instant recognition.
Data you can trust
Knowing the allergens and nutritional values of every single ingredient you use helps you feel confident serving your customers.
24/7 access
Catering is a 24/7 business. No matter what time you're planning your next menu, you can always access Erudus.
Clear, concise reporting
Our clear, on-screen and printable menu plans, view Recipe, Customer Reference Intake, Allergens, Nutrition and Costing information.
Recipe Builder Subscriptions
2 months free with annual subscriptions
Please contact us for Wholesale/Foodservice Pricing
Caterer
Premium
£19.99
Per month
1 x User Licence
24/7 Access
Unlimited Searches
14 Major Allergens Data
Nutritional Data
Reference Intake
Dietary Information
PDF Downloads
CSV Exports
Allergen & Nutritional Data Search
Recipe Builder
Menu Planner
Sign up
Cancel anytime
Want to see the Menu Planner in action? Watch the video below to see how it can make your life easier.