Making Chocolate Cake Allergy Friendly
We're celebrating World Baking Day with these top tips for making this iconic dessert allergy-friendly...
---
The art of cake baking is rumoured to have begun way back in Ancient Egypt, but the first officially recorded chocolate cake was made in 1756 by chocolate maker James Baker, who learned how to make chocolate by grinding cocoa between two large millstones at his local mill.
In the late 1920s P Duff and Sons began production of a ready-made cake mix, and the popularity of chocolate cake boomed. Which leads us to now, when the sweet treat is celebrated with its very own day - International Chocolate Cake Day on 27 January.
And since both food allergies and plant-based diets are on the rise, we've decided to celebrate this iconic dessert by exploring how to make them both delicious and free of ingredients people might need to avoid, like dairy and nuts...
Are there allergens in chocolate cake?
Yes, many varieties of chocolate cake contain one or more of the 14 major food allergens. The 14 major food allergens as recognised by the Food Standards Agency, and therefore legally required to be identifiable to consumers through labelling and forms of visible and verbal information are:
Celery
Cereals containing Gluten
Crustaceans
Eggs
Fish
Lupin
Milk
Molluscs
Mustard
Nuts (Tree nuts)
Peanuts
Sesame
Soya
Sulphur Dioxide (Sulphates)
You may also be interested in…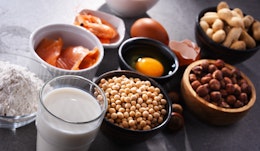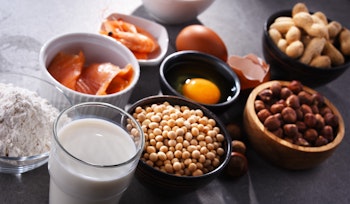 You may also be interested in…
14 Major Food Allergens
Read
Of course, not all 14 of these allergens will be present in chocolate cake. Below you can find out which ones might be, or are likely to be, along with some top tips for replacing them in your favourite chocolate cake recipe…
Important note
Whether you're using premade products to make your chocolate cake or cooking everything from scratch it's important that you always check the ingredients to make sure you're avoiding any allergens you are allergic to.
Gluten
Flour is the main structural component of a cake, bringing everything together. Wheat flour, classed as a Cereal containing Gluten is the most commonly used flour in cakes because it binds all the other ingredients together during the cake making process. This is the gluten working hard - it provides the elasticity.
Gluten-free cakes
Making a gluten-free cake needn't be difficult - all you need to do is swap out your wheat flour for gluten free-flour. Most prepared 'free-from' flours are made using a blend of flours, - rice, potato, tapioca, maize and buckwheat are all examples - as they will replicate a blend similar to wheat flour. Another winning combination is white and brown rice flour mixed with potato and tapioca flour. These combine to bind and bulk the cake mixture.
You do need to bear in mind that by using gluten-free flour, you are removing the gluten which binds the structure of your cake together. This can be fixed by using between 64-125g of applesauce or ¼-½ teaspoon of Xanthan Gum per 200g of flour in your recipe. When creating the mixture, add water as you see necessary. An extra 10 minutes cooking time will ensure any added moisture is cooked through properly.
Eggs
Eggs are an important ingredient in cakes because they work as emulsifying agents, and aid in wheat starch gelatinization - where starch granules swell and absorb water - an essential part of the baking process. Eggs also help make cakes fluffy and airy, and provide colour, nutrition, flavour and help to retain moisture.
Egg-free cakes
There are a plethora of ways you can create eggless cakes. One well known (albeit not too appetizing sounding) egg replacement for cakes is 1 tablespoon of vinegar (white or apple cider) and 1 teaspoon of baking powder mixed together then added to your recipe. This will make your baked goods fluffier. And don't worry, you won't even be able to taste the vinegar once baked.
A fan of fruits? Using 1 small mashed banana can act as an egg replacement, and will also increase the sweetness of your cake.
4 Tablespoons of applesauce can also be used as an egg replacement. However, if you're making your recipe gluten-free do not use applesauce as a binder for your gluten-free flour, Instead, opt for xanthan gum.
Short on ingredients? If you don't have any of these, you can actually make an egg replacement using common larder ingredients. 2tbsps of water, 1 tbsp of oil and 2tsp baking powder mixed together is an egg replacement that works across the board.
Top Tip: Dairy-free and egg-free cakes are also suitable for those following vegan and plant based lifestyles.
Milk
Milk (or cream or buttermilk) is used in cakes to hydrate dry ingredients, dissolve sugars and salts, and allow baking powder to react - ensuring cakes have volume. The casein in milk helps form the structure of the cake along with the flour and eggs.
Butter, cream and cream cheese are also often used in cake icing to add decoration and flavour.
Dairy-free cakes
How do you make a cake without butter, milk or cream? It's a lot easier than you think. When it comes to butter, there are many dairy-free options, such as those made with sunflower oil or vegetable oils.
When substituting cow's milk, soya milk is the best for baking as it has a similar flavour and protein content to cow's milk, which helps maintain the structure of the cake. For those with an allergy to soya, opting for a sweetened almond milk is also a good alternative. A note regarding almond milk: your cake will bake faster due to the higher water content in almond milks, so you'll need to keep a close eye on it.
Top Tip: For dairy-free icing simply mix powdered icing sugar, dairy-free butter, dairy-free milk and vanilla extract until thick, but easily spreadable. Leave your butter out at room temperature to soften and ensure it blends with the other ingredients well. Sift your icing sugar through a sieve to remove lumps, and if the icing gets too thick then slowly add milk. You'll end up with delicious icing.
Nuts
Nuts are used to add flavour and texture during baking. Walnuts, almonds, pistachio and macadamia are the most popular to use when baking, due to their mild and sweet flavours and textures. Peanut butter chocolate cakes are also an increasingly popular option, with peanut butter being used heavily in the icing.
Nut-free cakes
How can you replicate some of the same textures and flavours of nuts, whilst still keeping your kitchen nut-free? Rolled oats can imitate roasted nut flavours if you brown the oats in butter before adding them to your recipe, whilst granola is also a great option for replicating the crunch that nuts give.
You can replicate the texture and flavour of peanut butter with soy nut butter or sunflower butter. Soy butter contains lots of protein and good omega-3 fats, and has the most similar taste to peanut butter. It comes in both crunch and smooth varieties.
Top Tip: Sunflower butter is especially allergen friendly because it's free of the 14 major food allergens.
Erudus can help you identify allergens instantly…
Did you know that Erudus have tools that allow you to easily identify whether your recipes and dishes contain any of the 14 major allergens? Head over to our Caterer solutions page to discover more about how Erudus can help you keep your customers safe.