How Allergens Hide in Alcohol
Can you be allergic to alcohol? The answer is yes, but far more people are actually allergic to other ingredients used to make their tipple of choice.
---
Allergens can often be overlooked when it comes to drinks, but many of the 14 Major Food Allergens are used in the creation of alcoholic beverages. When ordering a drink, if you are ever unsure whether it contains or may contain your allergen, it is best to ask your server. If uncomfortable, pick a safe option.
In the meantime, improve your allergen alcohol awareness with our handy guide.
A note for Caterers
For those operating and working in bars, clubs and restaurants which serve alcohol it's important to be allergen aware, and be particularly cautious when it comes to cross-contamination.
If someone asks you for allergen information regarding an item on your menu, you should be able to supply them with the correct information so they can make an informed decision.
When making drinks for an allergy sufferer, be sure to clean any equipment such as blenders and shakers as well as glasses thoroughly.
Now on to the 14 Allergens…
Cereals containing Gluten
The majority of beers and lagers (and sometimes even ciders) have Cereals containing Gluten as an ingredient, so if you're Coeliac or gluten-intolerant it's in your best interest to steer clear. At places with a large selection of beers you can check with your server what is suitable for you.
Many distilled spirits are also made with grains but as the allergens are removed during the distillation process, they're considered suitable for those with Coeliac disease or gluten sensitivity. Still nervous? Go for (or recommend if you're a server) a potato or grape-based vodka or a whiskey made from sorghum.
Tree Nuts
Many seasonal brews of beer can contain nuts, and Southern Comfort contains Tree Nut derivatives.
The Mexican coffee liqueur Kahlua's ready-to-drink varieties Banana Mudslide, Chocolate Latte, Kappuccino, Original Mudslide, White Russian all contain Tree Nuts.
Cherry Heering liqueur, which is frequently used in a Singapore sling cocktail, has issued a warning for those who suffer from nut allergies to avoid this ingredient, though it's not been specified which tree nut variety is used as an ingredient.
Almonds
Almonds are very widely used in ingredients and the process of creating alcoholic drinks in both the bitter and sweet varieties. Almond syrup, used in many cocktails, can also be named 'Orgeat' and 'Falernum' on drinks menus.
A number of gins use almonds in combination with botanicals as part of their distilling process. These gins include; Beefeater, Bombay Sapphire, Bombay Amber, Brockman's Gin, Citadelle Gin, Gothenburg Gin, Indian Summer Saffron Infused Gin, Pink 47 Gin and Williams Chase Seville Orange Gin.
However, it's important to note that the European Food Safety Authority concludes that "proteins and peptides are not carried over into the distillate during a properly controlled distillation process at least not in amounts above 1mg/L. Although analytical evidence is derived from experiments that were performed predominantly with almonds, the panel considers that distillates made from nuts are unlikely to trigger a severe allergic reaction in susceptible individuals."
In short, an allergic reaction is unlikely to occur after drinking a properly distilled gin, but we would always advise you to proceed with caution.
Other drinks that contain almonds include almond sparkling wine, Amaretto, Ratafia (Brandy), Amadeus (Liqueur), Eblana (Irish Whiskey), Galliano (Liqueur), and Glayva (Scotch Whisky).
Hazelnuts
Drinks to watch out for that contain hazelnut derivatives include Crème d'amande (Liqueur), Crème de noix (Liqueur), Frangelico (Liqueur), Nocello (Liqueur) Reistbauer, Creme de noyaux (Liqueur), Dirty Squirrel (Beer), Hazelnut Brown Nectar (Beer), Phillips Dirty Squirrel, Rogue Hazelnut Brown Nectar, and Stubs Old Crow Hazelnut Porter.
Walnuts
Drinks to watch out for that contain walnut derivatives include Creme de Noix (Liqueur), Nux Alphina (Brandy), Charbay Nostalgie (Liqueur), Nocello (Liqueur), Nocino (Liqueur), and Piney River Black Walnut (Beer).
Macadamia
Drinks to watch out for that contain macadamia derivatives include Kahana Royale (Liqueur), Macadamia Nut Honey Wine, and Trader Vic's Macadamia Nut Liqueur.
Pistachio
Drinks to watch out for that contain pistachio derivatives include Dumante (Liqueur), Pistachio Cream Ale, Pistachio Delight Wine (White zinfandel), and Short's Pistachio Cream Ale.
Cashew
Drinks to watch out for that contain cashew derivatives include Kazkar Feni (Apple Liqueur), and Monteith's Golden Lager.
Pecan
Drinks to watch out for that contain pecan derivatives include Praline Pecan Liqueur, Southern Pecan Nut Brown Ale, Lazy Magnolia Southern Pecan Nut Brown Ale.
Peanuts
Peanuts are classified as legumes, so those with a peanut allergy may experience cross-reactivity to Chickpeas. This is important when it comes to alcohol, as 'Aquafaba' (also known as chickpea water) could potentially pose a risk when used in cocktails, especially vegan cocktails.
Drinks to watch out for that contain peanut derivatives include Harp Lager, Castries Peanut Rum Crème (Liqueur), Eblana (Irish Whiskey), Old School Peanut Flavoured Vodka, Peanut Butter and Jelly Vodka, Peanut Lolita, Uber Goober Oatmeal Stout, Short's Über Goober Oatmeal Stout, Terrapin Liquid Bliss, and Willoughby Peanut Butter Cup Coffee Porter.
Whilst more popular in America than the UK, Peanut Butter Beer is becoming more widely available here, and though many varieties only use peanut butter flavouring, those with a peanut allergy should pay careful attention to the label.
Egg
In cocktails, eggs are commonly used to create fizz or body. Anything that contains the word 'Sour' in its name will very likely use egg as an ingredient.
A further list of cocktails containing egg – Golden Fizz, Eggnog, Coffee Cocktail, Ramos Gin Fizz, Clover Club, Tom & Jerry, Flip, Round Robin, and Prairie Oyster.
Egg albumin can be used in red wine during the fining process, and eggs are also used in the creation of Advocaat, a Dutch liqueur.
Milk
Milk proteins, such as milk casein, are sometimes used in the fining process of wine, particularly white wine.
If someone has a milk allergy, looking out for vegan and kosher wines is a good idea, as kosher certifications look at the process of creating the wine as well as the ingredients.
A large number of cocktails use milk as an ingredient, including White & Pink Russians, Irish Mints, Mark Seven, White Plush, Lumumba, Panda Bear, Spiced Rum Milk Punch, Chocolate Princess, Brown Cow, Grand Cafe Latte, and Pina Colada. Dairy is present in the following varieties of Kahlua ready-to-drink concoctions; Banana Mudslide, Chocolate Latte, Kappuccino, Original Mudslide, and White Russian.
Though Baileys liqueur famously contains cream, they do offer a dairy-free option, Baileys Almande.
Milk is also frequently used in stout beers; sweet stout, cream stout and milk stout all contain lactose. Conversely, many cream ales are actually dairy-free.
Anyone mixing or consuming margarita cocktails should also be aware that some of the ready-made mixes contain milk.
You may also be interested in…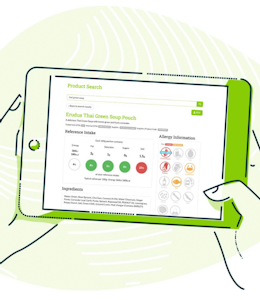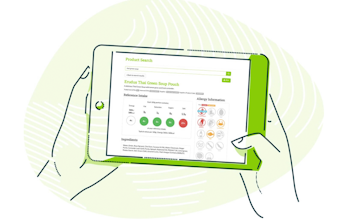 You may also be interested in…
Solutions Spotlight: Allergen & Nutritional Data Search
Read
Sulphites (Sulphur Dioxide)
Sulphites are produced naturally during the fermentation process of drinks and so even if not added to the product as an ingredient, beers, lagers, ciders and wine can all contain sulphites.
The FSA has produced a report about Allergens Labelling for Wine* which states that regulations require any allergenic substances in food (such as sulphites, eggs and milk) to be highlighted within ingredients listings. However, the regulations exempt alcoholic beverages above 1.2% abv, though allergen warnings must be shown if the specified ingredients are present above the prescribed limits.
Absolut Vodka and most gins are free of sulphites due to the distillation process, and the safest option for anyone with sulphite sensitivity.
Celery
As with food, celery can be found in a surprising number of drinks. Aside from the famous Bloody Mary garnish, it can be found in the cocktails Celery Century, Celery Gimlet, Celery Soury, Celery Gin Sour, Celery Gringo, Celery Nome, Celery Wine, Lachlan's Antiscorbutic, Palomino Flor, Waldorf Daiquiri, The Herbalist, and Detente (as a garnish).
Due to its vegetal notes, celery pairs well with lighter spirits such as vodka, gin, tequila and silver rum and can often be used as a garnish, which is another thing celery allergy sufferers should keep in mind when ordering a drink.
Molluscs
Oyster stouts can be made using oyster shells or the entire oyster itself – real oysters are traditionally used in the brewing process to provide an authentic flavour.
Soya
Soya milk and soy sauce can be used in a range of cocktails that include Bloody Geisha, The Black Mary, Chinese Mary, Black Samurai, Manchurian Candidate, and Michelada.
Many vegan cocktails and/or cocktail bars substitute normal milk for soya or other plant-based milk.
Additionally, Kahlua liqueur ready-to-drink varieties Banana Mudslide, Chocolate Latte, Kappuccino, Original Mudslide, and White Russian contain soya.
Mustard
In 2020, the world's first beer made from mustard was created by Oskar Blues Brewery celebration of National Mustard Day. This was a limited release.
Fish
Certain drinks brands may use a collagen substance called Isinglass (which comes from fish bladders) in the fining process of beers and wines.
Other Allergens
As yet, we have not been able to find records or evidence of any alcohol products that contain or have derivatives from sesame, crustaceans and lupin, but if you are an allergy sufferer is important to always check with your bartender about the allergen information of what you're consuming, and if you're unsure, try a safer option.
Finding allergy-friendly alcohol
Barnivore is a great resource for searching for vegan wines, beers and spirits, and consequently for those with fish, milk, egg and crustacean allergies.
The Cask Finder App contains a wealth of information on beers and ales, including which allergens are found in the different varieties.
If in doubt, gin or vodka has the lowest histamine levels of all alcoholic drinks and are usually a safer bet for allergy sufferers.
Are there any other unexpected places I might find allergens?
Yes, there are many unexpected places you might find the 14 Major Food Allergens – both in food products and non-food products. You can find out which products might contain ingredients from the allergens list here.
Erudus and the 14 Allergens
Erudus uses accurate data directly from a product's Manufacturer to give you everything you need to know about that product at the touch of a button. This includes all Allergen and Nutritional data (so you can see which, if any, of the 14 Allergens a product contains, as well as if it's suitable for Vegans, Vegetarians and those on a Halal diet). Check out our Allergen & Nutritional Data Search to find out more.
*https://www.food.gov.uk/sites/default/files/media/document/wine_allergen_labelling_april6.pdf